Speech writing
Speech Preparation: How to Prepare a Presentation. Proper preparation prevents presentation predicaments!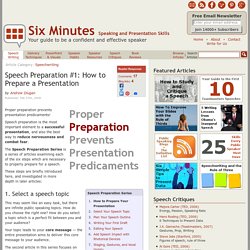 Speech preparation is the most important element to a successful presentation, and also the best way to reduce nervousness and combat fear. The Speech Preparation Series is a series of articles examining each of the six steps which are necessary to properly prepare for a speech. These steps are briefly introduced here, and investigated in more depth in later articles: Speech Preparation Series 1. The Art of Speech. As of July 1, 2013 ThinkQuest has been discontinued.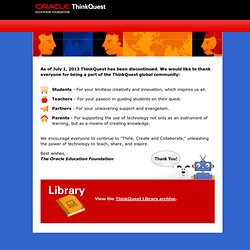 We would like to thank everyone for being a part of the ThinkQuest global community: Students - For your limitless creativity and innovation, which inspires us all. Teachers - For your passion in guiding students on their quest. Partners - For your unwavering support and evangelism. Parents - For supporting the use of technology not only as an instrument of learning, but as a means of creating knowledge. Speechwriting | Public Speaking and Presentation Skills articles. Full-day training courses offer many challenges for speakers, including: massive preparation requirements;physical and mental fatigue (for both the speaker and audience); andmaintaining interest requires dynamic delivery and varied presentation techniques.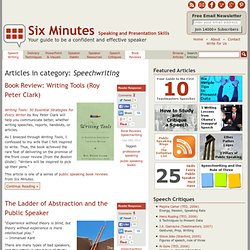 If you can overcome these challenges, you can provide significant value for your audience. This past week, I was fortunate to attend a series of full-day training courses (Usability Week 2012 in San Francisco, offered by the Nielsen Norman Group). While my focus was building my usability knowledge, it was also a great opportunity to learn from people who speak regularly around the world. Speech Writing. Public Speaking » Speech Writing Writing a speech is very different from writing an article, brief or proposal.
Speaking and writing are distinctive versions of the same language, unique in their output, syntax and function. Presenters and trainers need to appreciate the differences Articles in our "Speech Writing" Category: Speechwriting Under the Gun. It doesn't matter to your audience if you have ten days or ten minutes to write a speech.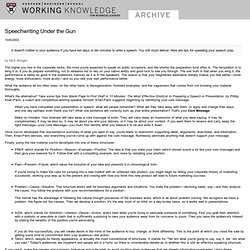 You still must deliver. Here are tips for speeding your speech prep. by Nick Morgan The higher you rise in the corporate ranks, the more you're expected to speak on public occasions, and the shorter the preparation time often is. Dave's Guide to Speechwriting. Arright folks, welcome to Dave's Guide to Speechwriting.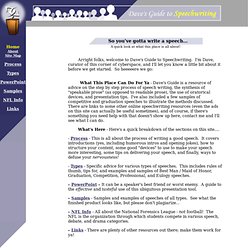 I'm Dave, curator of this corner of cyberspace, and I'll let you know a little bit about it before we get started. So heeeeere we go: Speechwriter. A speechwriter is a person who is hired to prepare and write speeches that will be delivered by another person.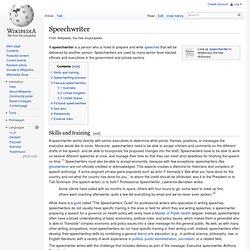 Speechwriters are used by many senior-level elected officials and executives in the government and private sectors. Skills and training[edit] A speechwriter works directly with senior executives to determine what points, themes, positions, or messages the executive would like to cover. How to write a speech. Learning how to write a speech is a daunting task.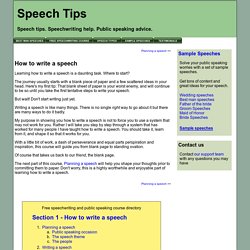 Where to start? The journey usually starts with a blank piece of paper and a few scattered ideas in your head. Here's my first tip: That blank sheet of paper is your worst enemy, and will continue to be so until you take the first tentative steps to write your speech. But wait! Writing with Writers: Speech Writing Home.
---