Speech writing
Speech Preparation: How to Prepare a Presentation
Proper preparation prevents presentation predicaments! Speech preparation is the most important element to a successful presentation, and also the best way to reduce nervousness and combat fear. The Speech Preparation Series is a series of articles examining each of the six steps which are necessary to properly prepare for a speech. These steps are briefly introduced here, and investigated in more depth in later articles: Speech Preparation Series 1.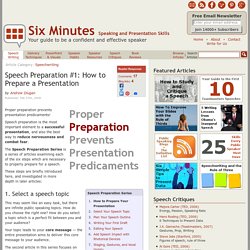 the Art of Speech
Full-day training courses offer many challenges for speakers, including:
Speechwriting | Public Speaking and Presentation Skills articles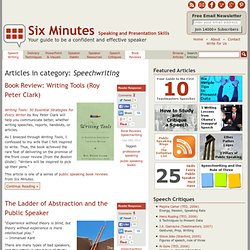 Speech Writing
Public Speaking » Speech Writing
It doesn't matter to your audience if you have ten days or ten minutes to write a speech.
Speechwriting Under the Gun - HBS Working Knowledge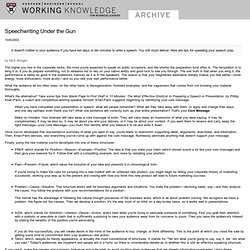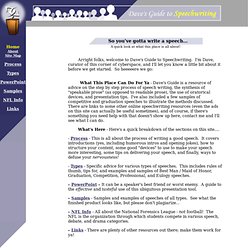 Dave's Guide to Speechwriting
Arright folks, welcome to Dave's Guide to Speechwriting. I'm Dave, curator of this corner of cyberspace, and I'll let you know a little bit about it before we get started. So heeeeere we go: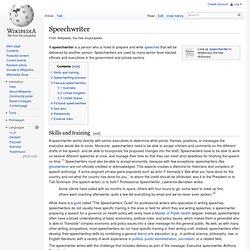 A speechwriter is a person who is hired to prepare and write speeches that will be delivered by another person.
Speechwriter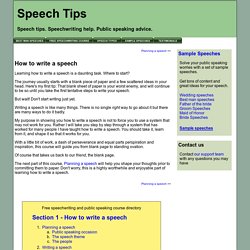 Learning how to write a speech is a daunting task.
How to write a speech
Writing with Writers: Speech Writing Home