Freedom of Speech
YourLIVE! º Always There.
Demise of journalistic independency & access to Uni / HE Media. 27jan Soeterbeeck Actualiteitencollege Wikileaks. ANS-Online: Wat is de rol van ANS op de universiteit en wat brengt de toekomst? Na 25 jaar en meer dan 250 nummers is het tijd voor bezinning.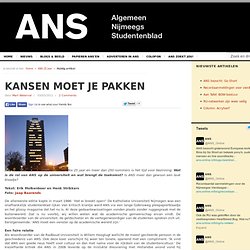 Wat is de rol van ANS op de universiteit en wat brengt de toekomst? Is ANS meer dan gewoon een leuk blaadje? Tekst: Erik Molkenboer en Henk Strikkers Foto: Jaap Baarends. EPIC 2014. You're about to watch a future history of the media by Robin Sloan and Matt Thompson, with music by Aaron McLeran.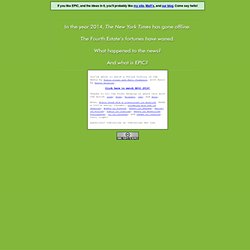 Click here to watch EPIC 2014! Thanks to all the folks helping us share this with the world: José, Evan, Michael, Ido, and Arno. Also, Robin Good did a transcript in English (ends a little early, though), Coldwind did one in Spanish, Bobby in French, Eneko in Basque, Maciej in Polish, Fabio in Italian, Henry in Brazilian Portuguese, Li in Chinese, and Osman in Turkish. Cool, right? Censuur heerst op universiteiten.
Je zult maar hoofdredacteur zijn van een universiteitsblad: de Colleges van Bestuur dulden geen kritische artikelen, negatieve berichtgeving maar wensen louter complimenteuze commentaren in de universiteitsperiodieken te lezen.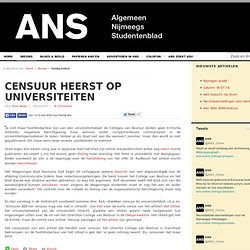 Voldoe je als blad niet aan die wensen? Jammer, maar dan wordt er niet gepubliceerd. Om maar eens twee recente voorbeelden te noemen: Onze eigen Vox kwam vorig jaar in opspraak toen het blad zijn online nieuwsberichten enkel nog intern mocht publiceren; excuseert u mij het woord, geen Voxlog maar Voxinlog. Het feest is uiteindelijk niet doorgegaan.
Welkom bij Persvrijheid. Vrij zijn om je mening te geven.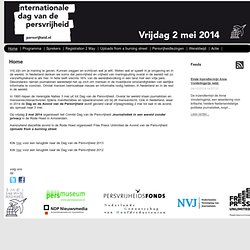 Kunnen zeggen en schrijven wat je wilt. Weten wat er speelt in je omgeving en in de wereld. In Nederland denken we soms dat persvrijheid en vrijheid van meningsuiting overal in de wereld net zo vanzelfsprekend is als hier. In feite leeft slechts 16% van de wereldbevolking in een land met een vrije pers. Berichtgeving Ad Valvas leidt tot Kamervragen. Ravitch: 'A moment of national insanity' corporate school reformers. Posted at 5:00 AM ET, 03/ 1/2011 By Valerie Strauss This was written by education historian Diane Ravitch for her Bridging Differences blog, which she co-authors with Deborah Meier on the Education Week website.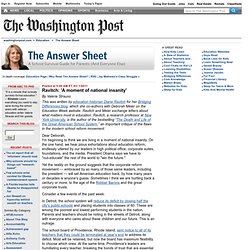 Waiting For "Superman" | Trailer & Official Movie Site | Own it on Blu-ray and DVD Today. What 'Superman' got wrong, point by point. This was written by Rick Ayers, a former high school teacher, founder of Communication Arts and Sciences small school at Berkeley High School, and currently adjunct professor in teacher education at the University of San Francisco.
He is the co-author, with his brother William Ayers, of the forthcoming "Teaching the Taboo" from Teachers College Press. This post is long, but it is worth your time. By Rick Ayers While the education filmWaiting For Superman has moving profiles of students struggling to succeed under difficult circumstances, it puts forward a sometimes misleading and other times dishonest account of the roots of the problem and possible solutions.
Protesters set for London march against spending cuts. 27 March 2011Last updated at 00:09 Watch: The BBC's Sophie Long spoke to some people taking part in the march More than 250,000 people have attended a march and rally in central London against public spending cuts.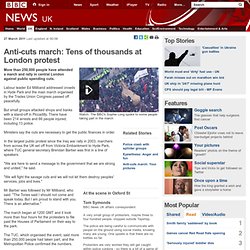 Labour leader Ed Miliband addressed crowds in Hyde Park and the main march organised by the Trades Union Congress passed off peacefully. But small groups attacked shops and banks with a stand-off in Piccadilly. Academic fury over order to study the big society | Education | The Observer. Academics will study the "big society" as a priority, following a deal with the government to secure funding from cuts.
The Arts and Humanities Research Council (AHRC) will spend a "significant" amount of its funding on the prime minister's vision for the country, after a government "clarification" of the Haldane principle – a convention that for 90 years has protected the right of academics to decide where research funds should be spent. Under the revised principle, research bodies must work to the government's national objectives, although the Department for Business, Innovation and Skills said that ministers will not meddle in individual projects. De universiteiten worden halvarinefabrieken. AAN DE NEDERLANDSE universiteiten is het al een halve eeuw lang heisa, hommeles en trammelant.
Steeds opnieuw steekt de onrust de kop op en vooral de laatste tijd zwelt het rumoer weer aan, gezien bijvoorbeeld de kritische boeken en artikelen die recent zijn verschenen, zoals If You're So Smart, Why Aren't You Rich? , onder redactie van Chris Lorenz, Topkitsch en slow science van René Boomkens en Bachelor-mastersysteem is uitgelopen op een grote flop van Menno Lievers. Liever de Gifbeker: over de universiteiten en de markt « Kritische Studenten Utrecht.
André Klukhuhn, directeur Studium Generale, Utrecht, januari 2002 Het zaad van grote ontdekkingen zweeft steeds om ons heen, maar het schiet alleen wortel in geesten die erop zijn voorbereid.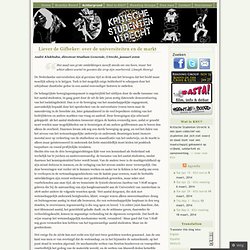 (Joseph Henry) (pdf)Benjamin. Save Our Schools March and National Call to Action. Robber baron (industrialist) In social criticism and economic literature, robber baron became a derogatory term applied to wealthy and powerful 19th-century American businessmen that appeared in North American periodical literature as early as the August 1870 issue of The Atlantic Monthly[1] magazine. By the late 1800s, the term was typically applied to businessmen who used what were considered to be exploitative practices to amass their wealth.[2] These practices included exerting control over national resources, accruing high levels of government influence, paying extremely low wages, squashing competition by acquiring competitors in order to create monopolies and eventually raise prices, and schemes to sell stock at inflated prices[2] to unsuspecting investors in a manner which would eventually destroy the company for which the stock was issued and impoverish investors.[2] The term combines the sense of criminal ("robber") and illegitimate aristocracy (a baron is an illegitimate role in a republic).[3]
(pdf)bezoldiging_bestuurders_hogescholen_2010_-_hbo-raad_februari_2011. Library closures: Labour's fury as users are labelled white and middle class | Books | The Observer. Gloria De Piero: 'For many areas of the country there are tremendous success stories about libraries.' Photograph: Fabio De Paola Labour politicians and campaigners have condemned the head of the Museums, Libraries and Archives Council for suggesting that public libraries are primarily used by the white middle classes The controversial comments were made by Roy Clare, the council's chief executive, who argued that the service should not be preserved in "aspic". Gloria De Piero, the shadow minister for media and culture, said: "I hope the government will condemn these remarks. As libraries minister, Ed Vaizey has been strangely silent on the fact that hundreds of libraries are under threat of closure.
All Hail the PUBLIC Library. The public library is a uniquely American creation. Now we have to fight to keep it public. Is "public" now a dirty word? Fort Worth has stripped the word from its local library. "The word 'public' has been removed from the name of the Fort Worth Library. The future of the library. What is a public library for? First, how we got here: Before Gutenberg, a book cost about as much as a small house. Save Our Libraries day: map your protest via Twitter. Protests across the UK expected for Save Our Libraries Day. Letters: Can philanthropy again come to the help of public libraries? Protesters stage overnight sit-in at New Cross library. New Cross library occupation: inside story « SE13URE. University isn't just a business – and the student isn't always right | Higher Education Network | Guardian Professional. Paul Greatrix (registrarism) BBC ON THIS DAY | Front Page.
The 'gamification' of news, and how it can be relevant. Wisconsin is making the battle lines clear in America's hidden class war | Gary Younge. Dag van de Persvrijheid 2011. Amitav Ghosh on freedom of speech and the position of writers in the world. TEDxObserver - Rick Falkvinge - The Pirate Party - the politics of protest.
---