Electronic Gadgets
How to Build a DIY Wooden Hard Drive Enclosure. Bye Bye Ugly A/C Bricks and Power Strips by Gilles Belley. Bye Bye Ugly A/C Bricks and Power Strips The Energy Saving Adapters by Gilles Belley not only look good but have some smarts behind them too.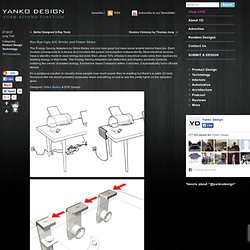 Each module corresponds to a device and monitors the power consumption independently. Cubelets Let You Build Robots Without Any Experience - PCWorld. Ember Lamp Power Strip. Wear the Looxcie Camcorder: Free Yourself to Be in the Moment. Fitbit. Unusual Computer Mice You Probably Haven't Seen Before. A mouse is undeniably one of the essential tools because as you are reading this, you are clicking and scrolling up and down.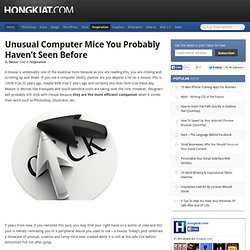 If you use a computer (duh!) , chances are you depend a lot on a mouse; this is 100% true 20 years ago, maybe 80% true 5 years ago and certainly less than 50% true these day. Reason is devices like trackpads and touch-sensitive tools are taking over the role. However, designers will probably still stick with mouse because they are the more efficient companion when it comes their work such as Photoshop, Illustrator, etc. 5 years from now, if you revisited this post, you may find your right hand on a bottle of coke and this post is merely reminding you of a peripheral device you used to use – a mouse. Light Touch projector makes any surface a touchscreen. A previously little-known company from the UK called Light Blue Optics has demoed a projector at CES which allows users to interact with the light image as if it were a touchscreen.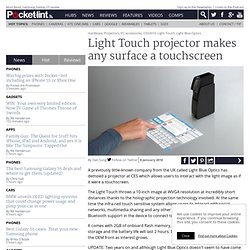 The Light Touch throws a 10-inch image at WVGA resolution at incredibly short distances thanks to the holographic projection technology involved. At the same time the infra-red touch sensitive system allows users to interact with social networks, multimedia sharing and any other applications that can use the Wi-Fi or Bluetooth support in the device to connect to the Internet. It comes with 2GB of onboard flash memory, a microSD card slot for expanding the storage and the battery life will last 2 hours.
Expect to hear more from this one on the OEM front as interest grows. UPDATE: Two years on and although Light Blue Optics doesn't seem to have come up with the goods, others have. NoteSlate /// intuitively simple monochrome paper alike tablet device.
---