Electronic Music
Quantic Presents - Flowering Inferno - Death Of The Revolution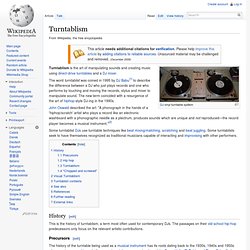 Turntablism
DJ vinyl turntable system Turntablism is the art of manipulating sounds and creating music using phonograph turntables and a DJ mixer . The word turntablist was coined in 1995 by DJ Babu [ 1 ] to describe the difference between a DJ who just plays records and one who performs by touching and moving the records, stylus and mixer to manipulate sound.
DJ Roc Raida DMC 1996
Dj-Qbert @ The Summit [1998 ]
DJ Craze - DMC 99 Set
Trip hop (or trip-hop ) is a genre consisting of downtempo electronic music , originating in the early 1990s in the United Kingdom , especially Bristol .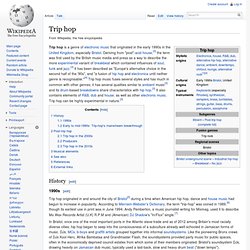 Trip hop
DJ Shadow - Midnight In A Perfect World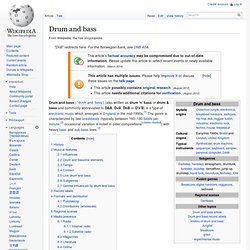 Drum and bass ( / ˈ d r ʌ m ə n d ˈ b eɪ s / ) (also written as drum 'n' bass and commonly abbreviated to D&B , D+B or DnB ) is a type of electronic music which emerged in the mid-1990s. [ 1 ] The genre is characterized by fast breakbeats (typically between 160–180 beats per minute , [ 2 ] occasional variation is noted in older compositions), with heavy bass and sub-bass lines. [ 3 ] Drum and bass began as an offshoot of the United Kingdom rave scene of the early 1990s. Over the first decade of its existence, the incorporation of elements from various musical genres led to many permutations in its overall style. [ edit ] History
Jump-Up (electronic music)
DJ Krust - Warhead
scorpio - trouble
Dj Zinc - Super Sharp Shooter (Original)
Techstep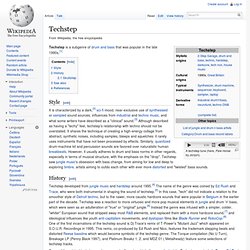 A techstep music (here, Pale Horse by Jonjon). Techstep is a subgenre of drum and bass that was popular in the late 1990s. [ 1 ]
Black Sun Empire - Extraction
Technical Itch-Critical Switch
Noisia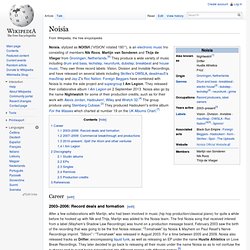 Noisia , stylized as NOISIΛ ('VISION' rotated 180°), is a Dutch electronic music trio consisting of members Nik Roos , Martijn van Sonderen and Thijs de Vlieger from Groningen , The Netherlands . [ 1 ] They now produce a wide variety of music including drum and bass , techstep , neurofunk , dubstep , breakbeat and house music .
Noisia - Split the Atom (Official Video)
Noisia - Machine Gun (Official Video)
Evol Intent - 8 Bit Bitch (Spor Mix)
Hive - Surreal Killer
Sambass , Drum 'n' Bossa or drum 'n' sambass (a portmanteau of " samba " and " bass ") is a regional sub-genre of drum and bass music mostly native to Brazil , [ 1 ] which combines drum and bass rhythms with influences from Latin American music .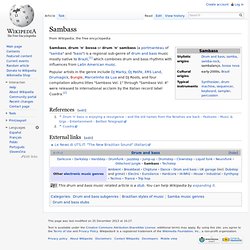 Sambass
Sambassim - DJ Patife Remix
Diariamente - DJ Patife feat. Camila Andrade
Suv- Rip Curl
DJ SUV @ Respect
Dj Suv @ El Living - Santiago, Chile on Vimeo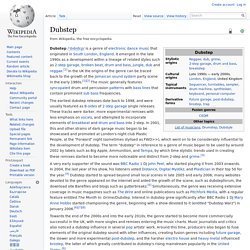 Dubstep ( / ˈ d ʌ b s t ɛ p / ) is a genre of electronic dance music that originated in South London , England .
Bassnectar
Bassnectar is the stage name of Lorin Ashton, a freeform electronic music producer and DJ based in Santa Cruz, California . [ 1 ] He is best known for his live performances, light shows , and community engagement. [ 2 ] [ edit ] Musical style and influences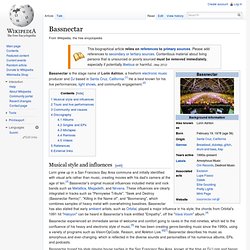 BASSNECTAR - Teleport Massive (Bassnectar Remix) (Official)
Bassnectar - Blow
BASSNECTAR - BOMB THE BLOCKS - New Music Video!
Benga & Coki - 'Night'
Rusko - Woo Boost
MRK1 - Dubelek
To be yourself you gotta know you're self
Underground hip hop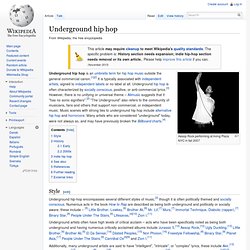 Definitive Jux
Definitive Jux is an independent record label based in New York City , United States .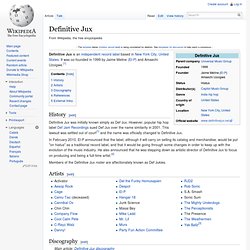 Murs - L.A. [Track 07]
MURS & 9TH WONDER - "I USED TO LOVE HER (AGAIN")
Cannibal Ox - Raspberry Fields
Company Flow - 13. Vital Nerve
RJD2 - The Horror
Mr. Lif - Jugular vein
Aesop Rock
Ian Matthias Bavitz (born June 5, 1976), better known by his stage name Aesop Rock , is an American hip hop artist and producer residing in San Francisco , California . He was at the forefront of the new wave of underground and alternative hip hop acts that emerged during the late 1990s and early 2000s (decade). He was signed to El-P 's Definitive Jux label until it went on hiatus in 2010. [ 2 ] Rolling Stone magazine ranked him at number 19 at the Top 100 Artists of the Decade . [ 3 ] He is a member of the groups The Weathermen , Hail Mary Mallon (with Rob Sonic & DJ Big Wiz), and Two Of Every Animal (with Cage ). [ 4 ] [ 5 ] Regarding his name, he said: "I acquired the name Aesop from a movie I had acted in with some friends.
Aesop Rock - Pigs
Aesop Rock - Freeze
Aesop Rock - Daylight
Aesop Rock - Labor
Aesop Rock - None Shall Pass
Aesop Rock- Nightlight
El-P - Stepfather Factory
Blackalicious - Alphabet Aerobics & Chemical Calisthenics
Lyrics Born -Lady Don't Tek No
Aceyalone - The Grandfather Clock
Haiku D'Etat - Mike Aaron & Eddie
agent 23 Nocturnal Artist