US law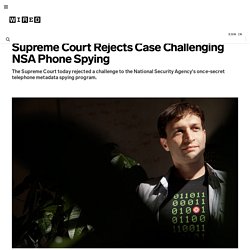 The Supreme Court today rejected a challenge to the National Security Agency's once-secret telephone metadata spying program. The justices, without comment, declined to entertain a challenge from the Electronic Privacy Information Center seeking to halt the program that was disclosed in June by NSA leaker Edward Snowden. The court's inaction means that the there isn't likely to be any court resolution to constitutional challenges to the metadata program for years. Legislation, however, is pending to gut the program. What's more, several cases challenging the snooping are pending in federal courts across the country.
Supreme Court Rejects Case Challenging NSA Phone Spying | Threat Level
Federal Case Could Make It Easier For Victims To Defend Themselves Against Civil Forfeiture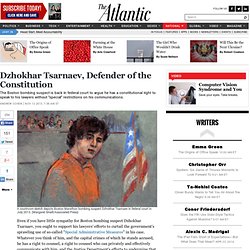 Dzhokhar Tsarnaev, Defender of the Constitution - Andrew Cohen
The Boston bombing suspect is back in federal court to argue he has a constitutional right to speak to his lawyers without "special" restrictions on his communications. Even if you have little sympathy for Boston bombing suspect Dzhokhar Tsarnaev, you ought to support his lawyers' efforts to curtail the government's sprawling use of so-called "Special Administrative Measures" in his case. Whatever you think of him, and the capital crimes of which he stands accused, he has a right to counsel, a right to counsel who can privately and effectively communicate with him, and the Justice Department's efforts to undermine that right in this instance are unfair and perhaps even unconstitutional. First employed in 1996, SAMs are designed to prevent criminal defendants— before, during or after their trial—from inciting violence behind bars through secret communications with their lawyers or others.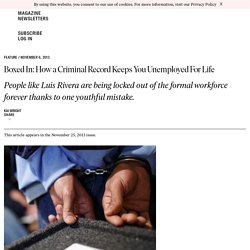 Boxed In: How a Criminal Record Keeps You Unemployed For Life
People like Luis Rivera are being locked out of the formal workforce forever thanks to one youthful mistake. (Reuters/John Gress) This article was reported in partnership with the Investigative Fund of the Nation Institute. Luis Rivera had some peace of mind for about five months, from late fall of 2010 through early spring of the following year. That's the closest thing he's seen to financial stability in more than twenty years.
New York Times reporter James Risen at "Obama's War on Leaks" panel at the National Press Club in May 2012 A proposed federal shield law that would grant journalists covered by the legislation a level of protection has passed in the Senate Judiciary Committee and moved to the full Senate. The shield law would likely protect reporters from subpoenas intended to force them to give up confidential information about their sources, but the protection national security journalists would be able to enjoy is debatable.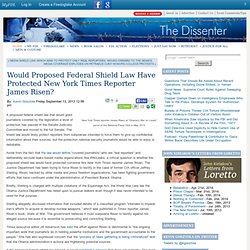 Would Proposed Federal Shield Law Have Protected New York Times Reporter James Risen?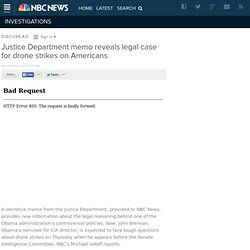 A secretive memo from the Justice Department, provided to NBC News, provides new information about the legal reasoning behind one of the Obama administration's controversial policies. Now, John Brennan, Obama's nominee for CIA director, is expected to face tough questions about drone strikes on Thursday when he appears before the Senate Intelligence Committee. NBC's Michael Isikoff reports.
Carmen Ortiz, U.S.
Prosecutor in Aaron Swartz 'hacking' case comes under fire | Politics and Law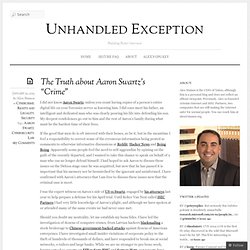 I did not know Aaron Swartz , unless you count having copies of a person's entire digital life on your forensics server as knowing him. I did once meet his father, an intelligent and dedicated man who was clearly pouring his life into defending his son.
Carmen Ortiz and Stephen Heymann: accountability for prosecutorial abuse | Glenn Greenwald | Rights & Liberties
US Federal Judge Allows Corporation To File Secret Lawsuit | Rights & Liberties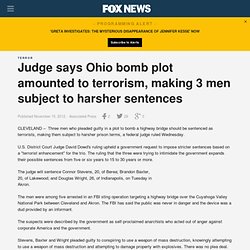 Judge says Ohio bomb plot amounted to terrorism, making 3 men subject to harsher sentences
CLEVELAND – Three men who pleaded guilty in a plot to bomb a highway bridge should be sentenced as terrorists, making them subject to harsher prison terms, a federal judge ruled Wednesday. U.S.
Advertising, display How to place a display ad on SFGate.
Texas judge rules atmosphere, air is public trust - SFGate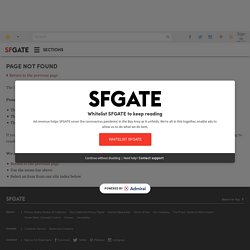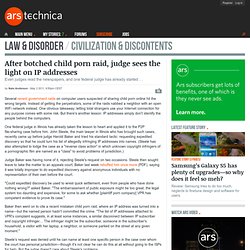 Several recent government raids on computer users suspected of sharing child porn online hit the wrong targets. Instead of getting the perpetrators, some of the raids nabbed a neighbor with an open WiFi network instead. One obvious takeaway: letting total strangers use your Internet connection for any purpose comes with some risk.
After botched child porn raid, judge sees the light on IP addresses
Documents unsealed this week reveal that the year-long delay in returning the seized Dajaz1 domain name occurred in part because the government was waiting for copyright holders, including the Recording Industry Association of America, to provide more information.
Waiting on the RIAA, feds held seized Dajaz1 domain for months
Here was a typical Twitter message: "15% of Cincinnati's Fire Dept browned out today to help pay for a streetcar boondoggle. If you think it's a waste of money, VOTE YES on 48." Mr.
Honest Hyperbole and Free Speech - Adam Liptak
Comment: Stolen Valor and Super PACs
A peculiar law with a mellifluous name will meet its doom before the Supreme Court this week.
American citizens can be ordered to decrypt their PGP-scrambled hard drives for police to peruse for incriminating files, a federal judge in Colorado ruled today in what could become a precedent-setting case. Judge Robert Blackburn ordered a Peyton, Colo., woman to decrypt the hard drive of a Toshiba laptop computer no later than February 21--or face the consequences including contempt of court. PGP Desktop: Even the FBI can't crack it!
Judge: Americans can be forced to decrypt their laptops | Privacy Inc.
Chris Hedges: Why I'm Suing Barack Obama - Chris Hedges' Columns
Why I'm Suing Barack Obama
What makes our NDAA lawsuit a struggle to save the US constitution | Tangerine Bolen | Comment is free
The degradation of justice
Jurors Can Say No
CISPA / TPP / ACTA / SOPA / PIPA / COICA
US law enforcement & criminal justice
U.S. Drug Policy Would Be Imposed Globally By New House Bill
11th Circuit – Broccoli wins!
DOJ: Calling Out Government Lies Would Endanger National Security