US law
CISPA / TPP / ACTA / SOPA / PIPA / COICA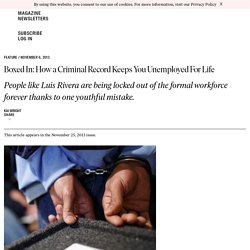 Boxed In: How a Criminal Record Keeps You Unemployed For Life
People like Luis Rivera are being locked out of the formal workforce forever thanks to one youthful mistake. (Reuters/John Gress) This article was reported in partnership with the Investigative Fund of the Nation Institute. Luis Rivera had some peace of mind for about five months, from late fall of 2010 through early spring of the following year. That's the closest thing he's seen to financial stability in more than twenty years.
Carmen Ortiz, U.S.
Prosecutor in Aaron Swartz 'hacking' case comes under fire | Politics and Law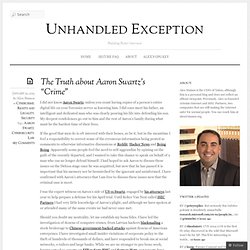 I did not know Aaron Swartz, unless you count having copies of a person's entire digital life on your forensics server as knowing him. I did once meet his father, an intelligent and dedicated man who was clearly pouring his life into defending his son.
Carmen Ortiz and Stephen Heymann: accountability for prosecutorial abuse | Glenn Greenwald | Rights & Liberties
Here was a typical Twitter message: "15% of Cincinnati's Fire Dept browned out today to help pay for a streetcar boondoggle. If you think it's a waste of money, VOTE YES on 48."
Honest Hyperbole and Free Speech - Adam Liptak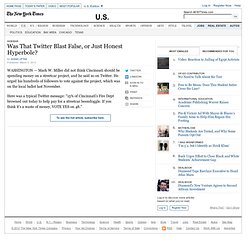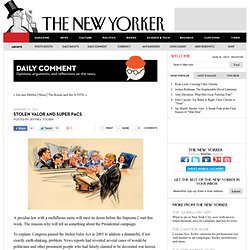 Comment: Stolen Valor and Super PACs
A peculiar law with a mellifluous name will meet its doom before the Supreme Court this week.
Chris Hedges: Why I'm Suing Barack Obama - Chris Hedges' Columns
Why I'm Suing Barack Obama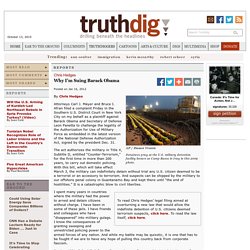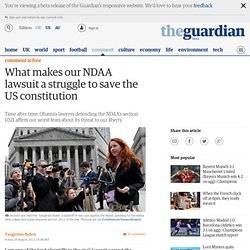 What makes our NDAA lawsuit a struggle to save the US constitution | Tangerine Bolen | Comment is free
I am one of the lead plaintiffs in the civil lawsuit against the National Defense Authorization Act, which gives the president the power to hold any US citizen anywhere for as long as he wants, without charge or trial. In a May hearing, Judge Katherine Forrest issued an injunction against it; this week, in a final hearing in New York City, US government lawyers asserted even more extreme powers – the right to disregard entirely the judge and the law. On Monday 6 August, Obama's lawyers filed an appeal to the injunction – a profoundly important development that, as of this writing, has been scarcely reported. In the earlier March hearing, US government lawyers had confirmed that, yes, the NDAA does give the president the power to lock up people like journalist Chris Hedges and peaceful activists like myself and other plaintiffs. Government attorneys stated on record that even war correspondents could be locked up indefinitely under the NDAA.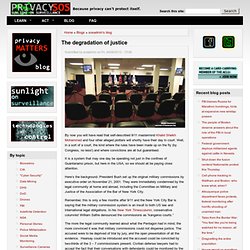 By now you will have read that self-described 9/11 mastermind Khalid Sheikh Mohammed and four other alleged plotters will shortly have their day in court.
The degradation of justice
Jurors Can Say No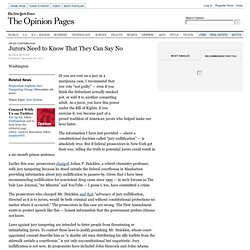 IF you are ever on a jury in a marijuana case, I recommend that you vote "not guilty" — even if you think the defendant actually smoked pot, or sold it to another consenting adult.
US law enforcement & criminal justice
The House Judiciary Committee passed a bill yesterday that would make it a federal crime for U.S. residents to discuss or plan activities on foreign soil that, if carried out in the U.S., would violate the Controlled Substances Act (CSA) -- even if the planned activities are legal in the countries where they're carried out. H.R. 313, the "Drug Trafficking Safe Harbor Elimination Act of 2011," is sponsored by Judiciary Committee Chairman Rep.
U.S. Drug Policy Would Be Imposed Globally By New House Bill