Africa
African Commission on Human and Peoples' Rights. African Commission on Human and Peoples' Rights. The Lost Girls. Over the last week or so, multiple stories in the news have been asking why the media is ignoring the kidnapping of more than 200 girls (some reports say as many as 276) by Boko Haram, an extremist anti-Western group in Nigeria.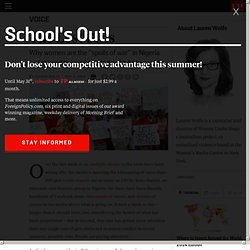 Yet there have been literally hundreds of Facebook posts, thousands of tweets, and dozens of stories in the media about what is going on. It took a week or two -- longer than it should have, yes, considering the horror of what has been perpetrated -- but in the end, this case has gotten more attention than any single case of girls abducted in armed conflict in recent memory, possibly ever. "We Were Sent to Kill You" Sitreps Detail Rwanda's Descent into Genocide 1994. Washington, DC, April 7, 2014 –The complete series of daily and weekly situation reports (sitreps) written by UN peacekeepers in Rwanda — published today by the National Security Archive for the first time in full — provides a detailed, on-the-ground perspective on the genocide in Rwanda that started twenty years ago today.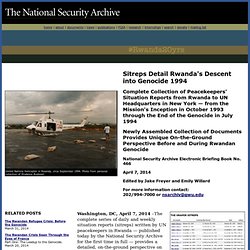 Today's posting is a collection of every single sitrep from the beginning of the United Nations Assistance Mission for Rwanda (UNAMIR) in October 1993 to the end of the genocide on July 18, 1994.[1] The documents tell a story of the broken Rwandan political system and a peacekeeping force that, because of a lack of support from UN headquarters in New York and from the members of the UN Security Council, was not equipped to handle the rising violence. China-based corporate web behind troubled Africa resource deals. For centuries, wave after wave of colonists and foreign investors have swept through Africa, looking for profits from the continent's abundant reserves of oil and prized minerals.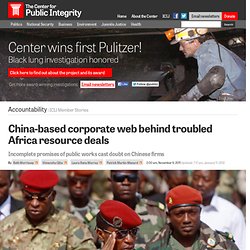 Many instead left records of corruption and broken promises of shared wealth with Africans. It is against this backdrop that an eager conglomerate has recently been drawing attention and generating headlines throughout Africa. MENA (the Middle-East & North Africa) Map Room: Hidden Waters. InFocus » What Does the Fall of Goma Mean for Central Africa? Israel Siphons off Africa's Nile. Egyptian and Sudanese policy failures have lead to a looming strategic threat to both countries' most important resources – the Nile.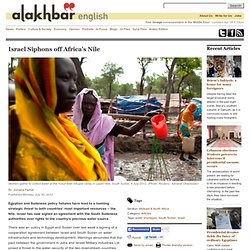 Israel has now signed an agreement with the South Sudanese authorities over rights to the country's precious water source. There was an outcry in Egypt and Sudan over last week's signing of a cooperation agreement between Israel and South Sudan on water infrastructure and technology development. Warnings abounded that the pact between the government in Juba and Israeli Military Industries Ltd posed a threat to the water security of the two downstream countries and should be countered.
Cable shows U.S. permission required for key Ugandan combat ops. By Stephen C.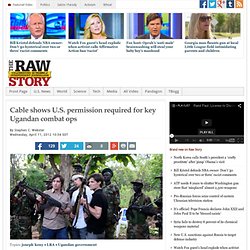 WebsterWednesday, April 11, 2012 10:54 EDT Update (below): Publisher confirms cyber attack following Raw Story report A U.S. State Department cable composed in Dec. 2009 sheds yet more light on the murky relationship between the Obama administration and the Ugandan government, pointing to an information sharing agreement that prohibits the Ugandan regime from engaging in certain combat operations against the Lord's Resistance Army (LRA) without U.S. permission. Specifically, the cable states that Ugandan forces may not utilize U.S. intelligence to engage enemies without first consulting U.S. officials. Niger Delta: a quiet resistance. Women stand next to an oil wellhead that since 2004 has been regularly spilling crude oil near the community of Ikot Ada Udo in the Niger Delta.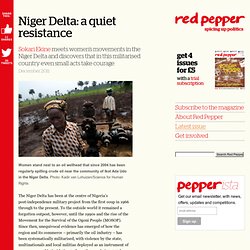 Photo: Kadir van Lohuizen/Science for Human Rights The Niger Delta has been at the centre of Nigeria's post‑independence military project from the first coup in 1966 through to the present. To the outside world it remained a forgotten outpost, however, until the 1990s and the rise of the Movement for the Survival of the Ogoni People (MOSOP). 2nd explosion strikes near Nigeria church by Jos. LAGOS, Nigeria (AP) -- Suspected Muslim extremists kidnapped about 100 girls Tuesday from a school in northeastern Nigeria, less than a day after militants bombed a bus station and killed 75 people in the capital - a surge of violence that raised new doubts about the military's ability to contain an Islamic uprising.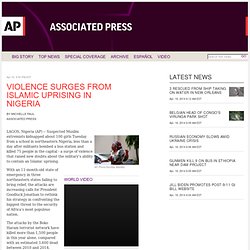 With an 11-month-old state of emergency in three northeastern states failing to bring relief, the attacks are increasing calls for President Goodluck Jonathan to rethink his strategy in confronting the biggest threat to the security of Africa's most populous nation. The attacks by the Boko Haram terrorist network have killed more than 1,500 people in this year alone, compared with an estimated 3,600 dead between 2010 and 2014. In the latest attack, gunmen killed a soldier and a police officer guarding a school in Chibok on the edge of the Sambisa Forest and abducted the teenage girls after midnight, according to authorities.
Ethiopia charges six journalists with terrorism. New York, November 11, 2011--A judge in Ethiopia's federal high court charged six journalists with terrorism on Thursday under the country's antiterrorism law, bringing the number of journalists charged under the statute since June to 10, CPJ research found.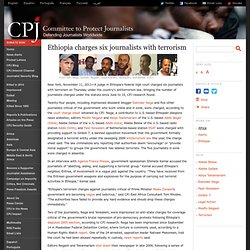 Twenty-four people, including imprisoned dissident blogger Eskinder Nega and five other journalists critical of the government who work online and in exile, were charged, according to the court charge sheet obtained by CPJ. Nega, a contributor to U.S. -based Ethiopian diaspora news websites; editors Mesfin Negash and Abiye Teklemariam of the U.S. -based Addis Neger Online; Abebe Gellaw of the U.S. France, Africa: Suitcases Filled with Cash Expose the Françafrique Connection.
In the wake of the Dominique Strauss Kahn scandal, a new furore is now rocking France and the upcoming 2012 French presidential campaign.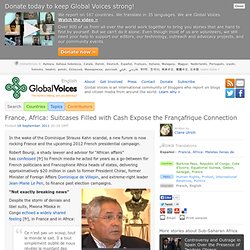 Robert Bourgi, a shady lawyer and advisor for "African affairs" has confessed [fr] to French media he acted for years as a go-between for French politicians and Francophone Africa heads of states, delivering approximatively $20 million in cash to former President Chirac, former Minister of Foreign Affairs Dominique de Villepin, and extreme-right leader Jean-Marie Le Pen, to finance past election campaigns. Screen shot of Lawyer R. Bourgi on BFM TV "Not exactly breaking news"
China-based corporate web behind troubled Africa resource deals. Special Coverage on Conflict Minerals. Jump to: Overview | Current Policy | Solutions | Campaigns & Programs Your mobile phone, your computer, your portable music player, and your gaming system all fuel fighting in eastern Congo.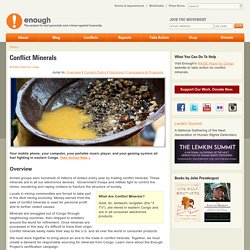 Take Action Now » Overview Armed groups earn hundreds of millions of dollars every year by trading conflict minerals. The Price of Precious. The first child soldier pops out of the bush clutching an AK-47 assault rifle in one hand and a handful of fresh marijuana buds in the other. The kid, probably 14 or 15, has this big, goofy, mischievous grin on his face, like he's just stolen something—which he probably has—and he's wearing a ladies' wig with fake braids dangling down to his shoulders. Within seconds his posse materializes from the thick, green leaves all around us, about ten other heavily armed youngsters dressed in ratty camouflage and filthy T-shirts, dropping down from the sides of the jungle and blocking the red dirt road in front of us.
Our little Toyota truck is suddenly swarmed and immobilized by a four-and-a-half-foot-tall army. This is on the road to Bavi, a rebel-controlled gold mine on the Democratic Republic of the Congo's wild eastern edge. Conflict Minerals. ZIMBABWE: Minister Trying to Create a "Paper Tiger" Human Rights Commission. HARARE, Oct 10, 2011 (IPS) - Zimbabwe's justice minister is frantically trying to fend off probes into allegations of human rights abuses perpetrated by President Robert Mugabe's regime since the country's independence in 1980.
Justice and Legal Affairs Minister Patrick Chinamasa, a member of the highest decision-making body of the ruling ZANU-PF party, the Politburo, is reportedly trying to weaken the Zimbabwe Human Rights Commission (ZHRC) so that it would not be able to investigate decades of governing party abuses. The commission was established in March 2010 but has been dormant due to the absence of an enabling act that clearly spells out its scope of work. In late 2010, Chinamasa introduced a bill that seeks to operationalise the commission, which is currently being debated in the lower house. If approved, it will be submitted to the Senate, but will require Mugabe to sign it into law. US Quietly Assumes Military Posture in Africa.
UN declares famine in three more areas of Somalia - GlobalPost. Please support our site by enabling javascript to view ads. The Somalia famine is worsening, with the U.N. declaring famine conditions in three new areas of the country. In late July it classified two southern regions of Somalia as having been hit by famine, but the crisis has since spread in the Horn of Africa, which is experiencing a severe and prolonged drought. More from GlobalPost: Somalia famine grows, 12.5 million at risk Photos from GlobalPost's Planet Pic: Somalis Flee To Kenyan Refugee Camps. ‪NYT photographer details Somalia's famine‬‏
Chaîne de bbcguests.
---