AFRICA
Rwanda. Mandabi (Ousmane Sembène, 1968) | Forrest In Focus: Critical Film Reviews. I am still a newcomer to the films of Ousmane Sembène, but even with my limited experience, it is clear that his cinema is an intensely political one; colonialism, race, corruption, and religion surface time and time again as Sembène's observational style remains consistent.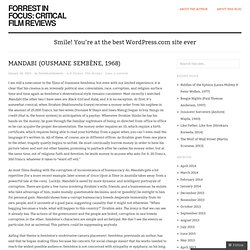 Most recently I watched Mandabi (the other two I have seen are Black Girl and Xala), and it is no exception. At first, it's somewhat comical; when Ibrahim (Makhouredia Gueye) receives a money order from his nephew in the amount of 25,000 francs, his two wives (Ynousse N'Diaye and Isseu Nieng) began to buy things on credit (that is, the honor system) in anticipation of a payday. Whenever Ibrahim thinks he has his hands on the money, he goes through the familiar nightmare of being re-directed from office to office so he can acquire the proper documentation. Leadership and National Development: The Missing Link, By Nuhu Ribadu. Nuhu Ribadu Mr.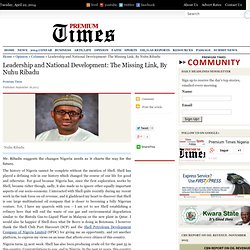 Ribadu suggests the changes Nigeria needs as it charts the way for the future. Otunba Dino Melaye (dino_melaye) A DIFFERENT NUANCE FROM THE STATUS QUO. Saki Mafundikwa: Ingenuity and elegance in ancient African alphabets.
Google blimps will carry wireless signal across Africa. Search giant Google is intending to build huge wireless networks across Africa and Asia, using high-altitude balloons and blimps.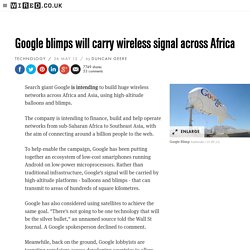 The company is intending to finance, build and help operate networks from sub-Saharan Africa to Southeast Asia, with the aim of connecting around a billion people to the web. To help enable the campaign, Google has been putting together an ecosystem of low-cost smartphones running Android on low-power microprocessors. Rather than traditional infrastructure, Google's signal will be carried by high-altitude platforms - balloons and blimps - that can transmit to areas of hundreds of square kilometres. Google has also considered using satellites to achieve the same goal.
"There's not going to be one technology that will be the silver bullet," an unnamed source told the Wall St Journal. Centre for African Studies Basel: Macamo. Elísio Macamo is Tenure Track Assistant Professor of African Studies at the University of Basel (since October 2009).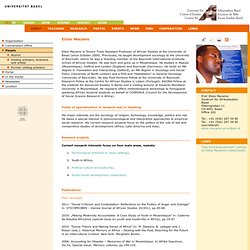 Previously, he taught development sociology at the University of Bayreuth, where he was a founding member of the Bayreuth International Graduate School of African Studies. He was born and grew up in Mozambique. The Colour Of Life. The TRUE Size Of Africa - An Erroneous Map Misled Us For 500 Years! Although featured in 'The West Wing', this map dishonesty is anything but fictional.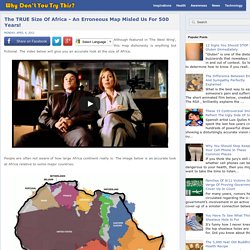 The video below will give you an accurate look at the size of Africa. People are often not aware of how large Africa continent really is. The image below is an accurate look at Africa relative to some major countries: Nigerian author Chinua Achebe dies. 22 March 2013Last updated at 16:58 GMT Bilkisu Labaran, from the BBC's Focus on Africa programme, talks about the influence of Chinua Achebe Renowned Nigerian author Chinua Achebe has died at the age of 82 after a brief illness.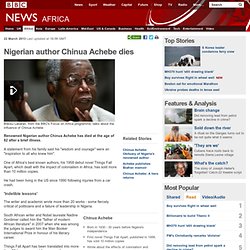 Electricity comes to an impoverished Mozambican island | Anya Schiffrin. Antiquated electricity generator on island of Ibo, Mozambique On a recent visit to the remote Ibo Island in the Quirimbas Archipelago in northern Mozambique, we were struck by the island's stunning views and the soft white-sand beaches, the mangrove swamps and the wooden dhows that have plied in the Indian Ocean for decades.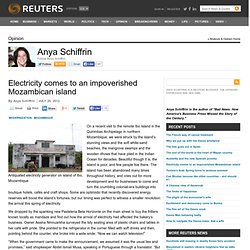 Beautiful though it is, the island is poor, and few people live there. The island has been abandoned many times throughout history, and cries out for more development and for businesses to come and turn the crumbling colonial-era buildings into boutique hotels, cafés and craft shops. Some are optimistic that recently discovered energy reserves will boost the island's fortunes, but our timing was perfect to witness a smaller revolution: the arrival this spring of electricity. Kisumu Kanyakwar Women Group. AFRO BOY. Amandla News | Africa Gathering — Home. WE LET AFRICA DOWN BADLY by Prof George N. Ayittey « A New Nigeria. Posted by seunfakze in Uncategorized.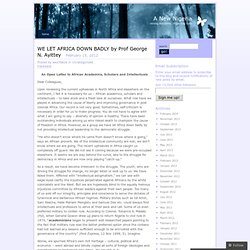 Trackback An Open Letter to African Academics, Scholars and Intellectuals Dear Colleagues, Upon reviewing the current upheavals in North Africa and elsewhere on the continent, I felt it is necessary for us – African academics, scholars and intellectuals – to take stock and a fresh look at ourselves: What role have we played in advancing the cause of liberty and improving governance in post colonial Africa. Our record is not very good.
Vanguard Update: Finding "Chinatown, Africa" in Uganda. To Our Faithful Current.com Users: Current's run has ended after eight exciting years on air and online.
The Current TV staff has appreciated your interest, support, participation and unflagging loyalty over the years. Your contributions helped make Current.com a vibrant place for discussing thousands of interesting stories, and your continued viewership motivated us to keep innovating and find new ways to reflect the voice of the people. Afrologica Investigation Unit. A.k.a. DJ Badly - ILLEGAL GATHERINGS : Play and the Durban Alternative Scene (c. 1990) VIDEO: #OCCUPYNIGERIA "I am ready to die" Nigerian Protester To Police. Kayode Ogundamisi is a commentator on Nigerian and international affairs, he was involved in the Nigerian pro-democracy struggle, Ogundamisi survived a trumped up charge of treasonable offence against the military government of General Babangida, he was detained in Jos prison in 1991 and released after intensive local and international campaigns against the government charging him and 12 other students before a military tribunal.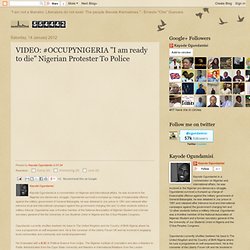 Ogundamisi was a frontline member of the National Association of Nigerian Student and a former secretary general of the the University of Jos Students Union in Nigeria and the O'dua Peoples Congress. Ogundamisi currently shuttles beetwen his base in The United Kingdom and his Country of Birth Nigeria where he runs a programme on self empowerment. He is the convener of the Liberty Forum UK and his involved in engaging local communities and community and social empowerment He Graduated with a B.SC in Political Science from Unijos.
The Coming Battle for Africa's Internet - Drew Hinshaw - International. As new technology brings Africans online, everyone from Google to local developers are looking to seize the growing market A team of engineers lay fibre optic cables in rural Kenya. Antony Njuguna / Reuters. African Community | TallyFox Social Technologies AG. LightBeamProductions (LightBeamPro) Pdf.usaid.gov/pdf_docs/PDABP824. Abt_iwlearn/events/iwrmoct2006/51b Salif Diop Freshwater vulnerability.pdf. CBS Tweet - LateLateShow w @CraigyFerg honors BlackHistoryMonth w guests Dr Cornell West & George Clinton Feb 1... C preview. Les églises de Lalibela en Ethiopie (groupe nord) - une vidéo Voyages. Marketing and Media in South Africa. John Wesley Blassingame. John W. Blassingame John Wesley Blassingame (March 23, 1940 - February 13, 2000) was an American scholar, historian, educator, writer, and pioneer in the study of American slavery.
He was the former chairman of the African-American Studies program at Yale University. ▲☥▲ The Journal of Negro History issues at Project Gutenberg. BUALA - cultura contemporânea africana. African Studies Programs. Swiss Society for African Studies (SSAS) | Schweizerische Genossenschaft für Afrikanische Studien (SSAS) | Switzerland. Welcome to University Directory!
Centre for African Studies Basel: Research. Africa and Europe are connected in manifold ways. The two continents share not only a long history but also opportunities and challenges in the present. Both of these call for a joint and interdisciplinary approach in order to achieve positive results. As at now the mutual knowledge on each other is limited. Creative Africa Network - CREATIVE AFRICA NETWORK. Batonga Foundation. BBC World Service - Africa. Show Pages - Inside Africa - CNN.com - Special Coverage on CNN.com. Magazine COON BIDNESS | Issue THE CRITICAL ASS ISSUE | MagCloud. An African American oriented visual arts and literature journal containing essays, fiction, poetry and art by some of the most visionary talent around today. Founded and edited by writers and musicians Greg Tate and LaTasha N. Nevada Diggs, CoonBidness was named after an album by the conceptual jazz composer Julius Hemphill.
The magazine hangs out dirty laundry and celebrates a renegade African cosmopolite spirit in a well - woven series of surreal short stories, Facebook threads, poems and scintillating visuals. Sunuafrik.com || African News, Breaking News, Politics, Sports, Music, Entertainment, Multimedia & Blogs. Tunisie. Bookie Shonuga | Internet Radio. Houssein (tn_blogs) A Tunisian Girl /بنيّة تونسية. African Farmers Get Boost From IFC, Soros Economic Development Fund, and Esoko | Open Society Foundations. Putting Complementarity into Practice | Open Society Justice Initiative | Open Society Foundations. Kenya and the ICC: Fact Versus Fiction | Open Society Foundations Blog. AfriMAP | Open Society Foundations. AfricanViews. China's Trade With Africa Just Exploded To $115 Billion. What's driving Africa's growth - McKinsey Quarterly - Economic Studies - Productivity & Performance. Emerging Africa. The Return of 'Afro-Optimism' Africa: Security and Development for the 21st Century.
---