International SEO
Official Google Advice On Internationalizing Your Home Page. Google has published their official advice on the Google Webmaster Central blog on how to handle your home page when your web site serves multiple languages and countries.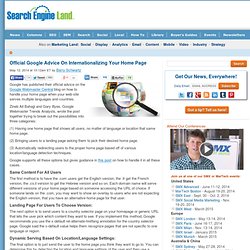 Zineb Ait Bahajji and Gary Illyes, Google Webmaster Trends Analysts, wrote the post together trying to break out the possibilities into three categories: (1) Having one home page that shows all users, no matter of language or location that same home page. (2) Bringing users to a landing page asking them to pick their desired home page. (3) Automatically redirecting users to the proper home page based off of various location/language detection techniques. Google supports all these options but gives guidance in this post on how to handle it in all these cases. International SEO FAQs By Google. Did you know Google has an official FAQ, frequently asked questions, document just on the internationalization of your site?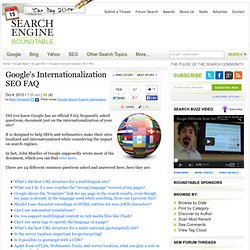 It is designed to help SEOs and webmasters make their sites localized and internationalized while considering the impact on search engines. In fact, John Mueller of Google supposedly wrote most of the document, which you can find over here. There are 24 different common questions asked and answered here, here they are: Forum discussion at Google+. International SEO: Dropping the Information Dust. The author's posts are entirely his or her own (excluding the unlikely event of hypnosis) and may not always reflect the views of Moz.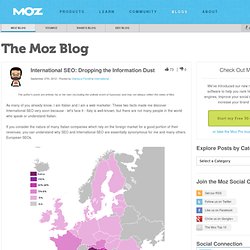 As many of you already know, I am Italian and I am a web marketer. These two facts made me discover International SEO very soon because - let's face it - Italy is well-known, but there are not many people in the world who speak or understand Italian. If you consider the nature of many Italian companies which rely on the foreign market for a good portion of their revenues, you can understand why SEO and International SEO are essentially synonymous for me and many others European SEOs. This map explains why I must be an International SEO.
Image by: International SEO: Where to Host and How to Target - Whiteboard Friday. International SEO is big business, and big business equals big websites.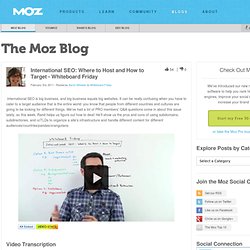 It can be really confusing when you have to cater to a target audience that is the entire world: you know that people from different countries and cultures are going to be looking for different things. We've had a lot of PRO members' Q&A questions come in about this issue lately, so this week, Rand helps us figure out how to deal! He'll show us the pros and cons of using subdomains, subdirectories, and ccTLDs to organize a site's infrastructure and handle different content for different audiences/countries/pandas/orangutans.
Howdy, SEOmoz fans. Welcome to another edition of Whiteboard Friday. Multi-regional and multilingual sites - Webmaster Tools Help. A multilingual website is any website that offers content in more than one language.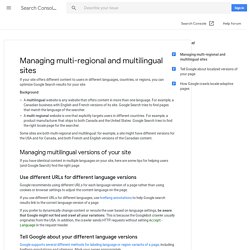 Examples of multilingual websites might include a Canadian business with an English and a French version of its site, or a blog on Latin American soccer available in both Spanish and Portuguese. A multi-regional website is one that explicitly targets users in different countries. Working with multi-regional websites. Webmaster Level: Intermediate Did you know that a majority of users surveyed feel that having information in their own language was more important than a low price?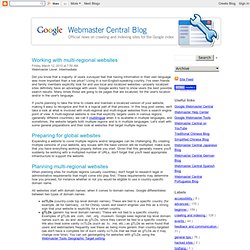 Living in a non-English-speaking country, I've seen friends and family members explicitly look for and use local and localized websites—properly localized sites definitely have an advantage with users. Google works hard to show users the best possible search results. Many times those are going to be pages that are localized, for the user's location and/or in the user's language. International SEO: Using XML Sitemaps hreflang= for Geotargeting? Beware of the Kinks. We recently had a bit of a head-scratcher with a new e-commerce client and problems with geo-targeting the correct site to the correct region.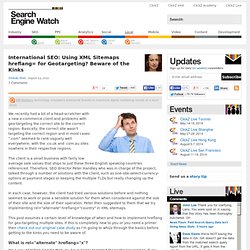 Basically, the correct site wasn't targeting the correct region and in most cases ".com" seemed to rank vaguely well everywhere; with the .co.uk and .com.au sites nowhere in their respective regions. The client is a small business with fairly low average sale values that ships to just these three English speaking countries referenced. Sitemaps: rel="alternate" hreflang="x" - Webmaster Tools Help. If your site targets users in many languages and, optionally, countries, you can use Sitemaps to provide Google with rel="alternate" hreflang="x".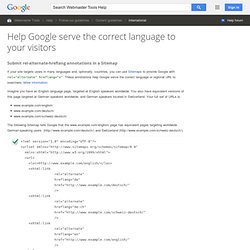 These annotations help Google serve the correct language or regional URL to searchers. More information. Imagine you have an English language page, targeted at English speakers worldwide. How to Use Multiple Sitemaps on One Domain for Geo-targeting. Working with websites that targets several countries is always challenging, especially from an SEO point of view, people just don't seem to get that doing SEO in different countries goes way beyond different languages.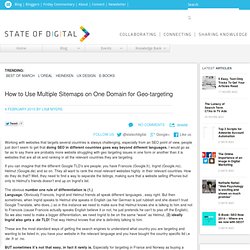 I would go as far as to say there are probably more website struggling with geo targeting issues in one form or another than it is websites that are all ok and ranking in all the relevant countries they are targeting. If you can imagine that the different Google TLD's are people, you have Francois (Google.fr), Ingrid (Google.no), Helmut (Google.de) and so on. They all want to rank the most relevant websites highly in their relevant countries. How do they do that? Rel="alternate" hreflang="x" - Webmaster Tools Help.
Many websites serve users from around the world, with content that's translated or targeted to users in a certain region.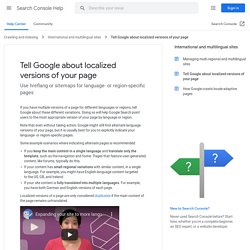 Google uses the rel="alternate" hreflang="x" annotations to serve the correct language or regional URL to searchers. More information about multi-regional and multilingual sites. Some example scenarios where rel="alternate" hreflang="x" is recommended: A Simple Guide to Using rel="alternate" hreflang="x" The world is shrinking and with it the need to support content for more users means supporting more languages. Supporting multiple languages on websites is nothing new, but with browser and search engine technology starting to rely on structured data, it has never been more important to make sure you are using the correct markup. This is where rel="alternate" hreflang="x" comes in handy.
Google Adds hreflang Link Element For Multilingual Pages. Google announced better support for webmasters to communicate their multilingual content to Google with a new link element markup. Googler, Pierre Far, said on Google +: Do you work with multiregional or multilingual websites? Whether you use the same content on all sites (with minor differences, say localized pricing) or you fully translate your content, you can now annotate pages to help us consolidate the signals of such pages and also help us show the correct regional page to users in search. Canonical vs. Hreflang. Google clarifies webmaster questions around potential conflicting nature of rel canonical and hreflang annotation.
Briefly about rel="alternate" hreflang="x" Websites which serve the same content in multiple languages can utilise the rel="alternate" hreflang="x" annotations to help Google decide which version to serve to which language group. This applies in cases of translated page template in blogs and comment features, substantially similar content with minor variations such as currency or in case of fully translated content. Here are a few examples: Website A: uk.dejanseo.com (English Language, GB users) Google Says You Can Use Different Titles Tags For Language Specific Versions. This might be an obvious point to many SEOs but Pierre Far from Google clarified that if you have specific landing pages for the same product but targeting different languages/countries, you can change the title tag of the page without concern.
Pierre Far from Google posted this on Google+ saying: In my last webmaster office hours hangout I got an interesting question: When a webmaster uses rel-alternate-hreflang annotations to mark up a cluster of equivalent pages that target different language-country combinations, can the titles be different for each country? The answer is yes, use a title that makes sense for your users and your site. HREFLANG Markup Testing - It Works! SharebarVote on Hacker News A month or so ago Google announced they are now supporting the HREFLANG markup for translated content that they used to mark as duplicate. I had just completed an international audit for one of my enterprise clients, so I was interested to do some testing on this to see what effect it might have. The results are very interesting! Getting hreflang Right: Examples and Insights for International SEO. Getting A Better Understanding Of Hreflang. Richard Hearne - Google+ - Question for +John Mueller and/or +Pierre Far regarding…
Dealing with Personalized Search [Infographic] How Different Languages Can Help in SEO.
---