International
Europe's Web of Debt NYTimes May 1, 2010.
European Students Union
United Kingdom as analogue ? Germany. France. Italy. Österreich. Poland. Greece. Kosovo. Spain. Het verdriet van Vlaanderen. Occupy High School / Colleges Universities. USA. Canada. Chile. What's going on in Venezuela in a nutshell (English version) Venezuela's Internet Crackdown Escalates into Regional Blackout. For the last month, Venezuela has been caught up in widespread protests against its government.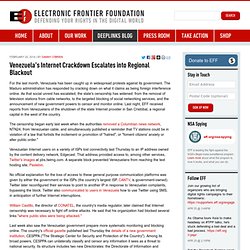 The Maduro administration has responded by cracking down on what it claims as being foreign interference online. As that social unrest has escalated, the state's censorship has widened: from the removal of television stations from cable networks, to the targeted blocking of social networking services, and the announcement of new government powers to censor and monitor online.
Brasil
Mexican riot police end striking teachers' occupation of city square | World news. Thousands of riot police retook Mexico City's central Zócalo plaza and the surrounding area from striking teachers on Friday.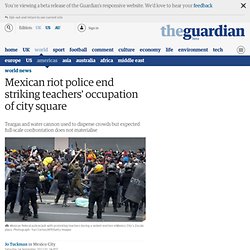 There were violent clashes but not the full-scale confrontation that had appeared likely at first. Police moved into the area minutes after the elapse of a 4pm deadline the government had set for the teachers to leave the square they had occupied for weeks in protest against an education reform. With helicopters circling low overhead, some police contingents fired teargas as they advanced. Officers had to duck to avoid being hit by missiles thrown by protesters who had earlier prepared for the operation – by building barricades and amassing makeshift weapons including metal rods, planks and broken paving stones.
But other lines of police faced little resistance as they entered the huge expanse of the square itself from a different side. Reform in Kolumbien zurückgezogen. University World News - IRAN: Students killed, arrested in Egypt-style protests. Two students were killed this week in a major eruption of anti-government demonstrations in Iran inspired by events in Egypt and Tunisia.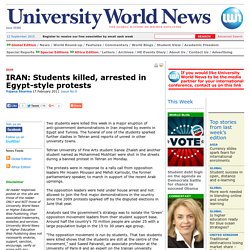 The funeral of one of the students sparked further clashes in Tehran amid reports of unrest in other university towns. Tehran University of Fine Arts student Sanee Zhaleh and another student named as Mohammed Mokhtari were shot in the streets during a banned protest in Tehran on Monday. The protests were in response to a rally call from opposition leaders Mir Hosein Mousavi and Mehdi Karroubi, the former parliamentary speaker, to march in support of the recent Arab uprisings. The opposition leaders were held under house arrest and not allowed to join the first major demonstrations in the country since the 2009 protests sparked off by the disputed elections in June that year.
Analysts said the government's strategy was to isolate the 'Green' opposition movement leaders from their student support base. Education International.
Indonesia
Overige. Decolonising our universities: another world is desirable. Editors' n ote: the statement below was issued by participants at the end of the International Conference on Decolonising Our Universities conference at Universiti Sains Malaysia (June 27-29, 2011, Penang, Malaysia).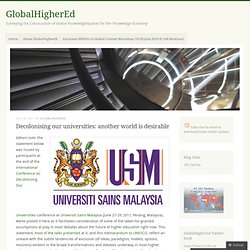 We've posted it here as it facilitates consideration of some of the taken-for-granted assumptions at play in most debates about the future of higher education right now. This statement, most of the talks presented at it, and this memorandum to UNESCO, reflect an unease with the subtle tendencies of exclusion (of ideas, paradigms, models, options, missions) evident in the broad transformations and debates underway in most higher education circles, including in rapidly changing South and Southeast Asia. WorldWise. Is the spread of the Western higher education model around the world evidence that repressive colonialism is alive and well in academe?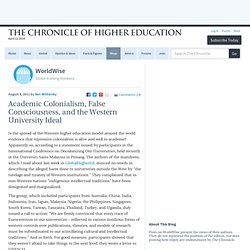 Apparently so, according to a statement issued by participants in the International Conference on Decolonizing Our Universities, held recently at the Universiti Sains Malaysia in Penang. The authors of the manifesto, which I read about last week in GlobalHigherEd, minced no words in describing the alleged harm done to universities outside the West by "the tutelage and tyranny of Western institutions."
Action types
Tools developed. Protest imagery design. Pearltrees interface Help & intro Videos.
---