Mac and cheese
Stovetop Mac and Cheese. A fun twist on traditional mac and cheese with a spicy, Creole kick, made in just 30 minutes!
About 90% of Asian Americans are lactose intolerant, and I've been incredibly blessed to not be included in this percentage. As you could imagine, dairy is a huge part of our diet, loaded with calcium, potassium, protein, and vitamin A among many other important nutrients that keep the body in optimum health. And when purchasing dairy products, I only buy products with the REAL® Seal, which lets me know that I am buying products with the wholesome goodness of the U.S. -produced cow's milk. So in an effort to incorporate real dairy products into my diet, that's how this mac and cheese was born.
Fancy Pants Macaroni and Cheese. I must admit that, although I do try to eat healthy on a regular basis, most of the recipes I post here are fairly fattening, and this recipe is by far the most fattening of them all.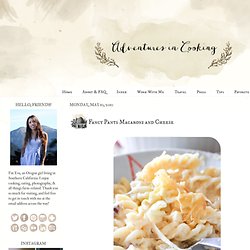 But I will tell you one thing, it's completely worth it! This is THE best Mac and Cheese that I've ever had, all the wonderful cheeses meld together into creamy perfection and the smoked gouda crust really tops it off. Vegan Buffalo Mac and Cheese | Spices & Spackle. Easy Homemade Mac 'n Cheese. If you follow me on Twitter or Facebook, you know the other day I had a craving for Kraft Macaroni and Cheese.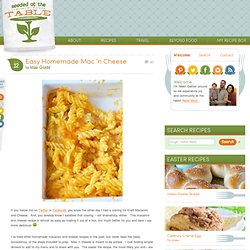 And, you already know I satisfied that craving – not shamefully, either. This macaroni and cheese recipe is almost as easy as making it out of a box, but much better for you and dare I say more delicious! I've tried other homemade macaroni and cheese recipes in the past, but never liked the taste, consistency, or the steps included to prep. Mac 'n cheese is meant to be simple. Buffalo Chicken Mac and Cheese. Buffalo Chicken Mac and Cheese Quick and easy Buffalo Chicken Mac and Cheese, using Barilla Whole Grain Pasta, scores winning points on the home front.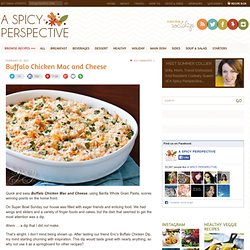 On Super Bowl Sunday our house was filled with eager friends and enticing food. We had wings and sliders and a variety of finger foods and cakes, but the dish that seemed to get the most attention was a dip. Ahem … a dip that I did not make. 5 Minute Homemade Mac and Cheese. Last week was raining and I knew just what I wanted to whip up for dinner….a quick and easy homemade mac and cheese.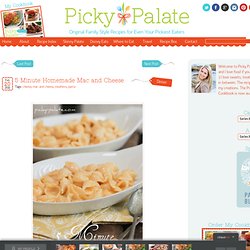 Who needs a box mix when you can have homemade mac in 5 minutes?! I will say, that I had cooked pasta in my fridge from a previous dinner, so make sure you cook some extra pasta to have ready for this recipe. Cajun Mac & Cheese | Handle the Heat. Mac and Cheese Cups. Share this image Share It Pin It When I first graduated from college, and was living in a dreary little apartment, mac and cheese was one of my few specialties.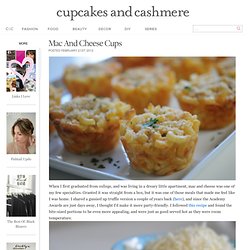 Magazine/Cookbook Monday: Slow-Baked Mac and Cheese. Happy Monday!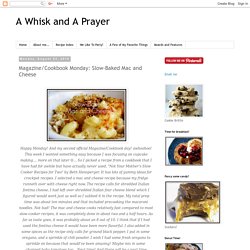 And my second official Magazine/Cookbook day! Awhoohoo! This week I wanted something easy because I was focusing on cupcake making.... more on that later ☺... Bobby Flay's Macaroni and Cheese Carbonara Recipe : Bobby Flay. Directions Preheat the oven to 375 degrees F.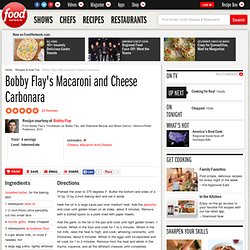 Butter the bottom and sides of a 10 by 10 by 2-inch baking dish and set it aside. Heat the oil in a large saute pan over medium heat. Add the pancetta and cook until golden brown on all sides, about 8 minutes. Bacon and Cheddar Macaroni & Cheese. 1 Bring a medium (6- to 8-quart) pot of water to a boil.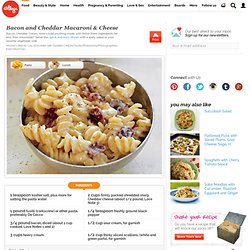 Salt it generously (it should taste like the sea). Stir in the pasta and cook according to the package directions. Drain (but don't rinse, or you'll rinse away starches that will help thicken the sauce) and return to the empty pot. 2 Meanwhile, place a large (12- to 14-inch) sauté pan over high heat for several minutes. When hot, add the bacon and sauté until browned and crispy (lower the heat to medium-high if necessary to prevent scorching), about 5 minutes. Remove the pan from the heat and, using a slotted spoon or spatula, remove the bacon from the pan and drain on paper towels. 3 Pour off the fat from the pan (into a metal can or heatproof cup, not down the drain or you'll potentially clog your pipes) and return the pan to medium-high heat. The Best Pasta Sauce Ever. Do me a favor: MAKE THIS PASTA SAUCE FOR DINNER TONIGHT!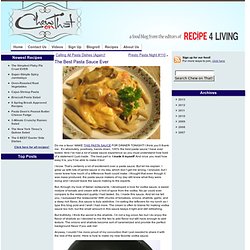 I think you'll thank me. It's absolutely, positively, hands down, 100% the best pasta sauce I have ever tasted. And I've had a lot of pasta sauce experience so you must understand how bold of a statement I just made. The best part is: I made it myself! The Hazel Bloom: The Best Macaroni and Cheese Recipe Ever. I can say this is the best macaroni and cheese recipe ever because it's not really my recipe. I tweaked it a tiny bit - basically made it even more fattening - but otherwise, it's someone else's. It's from someone named Bev, who posted her recipe on Recipezaar and to whom I am eternally grateful. See, macaroni and cheese is pretty much my all-time favorite food.
Always has been. Cases in point: Macaroni & Cheese. There's nothing that can be said. But there is much to be eaten. Come, my child…come. 20 Pasta Dinner Recipes. Perfect Mac-n-Cheese « My Cooking Quest. November 13, 2008 by joejhorn A few weeks ago I started a quest for some good mac and cheese. Nancy makes a killer mac-n-cheese but I wanted my own.
---