Breads
Crusty Flat Bread - Annabel Langbein – Recipes. Place warm water in a large mixing bowl (a bread maker or electric mixer with a dough blade is ideal if you have one).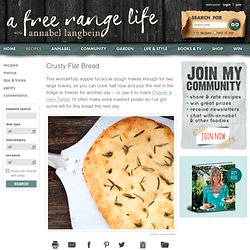 Sprinkle yeast over the water and allow to stand for 2 minutes. Mix in the mashed potato and the ¼ cup olive oil. Stir in the flour and salt and mix until the dough just starts to come away from the sides of the bowl. Turn the dough onto a lightly floured board and using lightly oiled hands knead about 30 times (or for 3-4 minutes on the dough cycle of a bread maker).
Place the dough into a lightly oiled bowl. Yeast bread. 2 Ingredient Pizza Dough Recipe - Dinner. Brioche - Tang Zhong Method. Learning the Tang Zhong method has always been on my list.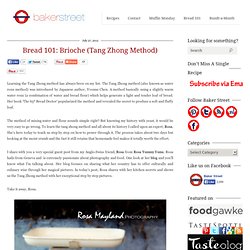 The Tang Zhong method (also known as water roux method) was introduced by Japanese author, Yvonne Chen. A method basically using a slightly warm water roux (a combination of water and bread flour) which helps generate a light and tender loaf of bread. Her book 'The 65º Bread Doctor' popularized the method and revealed the secret to produce a soft and fluffy loaf. Bread 101: Olive Oil Bread. Bread 101 is tackling a simple and everyday bread today.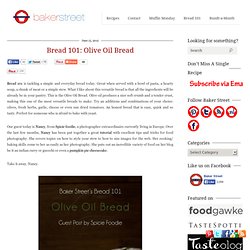 Great when served with a bowl of pasta, a hearty soup, a chunk of meat or a simple stew. What I like about this versatile bread is that all the ingredients will be already be in your pantry. This is the Olive Oil Bread. Olive oil produces a nice soft crumb and a tender crust, making this one of the most versatile breads to make. Homemade Olive Garden Breadsticks. We LOVE bread in my home!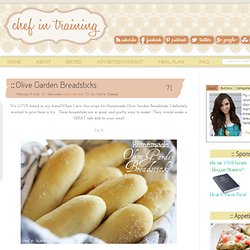 When I saw this recipe for Homemade Olive Garden Breadsticks, I definitely wanted to give them a try. These breadsticks are so good, and pretty easy to make! They would make a GREAT side dish to your meal! Pin It By Chef in Training February 17, 2012. Homemade Breadsticks. One thing my mom does for my siblings and I still to this day (yes, I am married and have 2 kids) is make a dinner for our birthdays.
No matter how old we get, it is something we look forward to. We live just an hour away from my parents, so the drive is never too far. My Favorite Pizza Dough. (note: I've edited this recipe since originally posting it here in 2008.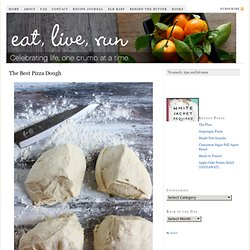 Enjoy!) 3 1/2 cups all purpose flour (original recipe had 1 3/4 cups white flour and 1 1/2 cups whole wheat flour)1/4 cup olive oil (original recipe had 2 tbsp oil)1 1/3 cup warm water1 packet yeast (1/4th oz)2 tsp sea salt In a mixing bowl, combine the warm water and yeast. Stir in the salt and flour and mix on medium high speed on your KitchenAid for 5 minutes. While the mixer is going, drizzle in the olive oil. No Knead Bread: so easy a 4-yr old can make it!
Monday, September 10, 2007 No Knead Bread: so easy a 4-yr old can make it!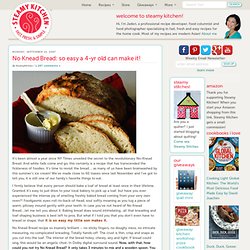 It's been almost a year since NY Times unveiled the secret to the revolutionary No-Knead Bread. And while fads come and go, this certainly is a recipe that has transcended the fickleness of foodies. It's time to revisit the bread…. as many of us have been brainwashed by this summer's ice cream! We've made close to 60 loaves since last November and I've got to tell you, it is still one of our family's favorite things to eat. No Knead Focaccia | Wok With Me, Baby. As you've probably noticed by now, I have a thing for unleavened bread, especially unleavened bread made in the wok using a highly unlikely Uyghur noodle dough recipe.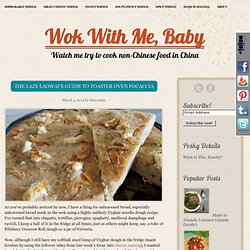 I've turned that into chapatis, tortillas, pierogies, spaghetti, medieval dumplings and ravioli. I keep a ball of it in the fridge at all times, just as others might keep, say, a tube of Pillsbury Crescent Roll dough or a jar of Velveeta. Rosemary & Garlic Focaccia. Let's get decadent!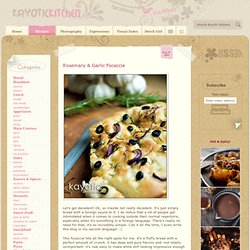 Ok, so maybe not really decadent. It's just simply bread with a foreign sound to it. I do notice that a lot of people get intimidated when it comes to cooking outside their normal repertoire, especially when it's something in a foreign language. There's really no need for that, it's so incredibly simple. Cheese Pinwheel Rolls. Sooner or later, all my conversations inevitably turn to food.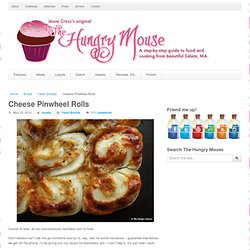 Don't believe me? Call me up sometime and try to, say, sell me some insurance. I guarantee that before we get off the phone, I'll be giving you my recipe for blackberry jam. I can't help it. Crusty Bread. I must begin by saying where the recipe originated, if in fact it originated anywhere...really. I think bread has been baked for centuries using flour, salt, water, and yeast or other form of leavening. As far as I know the recipe for "No-Knead" bread dough was printed in the New York times. Artisan Bread in Five Minutes a Day & Back to Basics ~ tips and techniques to create a great loaf in 5 minutes a day.
Note that there is an updated version of this post, click here to view. Recently we have seen lots of new readers on the website who are asking wonderful questions about how to perfect their loaves. First I'd like to say welcome to the site and thank you for trying the bread. Amazing Artisan Bread for 40 Cents a Loaf - No Kneading, No Fussing, No&Kidding - StumbleUpon. What if I told you that instead of buying bakery bread for four or five dollars a loaf, you could make delicious handmade bread whenever you wanted, at a fraction of the cost and it is so easy a kid could do it? Well, read on because this method of making artisan bread at home will change your life. You can make incredible bread without having to do all the usual time consuming tasks of breadmaking : no need to make a new batch of dough every time you want breadno need to proof yeastno need to make starters or prefermented doughno kneading!
---