Volcans
Le plus grand volcan du monde se cachait sous les eaux du Pacifique
C'est un peu comme si on découvrait l'éléphant après avoir répertorié toutes les espèces de fourmis... A l'heure où les satellites scrutent chaque point de la Terre, à l'heure où Google Maps zoome sur votre jardin, il y a quelque chose de paradoxal à annoncer la découverte de ce qui est – pour le moment – le plus grand volcan du monde. C'est pourtant ce qui vient d'arriver, jeudi 5 septembre, par le biais d'une publication dans la revue Nature Geoscience. Comme l'explique l'équipe américano-japonaise qui en est l'auteur, il y a une bonne raison à n'avoir identifié pareille structure géologique qu'en ce début de troisième millénaire : éteint depuis très longtemps, le "monstre", ainsi que ces chercheurs le décrivent, se cachait sous la surface de l'océan Pacifique. Il faut se projeter à quelque 1 500 km à l'est du Japon et plonger à 2 000 mètres de profondeur pour voir le sommet de Shatsky Rise.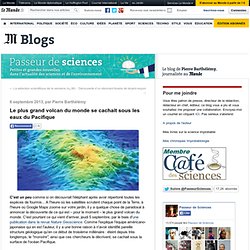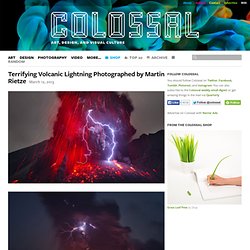 Terrifying Volcanic Lightning Photographed by Martin Rietze
Photographer Martin Rietze recently traveled to Japan where he had the incredible opportunity (or near grave misfortune?) of photographing the Sakurajima Valcano in southern Kyushu as it spewed forth smoke, fire, and lava bombs. If that wasn't enough the hellish volcano also caused a lightning show that lasted over 20 seconds giving the photographer ample time to flee for his life take these stunning photographs. You can see many more images from the series right here. Of note, the photographer's grit and fearlessness landed the top photo a feature on NASA's Astronomy Picture of the Day earlier this week.
2013 March 11 - Sakurajima Volcano with Lightning
Surveillance activités volcaniques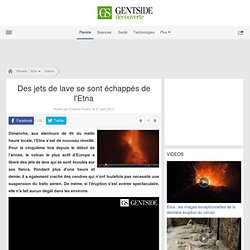 Dimanche, aux alentours de 4h du matin heure locale, l'Etna s'est de nouveau réveillé. Pour la cinquième fois depuis le début de l'année, le volcan le plus actif d'Europe a libéré des jets de lave qui se sont écoulés sur ses flancs. Pendant plus d'une heure et demie, il a également craché des cendres qui n'ont toutefois pas nécessité une suspension du trafic aérien. De même, si l'éruption s'est avérée spectaculaire, elle n'a fait aucun dégât dans les environs. Avez-vous déjà partagé cet article?
Video - Des jets de lave se sont échappés de l'Etna
Mount St. Helens from Space, 1979-2011
L'île de Santorin avec sa caldeira centrale. © Nasa Le réveil d'un supervolcan prendrait moins de 100 ans ! - 2 Photos Découvrez les superbes volcans de notre galerie photo Haroun Tazieff, Katia et Maurice Krafft ne sont plus parmi nous mais la volcanologie continue de progresser avec l'espoir de pouvoir prédire suffisamment à l'avance de grandes éruptions volcaniques. La difficulté est que – heureusement –, nous manquons d'expérience en la matière.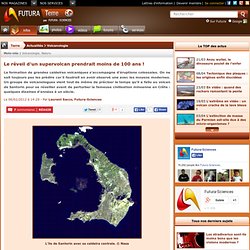 Le réveil d'un supervolcan prendrait moins de 100 ans !
Twitter
volcanotweet (volcanotweet) sur Twitter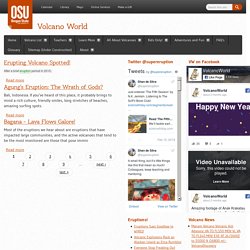 Members of the Volcanic Risks Solutions team at Massey University in New Zealand have successfully predicted a volcanic eruption. A volcanic eruption of their creation, that is. Picture: The Volcanic Risks Solutions team; Shane Cronin, Eric Breard (top), Dr Gert Lube and Professor Jim Jones with the Tower of Doom. This team, led by Professor Shane Cronin and Dr Gert Lube, has created the world's first research project to investigate pyroclastic flows. Pyroclastic flows are flows of a mixture of hot gas and particles that are emitted during a volcanic eruption, particularly like the eruptions found in New Zealand.
Volcanoes information monitoring page on HEWS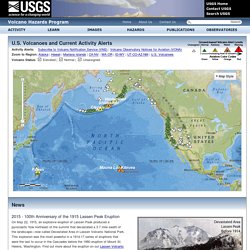 News New Volcano Numbering System Implemented The Volcano Hazards Program has begun using new numerical identifiers for each volcano in our area of responsibility. These numbers are assigned and maintained by the Smithsonian Institution's Global Volcanism Program (GVP).
mh Overlay represents area within CVO's area of responsibility. Students Explore Fluvial Sediment Sampling Techniques in Training Course Near Mount St. HelensApril 10, 2014 CVO staff and sediment specialists from USGS offices around the country led the Sediment Data Collection Techniques training course in Castle Rock, Washington. The week-long course was attended by 30 students representing the USGS, U.S.
USGS Cascades Volcano Observatory (CVO)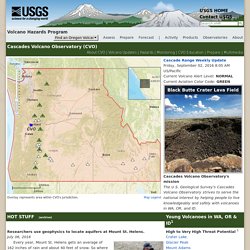 Volcanisme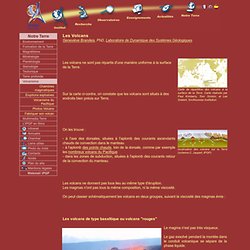 Les Volcans Geneviève Brandeis, PhD, Laboratoire de Dynamique des Systèmes Géologiques Carte de répartition des volcans à la surface de la Terre. Carte réalisée par Paul Kimberly, Tom Simkin, et Lee Siebert, Smithsonian Institution
Portail Volobsis VOLOBSIS is a portal to access data collected in the French volcanological and seismological observatories managed by the Institut de Physique du Globe (IPGP). Currently, in its first version, VOLOBSIS gives access to continuous GPS data and catalogs of seismic events with waveforms.Link to the Volobsis portal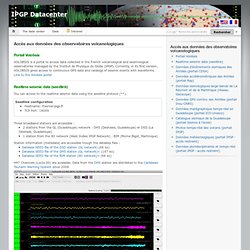 Datacenter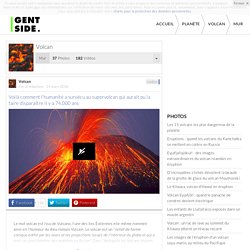 Volcan : Définition, photos, vidéos, actualité, dossiers, fonds d'écran, posts, membres, boutique
Le mot volcan est issu de Vulcano, l'une des îles Éoliennes elle-même nommée ainsi en l'honneur du dieu romain Vulcain. Le volcan est un "relief de forme conique édifié par les laves et les projections issues de l'intérieur du globe et qui a émis ou peut émettre des matières en fusion". Dans l'Antiquité les volcans étaient l'expression de la colère des Dieux. Les volcans épouvantent les Hommes depuis la nuit des temps.
volcano adventure tours & travel
News Monday, Mar 31, 2014 We can now confirm our departures for the Vanuatu volcano tour in August and September. As a special extra option, we invite you to join the extension expedition to visit the remote and fascinating island of Ambae. Click for details. [more]
En vidéo : la régénération du mont Saint Helens
Le mont Saint Helens et sa région, photographiés par Landsat en 2010. © Nasa/USGS/EO Découvrez les volcans grâce à notre dossier Le 18 mai 1980, le mont Saint Helens, ce volcan de l'État de Washington, au nord-ouest des États-Unis, entre en éruption et son dôme explose.
Photos: Volcanic eruption in Chile
Inside Fukushima: a Queenslander's journey view Photos from Sarajevo's abandoned Winter Olympics view Gallery: Cox Plate 2013 view Neil's Pics Letterboxes view Spring Racing Carnival 2013 view Vale Joyce Jacobs, Esme Watson on A Country Practice view The Best of Neil's Pics view Melbourne showbags 2013 view Election 2013 need to know facts view Abandoned and photographed view Show Us Your Blinds 2013 Competition Entries view Melbourne Spring Fashion Week 2013 view June Supermoon view Ross and John broadcast from VicRoads traffic management centre view Coldest June morning in 11 years view Neil's pics: Knitting view Neil's Pics - Garden Gnomes view GALLERY: MasterChef launch party in Melbourne view