Volcans
Le plus grand volcan du monde se cachait sous les eaux du Pacifique
C'est un peu comme si on découvrait l'éléphant après avoir répertorié toutes les espèces de fourmis...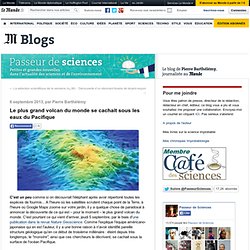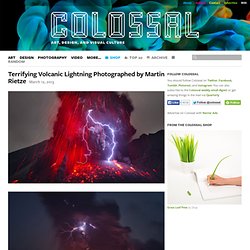 Terrifying Volcanic Lightning Photographed by Martin Rietze
Photographer Martin Rietze recently traveled to Japan where he had the incredible opportunity (or near grave misfortune?)
2013 March 11 - Sakurajima Volcano with Lightning
Surveillance activités volcaniques
Video - Des jets de lave se sont échappés de l'Etna
Mount St. Helens from Space, 1979-2011
La formation de grandes caldeiras volcaniques s'accompagne d' éruptions colossales. On ne sait toujours pas les prédire car il faudrait en avoir observé une avec les moyens modernes. Un groupe de volcanologues vient tout de même de préciser le temps qu'il a fallu au volcan de Santorin pour se réveiller avant de perturber la fameuse civilisation minoenne en Crête : quelques dizaines d'années à un siècle. Découvrez les superbes volcans de notre galerie photo Haroun Tazieff , Katia et Maurice Krafft ne sont plus parmi nous mais la volcanologie continue de progresser avec l'espoir de pouvoir prédire suffisamment à l'avance de grandes éruptions volcaniques . La difficulté est que – heureusement –, nous manquons d'expérience en la matière.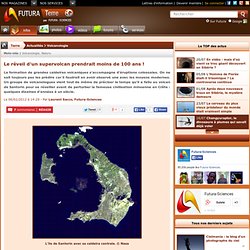 Le réveil d'un supervolcan prendrait moins de 100 ans !
Eruptions | Wired Science
Twitter
volcanotweet (volcanotweet) sur Twitter
Volcanoes information monitoring page on HEWS
A Service of the Inter-Agency Standing Committee SWG on Preparedness you are in the hazard page for: Volcanoes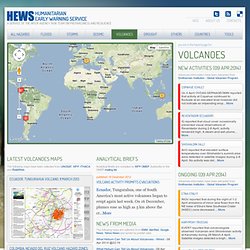 USGS Cascades Volcano Observatory (CVO)
Volcanisme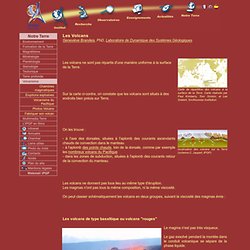 Les Volcans Geneviève Brandeis , PhD, Laboratoire de Dynamique des Systèmes Géologiques Carte de répartition des volcans à la surface de la Terre. Carte réalisée par Paul Kimberly, Tom Simkin, et Lee Siebert, Smithsonian Institution
Portail Volobsis VOLOBSIS is a portal to access data collected in the French volcanological and seismological observatories managed by the Institut de Physique du Globe (IPGP). Currently, in its first version, VOLOBSIS gives access to continuous GPS data and catalogs of seismic events with waveforms.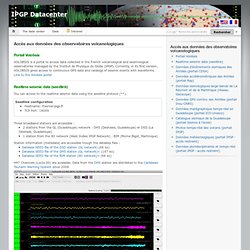 Datacenter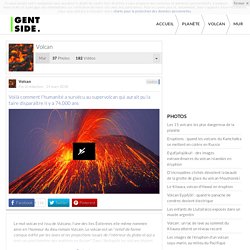 Volcan : Définition, photos, vidéos, actualité, dossiers, fonds d'écran, posts, membres, boutique
Le mot volcan est issu de Vulcano, l'une des îles Éoliennes elle-même nommée ainsi en l'honneur du dieu romain Vulcain. Le volcan est un " relief de forme conique édifié par les laves et les projections issues de l'intérieur du globe et qui a émis ou peut émettre des matières en fusion ". Dans l'Antiquité les volcans étaient l'expression de la colère des Dieux. Les volcans épouvantent ...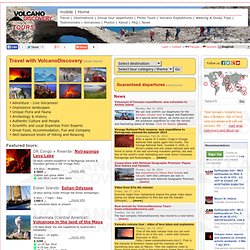 volcano adventure tours & travel
Travel with VolcanoDiscovery (read more) Adventure - Live Volcanoes! Impressive landscapes Unique Flora and Fauna Archeology & History Authentic Culture and People Scientific and Local Expertise from Experts Great Food, Accommodation, Fun and Company Well-balanced levels of Hiking and Relaxing Featured tours: (8-days photo tour to Santorini, Cyclades, Greece) 8 days - Easy from 2200 EUR Custom and group dates no scheduled dates at present
En vidéo : la régénération du mont Saint Helens
Souvenez-vous, il y a trente et un ans, le stratovolcan mont Saint Helens, situé dans l'État de Washington dans le nord-ouest des États-Unis, entrait en éruption . Celle-ci lui fit perdre 400 mètres en déplaçant 2,3 km 3 de matière. C'est grâce au programme Landsat qu'il est possible de voir la reconstitution de la végétation autour du volcan . Découvrez les volcans grâce à notre dossier
Photos: Volcanic eruption in Chile