Ipad Stuff
24 Educational iPad Apps for Kids in Reading & Writing. 50 Fantastic Free iPad Apps. We all love getting something great for free!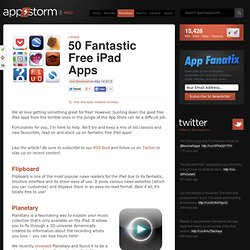 However, hunting down the good free iPad apps from the terrible ones in the jungle of the App Store can be a difficult job. Fortunately for you, I'm here to help. Creation Apps Used On The iPad. My technology integration specialist asked me to provide a list of creative apps that we have used in our classroom.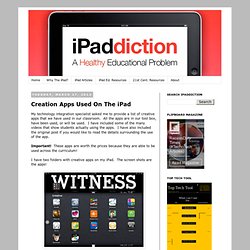 All the apps are in our tool box, have been used, or will be used. I have included some of the many videos that show students actually using the apps. I have also included the original post if you would like to read the details surrounding the use of the app. Important! 50 Fantastic Free iPad Apps. Creation Apps Used On The iPad. 10 Revolutionary iPad Apps to Help Autistic Children | Gadgets DNA. Teachers and doctors are using iPads as a tool to reach out to children with Autism or Asperger Syndrome and the results are remarkably great.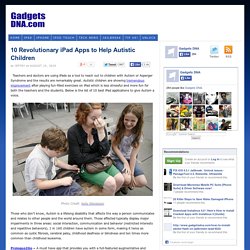 Autistic children are showing tremendous improvement after playing fun-filled exercises on iPad which is less stressful and more fun for both the teachers and the students. Below is the list of 10 best iPad applications to give Autism a voice. Photo Credit: Kelly Nikolaisen. Useful Tips For iPad. Paper Port App – Dragon Dictation App on Steroids! Are you impressed with the Dragon Dictation App?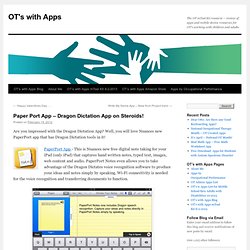 Well, you will love Nuances new PaperPort app that has Dragon Dictation tools in it! PaperPort App - This is Nuances new free digital note taking for your iPad (only iPad) that captures hand written notes, typed text, images, web content and audio. Pre/K apps for Curric Int. TCEA-Recommended iPad Apps. 20+ Fun Free Apps that Promote Student Centered Learning & Literacy. Posted by Shelly Terrell on Wednesday, March 7th 2012 This post is part of the mobile learning category.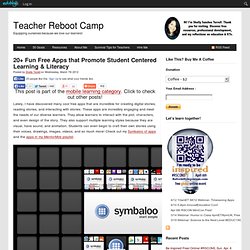 Click to check out other posts! Lately, I have discovered many cool free apps that are incredible for creating digital stories, reading stories, and interacting with stories. iPad Resources for Administrators. 40 Amazingly Educational iPad Apps for Kids. Adults are obsessed with the new iPad, but have you ever thought about sharing your new toy with your kids?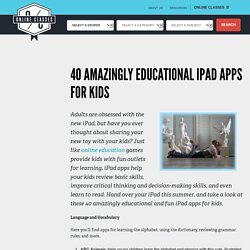 Just like online education games provide kids with fun outlets for learning, iPad apps help your kids review basic skills, improve critical thinking and decision-making skills, and even learn to read. Hand over your iPad this summer, and take a look at these 40 amazingly educational and fun iPad apps for kids. Language and Vocabulary Here you'll find apps for learning the alphabet, using the dictionary, reviewing grammar rules, and more. 1,000 Education Apps Organized By Subject & Price. How Students Benefit From Using Social Media 13.56K Views 0 Likes A lot of criticism has been leveled at social media and the effect it has on the way students process and retain information, as well as how distracting it can be.
5 Fun Free iPad Math Game Apps. These free apps offer fun ways for elementary/primary grade students to practice their math fundamentals.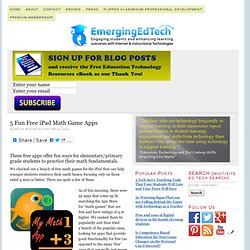 We checked out a bunch of free math games for the iPad that can help younger students reinforce their math basics, focusing only on those rated 4 stars or better. There are quite a few of these. 25 Awesome Library Apps For Your iPad. iPad Apps for Autistic Students. Apps on portable devices such as the Apple iPad can help non-verbal children to communicate basic needs.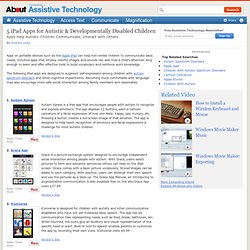 Intuitive apps that employ colorful images and sounds can also hold a child's attention long enough to learn and offer effective tools to build vocabulary and reinforce word knowledge. The following iPad apps are designed to augment self-expression among children with autism spectrum disorders and other cognitive impairments. Mathematics with an iPad. iPad Apps for Autistic Students. Pages - Menu This Blog Linked From Here.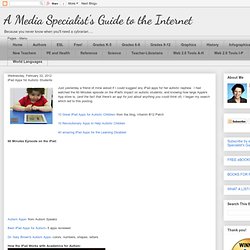 The Best Free iPad Apps | Reviews, Lists and Recommendations. 50 Must-Have Educational Apps. It's time for holiday road trips and you know what that means: driving, flying, cranky kids, and… teaching opportunities! What's that, you say? Well, there is so much downtime during the holidays where kids and adults spend hours just passing the time… why not try out some new apps on your phone? Recommended Free iPad Apps - Handy Tips from TeacherRicks.
100+ iPad Apps Perfect For High School. iPads in Education - Exploring the use of iPads and Tablet computers in education. 250 best iPad apps: education. The 10 Comandments of iPad Tablets. We all have probably heard the story of Moses, bringing down the 10 commandments on two stone tablets from Mount Sinai, but there are also commandments that apply to our iPad tablets. Here are the top 10. 1. Thou shalt keep thy iPad fully charged. Keeping a good charge on your iPad will ensure that it is ready to go when you are. Open Education Resources. Top 200 best iPad apps 2011.
If you've got yourself an iPad Air or new iPad mini, you'll want to start downloading the best iPad apps straight away. And if you already have an iPad 4 or older iPad, you might want to update it with some new apps. It's the apps that really set iOS apart from other platforms - there are far more apps available on the App Store for the iPad than any other tablet. So which which ones are worth your cash? And which are the best free apps? Luckily for you we've tested thousands of the best iPad apps so that you don't have to. iPad Resources. Top 200 best iPad apps 2011. iPads in Education. 39 Sites For Using iPads in the Classroom.
Pages - Menu This Blog Linked From Here. Free Technology for Teachers. Internet Catalogue. Maths iPad Apps. iPod iPad. IPad apps for learning. 65+ iPad Apps Perfect For Elementary School | Education Technology and Teacher Tools – Edudemic. iPads, iPod Touches, and iPhones as Assistive Technology in Education. Creating Books on the iPad. Teaching and Learning: Using iPads in the Classroom.
Top 50 Free Education Apps | iPad, iPhone and iPod Touch App Store App Reviews. iPad Apps for Education. The Best Resources For Beginning iPad Users. iPads in Education. Ipad Apps. Presents the best 100 iPad apps | TabTimes. iPad Apps for Education - Jeffreys Grove Elementary. Top 200 best iPad apps 2011. 30 Useful iPad Apps for Business & Presentation.
iPad in Education. 5 iPad Apps Every Teacher Should Have. 9 Presentation Apps for the iPad. 7 Apps That Will Help You Use Your iPad For Writing Projects. 47 Interesting Ways* to use an iPad in the Classroom.
IPAD Activities Examples. 10 Excellent iPad Applications for Teachers. iPads. Drawing on the iPad. Blooms and iPad Applications. Apps For Teachers: iPad/iPhone Apps AppList. iPads in the Classroom. iPad apps - yiskg. Writing Apps for iPad | Best Useful iPad Apps for Writers. 50 really useful iPad 2 tips and tricks. Middle School iPad Apps. iPad EdResources. Quick List Of iPad Resources For The Classroom.
Top 25: Best iPad Apps for Applying to College.
---