Text-to-speech
Tech Playground. SitePal talking avatars are made by us folks at Oddcast, a company known for innovative technology that incorporates user participation and creativity.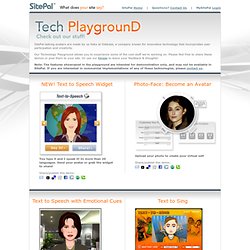 Our Technology Playground allows you to experience some of the cool stuff we're working on. Please feel free to share these demos or post them to your site. Or use our forum to leave your feedback & thoughts! Text to Voice. Qwips.com. Text-to-Speech (TTS) Voki Home. TTS Online : Free Text to Speech Voices : Read The Words. Accessibility software, text to speech software, screen reader, dyslexia, literacy difficulties, ESL, visual impairments, speech enable, accessible websites, usability. Bring your website alive with BrowseAloud's high quality speech - now available for Mobiles, Tablets, PCs and Macs.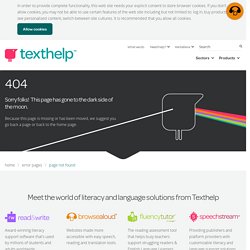 BrowseAloud adds speech and reading support tools to online content to extend the reach of websites for the 20% of the population that requires reading support. This includes those with dyslexia, learning difficulties, mild visual impairments and those with English as a second language. BrowseAloud now offers a choice of products to suit individual needs, with options that include: Zero implementation and zero downloadCompatibility with all major browsers and devicesHigh quality voices and international languagesReads secure web pages and PDFsAutomatic updates and it's free! VoxOoFox ; OpenOffice/Firefox avec Pico Svox en version portable.
Accueil > aides techniques, Synthèse vocale > VoxOoFox ; OpenOffice/Firefox avec Pico Svox en version portable David Lucardi et moi vous proposons « VoxOoFox » qui est un package autonome (portable) intégrant la synthèse vocale Pico (SVox), OpenOffice Portable et Firefox Portable sous Windows.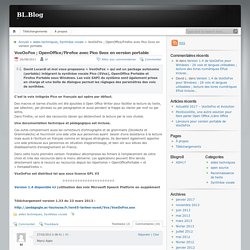 Les voix SAPI du système sont également prises en charge et une boîte de dialogue permet les réglages des paramètres des voix de synthèse. C'est la voix intégrée Pico en français qui opère par défaut. Des macros et barres d'outils ont été ajoutées à Open Office Writer pour faciliter la lecture du texte, par sélection, par phrases ou par paragraphes et aussi pendant la frappe au clavier par mot ou par lettre. Dans Firefox, ce sont des raccourcis clavier qui déclenchent la lecture par la voix choisie.
---