Utilities
Control Intel Mac fans to make them run cooler. Free smcFanControl controls the fans of every Intel Mac to make it run cooler.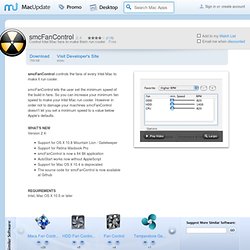 Download smcFanControl for Mac - Control Intel Mac fans to make them run cooler
TinkerTool: Details
TinkerTool for older systems TinkerTool is also available for old versions of Mac OS X and OS X. Please see the version overview page for more information. What is the difference between TinkerTool and TinkerTool System?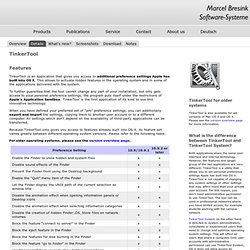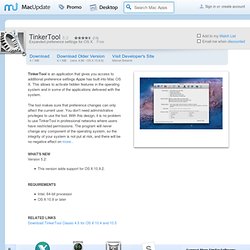 Expanded preference settings for OS X. Free TinkerTool is an application that gives you access to additional preference settings Apple has built into Mac OS X. This allows to activate hidden features in the operating system and in some of the applications delivered with the system.
TinkerTool
Quicksilver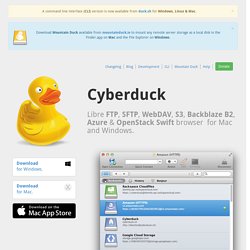 Connecting to every server. With an easy to use interface, connect to FTP (File Transfer Protocol), SFTP (SSH Secure File Transfer), WebDAV (Web-based Distributed Authoring and Versioning), Amazon S3, Google Cloud Storage and Rackspace Cloud Files. Emerging open cloud software standards.Works with thirdparty providers using either the S3 or Openstack Swift APIs. Fast FTP CoreA widely tested FTP (File Transfer Protocol) implementation for the best interoperability with support for FTP over secured SSL/TLS connections. Edit any file with your preferred editor.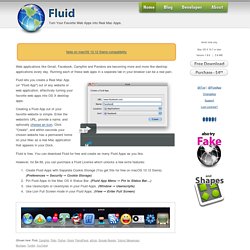 Turn Your Favorite Web Apps into Real Mac Apps. Web applications like Gmail, Facebook, Campfire and Pandora are becoming more and more like desktop applications every day. Running each of these web apps in a separate tab in your browser can be a real pain. Fluid lets you create a Real Mac App (or "Fluid App") out of any website or web application, effectively turning your favorite web apps into OS X desktop apps. Creating a Fluid App out of your favorite website is simple.
The Unarchiver
Do you want to browse the contents of archives, rather than just extracting them? Or do you want to support development on The Unarchiver? Buy The Archive Browser! The Unarchiver is a much more capable replacement for "Archive Utility.app", the built-in archive unpacker program on Mac OS X.