Déficit de Lecture (en cours à compléter)
Group Dynamics: The Psychology of Small Group Behavior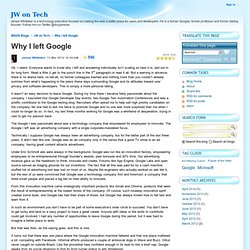 Ok, I relent. Everyone wants to know why I left and answering individually isn't scaling so here it is, laid out in its long form. Read a little (I get to the punch line in the 3rd paragraph) or read it all. But a warning in advance: there is no drama here, no tell-all, no former colleagues bashed and nothing more than you couldn't already surmise from what's happening in the press these days surrounding Google and its attitudes toward user privacy and software developers. This is simply a more personal telling. It wasn't an easy decision to leave Google.
Why I left Google - JW on Tech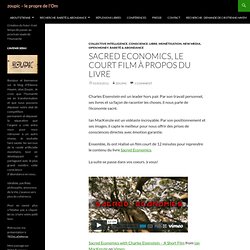 Sacred Economics, le court film à propos du livre
Charles Eisenstein est un leader hors pair. Par son travail personnel, ses livres et sa façon de raconter les choses, il nous parle de l'économie sacré. Ian MacKenzie est un vidéaste incroyable. Par son positionnement et ses images, il capte le meilleur pour nous offrir des prises de consciences directes avec émotion garantie. Ensemble, ils ont réalisé un film court de 12 minutes pour reprendre le contenu du livre Sacred Economics. La suite se passe dans vos coeurs. à vous!
La troisième révolution industrielle: Amazon.fr: Jeremy Rifkin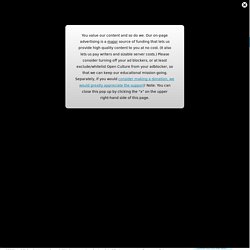 Although he died when he was only 53 years old, Philip K. Dick (1928 – 1982) published 44 novels and 121 short stories during his lifetime and solidified his position as arguably the most literary of science fiction writers. His novel Ubik appears on TIME magazine's list of the 100 best English-language novels, and Dick is the only science fiction writer to get honored in the prestigious Library of America series, a kind of pantheon of American literature. If you're not intimately familiar with his novels, then you assuredly know major films based on Dick's work – Blade Runner, Total Recall, A Scanner Darkly and Minority Report. Today, we bring you another way to get acquainted with his writing. We're presenting a selection of Dick's stories available for free on the web.
Free Philip K. Dick: Download 11 Great Science Fiction Stories
Here is our selection and reading recommendations of the best books we reviewed and presented in 2011 (but which may have been published in 2010). The same list but with links to extensive treatments for each book is here. 1.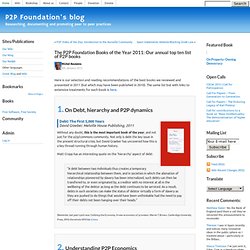 The P2P Foundation Books of the Year 2011: Our annual top ten list of P2P books
J'ai débranché | Thierry Crouzet
Présentation du livre Ses amis disaient qu'il était addict aux réseaux sociaux. Sa femme se moquait de lui quand il prétendait travailler dans son bureau.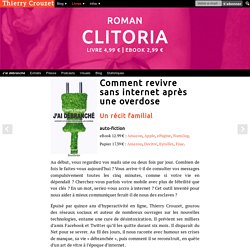 By: Maria Popova "Through our scopes, we see ourselves. Every new lens is also a new mirror." Given my longtime fascination with the so-termed digital humanities and with data visualization, and my occasional dabbles in the intersection of the two, I've followed the work of data scholars Erez Aiden and Jean-Baptiste Michel with intense interest since its public beginnings. Now, they have collected and contextualized their findings in the compelling Uncharted: Big Data as a Lens on Human Culture (public library) — a stimulating record of their seven-year quest to quantify cultural change through the dual lens of history and digital data by analyzing the contents of the 30,000 books digitized by Google, using Google's Ngram viewer tool to explore how the usage frequency of specific words changes over time and what that might reveal about corresponding shifts in our cultural values and beliefs about economics, politics, health, science, the arts, and more.
Brain Pickings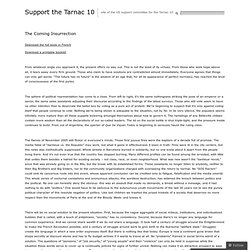 The Coming Insurrection « Support the Tarnac 10
Download the full book in French Download a printable booklet From whatever angle you approach it, the present offers no way out. This is not the least of its virtues.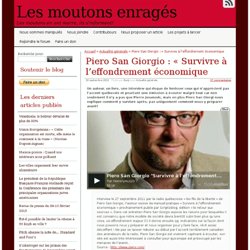 Piero San Giorgio : « Survivre à l'effondrement économique
Accueil » Actualité générale » Piero San Giorgio : « Survivre à l'effondrement économique Interview le 27 septembre 2011 par la radio québecoise « les fils de la liberté » de Piero San Giorgio, l'auteur suisse du manuel pratique « Survivre à l'effondrement économique » prochainement publié par Scriptoblog, édition « le retour aux sources ». Dans cet entretien Piero San Giorgio expose les raisons pour lesquelles il est convaincu que notre modèle de société devra bientôt subir bien plus qu'une crise, un effondrement majeur (!)
1 / The idea hunter, how to find the best ideas and make them happen Editeur : Jossey Bass Wiley (6 mai 2011) http://www.amazon.fr/Idea-Hunter-Find-Ideas-Happen/dp/0470767766 2 / Bonnes nouvelles des conspirateurs du futur de Michel Godet http://livre.fnac.com/a3409514/Michel-Godet-Bonnes-nouvel... 3 / 2030, la fin de la mondialisation ?
Ouvrages à lire ou à relire pour anticiper le futur !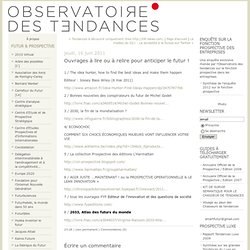 Customer Reviews: Bank 2.0: How Customer Behavior and Technology Will Change the Future of Financial Services
This review is from: Bank 2.0: How Customer Behavior and Technology Will Change the Future of Financial Services (Hardcover) The following is an approved excerpt of my review of Brett King's book, Bank 2.0, that was published by the ABA Banking Journal. I offered to review the book for the ABA Banking Journal as I am a Community Banker and was planning on reading Brett King's book. They accepted my offer and provided me with a publishers copy.