Flipped Classrooms
8 Great Reasons to Flip Your Classroom (and 4 of the Wrong Reasons), from Bergmann and Sams. I first came across Jonathan Bergmann's work when I wrote "7 Stories From Educators About Teaching In The Flipped Classroom" last fall.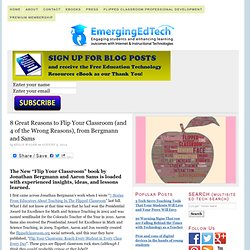 What I did not know at that time was that he had won the Presidential Award for Excellence for Math and Science Teaching in 2002 and was named semifinalist for the Colorado Teacher of the Year in 2010. Aaron Sams also received the Presidential Award for Excellence in Math and Science Teaching, in 2009. Together, Aaron and Jon recently created the flippedclassroom.org social network, and this year they have published, "Flip Your Classroom: Reach Every Student in Every Class Every Day". These guys are flipped classroom rock stars (although I think they would probably cringe at that label)! The book is an outstanding introduction to the flipped classroom by two teachers who have honed their craft over many years.
Flip! What do teachers who've flipped their classrooms have to report? Flip Teaching Resources - Folder Shared from Box. FlippedPD. Khan Academy Founder Salman Khan on Liberating the Classroom for Creativity. Exploring the Digital Nation - Computer and Internet Use at Home | Economics and Statistics Administration. Printer-friendly version Executive Summary This report updates and expands last year's report, Exploring the Digital Nation: Home Broadband Internet Adoption in the United States, based on data from the Census Bureau's most recent Current Population Survey (CPS) School Enrollment and Internet Use Supplement.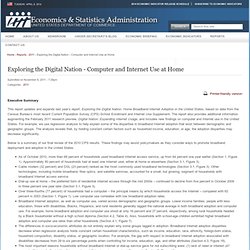 The Educational Value of Creative Disobedience. 1Share Synopsis In this age of innovation, even more important than being an effective problem solver, is being a problem finder.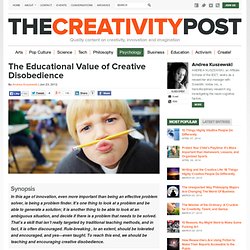 It's one thing to look at a problem and be able to generate a solution; it is another thing to be able to look at an ambiguous situation, and decide if there is a problem that needs to be solved. That's a skill that isn't really targeted by traditional teaching methods, and in fact, it is often discouraged. TED-Ed Website Tour.
Flippedlearning.org. Five Best Practices for the Flipped Classroom. Ok, I'll be honest.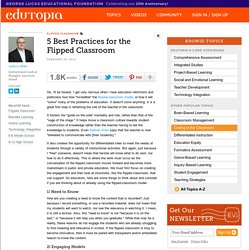 I get very nervous when I hear education reformists and politicians tout how "incredible" the flipped classroom model, or how it will "solve" many of the problems of education. It doesn't solve anything. It is a great first step in reframing the role of the teacher in the classroom. How well does Khan Academy teach? - The Answer Sheet.
Update: Fixing links Here is a new critique of the Khan Academy, the subject of a widely read post I published Monday about the hype and reality of the academy.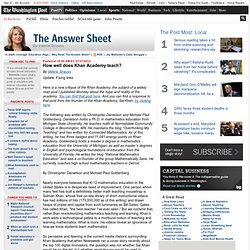 You can find that post here. And you can find a response to that post from the founder of the Khan Academy, Sal Khan, by clicking here. Should You Flip Your Classroom? At its core, "flipped instruction" refers to moving aspects of teaching out of the classroom and into the homework space.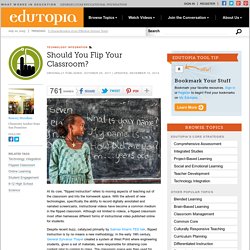 With the advent of new technologies, specifically the ability to record digitally annotated and narrated screencasts, instructional videos have become a common medium in the flipped classroom. Although not limited to videos, a flipped classroom most often harnesses different forms of instructional video published online for students. Despite recent buzz, catalyzed primarily by Salman Khan's TED talk, flipped instruction is by no means a new methodology. In the early 19th century, General Sylvanus Thayer created a system at West Point where engineering students, given a set of materials, were responsible for obtaining core content prior to coming to class. The Flip: Why I Love It, How I Use It. Culture Teaching Strategies Flickr: Mike Baird By Shelley Wright I love the flip.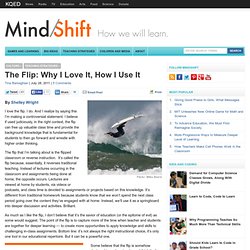 I do. The Flip-Flopped Classroom « The DigiTeacher. There's a great deal of buzz around the Flipped Classroom idea at the moment.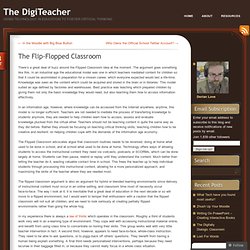 The argument goes something like this. In an industrial age the educational model was one in which teachers mediated content for children so that it could be assimilated in preparation for a chosen career, which everyone expected would last a life-time. Knowledge was seen as the content which could be acquired and stored in the brain or in libraries. This model suited an age defined by factories and warehouses. Best practice was teaching which prepared children by giving them not only the basic knowledge they would need, but also teaching them how to access information effectively. Internet Catalogue. Flip Your Minds before Flipping Your Classrooms. We would like to start this post with some great ideas that Peter Pappas brought to us.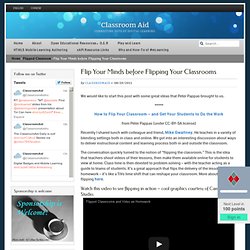 How to Flip Your Classroom – and Get Your Students to Do the Work from Peter Pappas (under CC-BY-SA license) Recently I shared lunch with colleague and friend, Mike Gwaltney. He teaches in a variety of blending settings both in class and online. We got into an interesting discussion about ways to deliver instructional content and learning process both in and outside the classroom. To Flip or not to Flip Your Classrooms ?
We all agree teachers aren't the gatekeepers of information or knowledge any more in this age.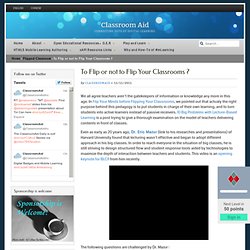 In Flip Your Minds before Flipping Your Classrooms, we pointed out that actualy the right purpose behind this pedagogy is to put students in charge of their own learning, and to turn students into active learners instead of passive receivers. 10 Big Problems with Lecture-Based Learning is a post trying to give a thorough examination on the model of teachers delivering contents in front of classes. Even as early as 20 years ago, Dr. Eric Mazur (link to his researches and presentations) of Harvard University found that lecturing wasn't effective and began to adopt different approach in his big classes. In order to reach everyone in the situation of big classes, he is still striving to design structured flow and student response tools aided by technologies to maximize the depth of interaction between teachers and students. A Chemistry Teacher's Reflection on Flipped Classrooms. Maybe the most important and authentic parts of teaching and learning practices are from the reflections of teachers and students.
Without these reflections, pedagogy theories are only theories, nothing more. This is a reflection from a high school chemistry teacher Ramsey Musallam on his flipped teaching (flipped classroom). (a great site full of information about flipped classroom) On-The-Go Responses Recently, a huge philosophical debate regarding the efficacy of flip teaching (i.e., inverted classroom, reverse instruction, blah blah blah…) as an instructional pedagogy has dominated the blogosphere.
15 Flipped Classrooms We Can Learn From. After our most stared posts about flipped classrooms : "To Flip or not to Flip Your Classrooms?" And "Flip Your Minds before Flipping Your Classrooms", this is a guest blog post from it is a good information to help usconnecting more dots about what works. Modern technology has spurred on a new trend in education: flipped classrooms. The Flipped Classroom: Pro and Con. I recently attended the ISTE conference in San Diego, CA. While I was only there for about 36 hours, it was easy for me to pick up on one of the hottest topics for the three-day event. The "flipped classroom" was being discussed in social lounges, in conference sessions, on the exhibit floor, on the hashtag and even at dinner. The Flipped Classroom: An Infographic Explanation. As I posted in How to Flip Your Classroom – and Get Your Students to Do the Work The "flipped" classroom - This is the idea that teachers shoot videos of their lessons, then make them available online for students to view at home.
Class time is then devoted to problem solving – with the teacher acting as a guide to teams of students. It's a great approach that flips the delivery of the lesson to homework – it's like a TiVo time shift that can reshape your classroom. … [we saw] flipping the class as a great opportunity to engage our students in taking more responsibility for their learning. Why not let your students curate the video lessons from existing content on the web?
Here's an infographic explanation from Column Five Media. How to Make a Flipped Class Video with Someone Across the Country. One of the things folks have liked about Aaron and my videos is that we made them together. We had classrooms right next to each other and though scheduling the making of the videos was often difficult, we felt the videos were much better with a partner, so we made this a priority. Often when we present about the flipped classroom, we hear from teachers that they wish they had a partner in their building to work with. This certainly is ideal, but this is often not reality for many teachers. They would love to have a partner, but there is no other teacher in their building either interested, or who teaches the same course. Enter the digital world: What if you could make a video with somebody else and not be in the same room.
---