Flipped Classrooms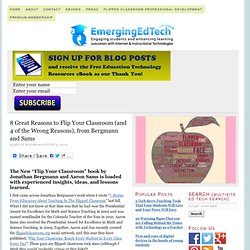 I first came across John Bergmann's work when I wrote " 7 Stories From Educators About Teaching In The Flipped Classroom " last fall. What I did not know at that time was that he had won the Presidential Award for Excellence for Math and Science Teaching in 2002 and was named semifinalist for the Colorado Teacher of the Year in 2010.
flip!
What do teachers who've flipped their classrooms have to report?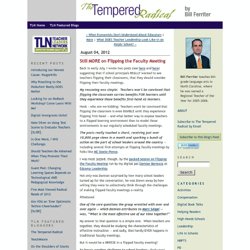 Still MORE on Flipping the Faculty Meeting
Back in early July, I wrote two posts (see here and here ) suggesting that if school principals REALLY wanted to see teachers flipping their classrooms, that they should consider flipping their faculty meetings. My reasoning was simple: Teachers won't be convinced that flipping the classroom carries benefits FOR learners until they experience those benefits first-hand AS learners .
Flip Teaching Resources - Folder Shared from Box
FlippedPD
Driving-Questions
Khan Academy Founder Salman Khan on Liberating the Classroom for Creativity
Printer-friendly version Executive Summary This report updates and expands last year's report, Exploring the Digital Nation: Home Broadband Internet Adoption in the United States , based on data from the Census Bureau's most recent Current Population Survey (CPS) School Enrollment and Internet Use Supplement.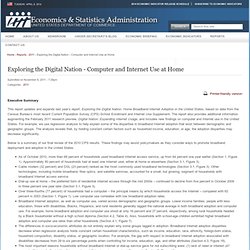 Exploring the Digital Nation - Computer and Internet Use at Home | Economics and Statistics Administration
0 Share
The Educational Value of Creative Disobedience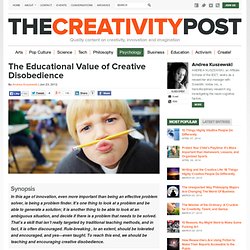 TED-Ed Website Tour
Flipped Classroom Examples
Update: Fixing links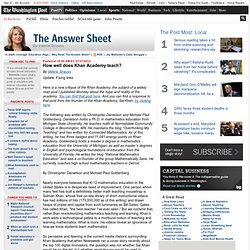 How well does Khan Academy teach? - The Answer Sheet
At its core, "flipped instruction" refers to moving aspects of teaching out of the classroom and into the homework space.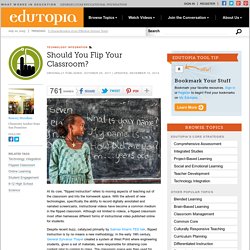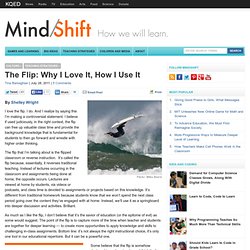 Flickr: Mike Baird
The Flip: Why I Love It, How I Use It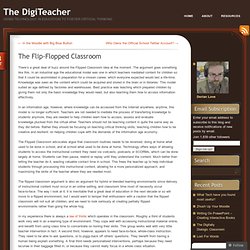 There's a great deal of buzz around the Flipped Classroom idea at the moment. The argument goes something like this.
The Flip-Flopped Classroom « The DigiTeacher
i Rate This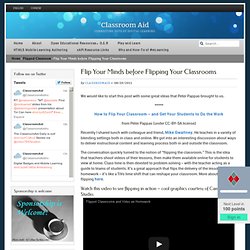 Flip Your Minds before Flipping Your Classrooms
i
To Flip or not to Flip Your Classrooms ?
i Rate This
A Chemistry Teacher's Reflection on Flipped Classrooms
After our most stared posts about flipped classrooms : "To Flip or not to Flip Your Classrooms?" and "Flip Your Minds before Flipping Your Classrooms", this is a guest blog post from http://www.onlinecollege.org , it is a good information to help us connecting more dots about what works. Modern technology has spurred on a new trend in education: flipped classrooms.
15 Flipped Classrooms We Can Learn From
I recently attended the ISTE conference (1) in San Diego, CA. While I was only there for about 36 hours, it was easy for me to pick up on one of the hottest topics for the three-day event. The "flipped classroom" was being discussed in social lounges, in conference sessions, on the exhibit floor, on the hashtag (2) and even at dinner.
The Flipped Classroom: An Infographic Explanation
As I posted in How to Flip Your Classroom – and Get Your Students to Do the Work The "flipped" classroom - This is the idea that teachers shoot videos of their lessons, then make them available online for students to view at home.
How to Make a Flipped Class Video with Someone Across the Country
A First-Hand Look Inside a Flipped Classroom