Gaming
wiobyrne : MinecraftEdu: Dynamic tool
MinecraftEdu: Dynamic tool for the classroom
wiobyrne : Awesome netcast on Minecraft
wiobyrne : Awesome netcast on Minecraft
plus.google
wiobyrne : A plea for teachers to bring
A plea for teachers to bring Gaming into your classrooms
I am on a quest to encourage teachers of elementary, middle and high school students to use gaming to accelerate their curriculum. Students today spend 30+ hours a week, equivalent to a part time job, online gaming, on communicating on social networks, watching and creating videos on YouTube. At their computers they are in the driver's seat.
Video Gamers Really Do See More
goo
Valve announces Steam for Schools, helps teachers create educational Portal 2 levels
Who ever said being a scientific guinea pig couldn't be educational? With Steam for Schools, teachers can now use Portal 2's level editor to create lessons focused on boosting critical thinking, spatial reasoning and problem solving skills. Announced at the Games for Change festival in New York City, the educator edition of Steam comes with a free copy of Portal 2 and the Portal 2 Puzzle Maker. Students and teachers alike can use the tools to create puzzles, but distribution is handled by teachers alone. (That's right, kids -- no level sharing unless the teach says so.)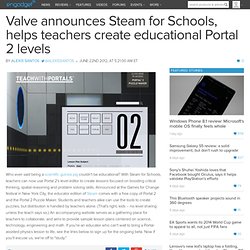 White House office studies educational benefits of video games
If you're training for a new job someday soon with a video game controller in your hands, thank Constance Steinkuehler . This summer, when your kids' favorite science museum boasts a new augmented-reality environmental simulation? Same deal. If in the next few years a video game teaches you anything — how to conserve energy, eat a balanced diet or solve quadratic equations — consider the invisible hand of one of the most unconventional White House hires in recent memory.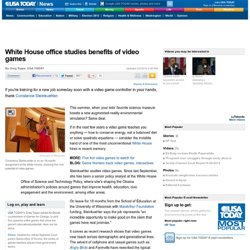 [INFOGRAPHIC] How Video Games are Changing Education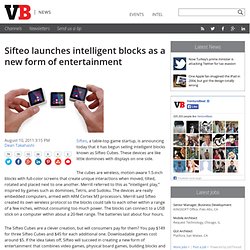 Sifteo launches intelligent blocks as a new form of entertainment
Sifteo, a table-top game startup, is announcing today that it has begun selling intelligent blocks known as Sifteo Cubes. These devices are like little dominoes with displays on one side. The cubes are wireless, motion-aware 1.5-inch blocks with full-color screens that create unique interactions when moved, tilted, rotated and placed next to one another. Merrill referred to this as "intelligent play," inspired by games such as dominoes, Tetris, and Sudoku.
Video Games Rating Board Questionnaire
Home
Women Set the Pace as Online G
Parents of video-gaming children, take heart: Your kid is not destined to become an anti-social hermit who lives at home until he's 35. In fact, a new study shows that all that game time could actually be making him a better citizen. No, this isn't a study funded by the video-game association.
Can games make your kid a better citizen? - Back to School- msnb