Anthropology
Antropologi Visual dan Antropologi Seni — Etnohistori.org. Oleh: Hairus Salim HS * Antropologi visual telah lama diakui sebagai sub–disiplin antropologi sosial–budaya.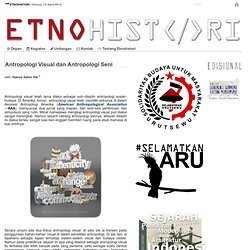 Di Amerika, konon, antropologi visual telah memiliki seksinya di dalam Asosiasi Antropologi Amerika (American Anthropological Association—AAA), mempunyai dua jurnal yang mapan, dan sesi-sesi pertemuan dan simposium yang rutin. Minat mahasiswa mengkaji antropologi visual pun diakui sangat meningkat. Namun seperti cabang antropologi lainnya, wilayah disiplin ini diakui terlalu sangat luas dan enggan memberi ruang pada studi manusia di luar orbitnya. When I hear the word "culture"… For more than a hundred years anthropology has been spreading sweetness and light.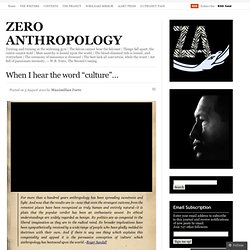 And now that the results are in—now that even the strangest customs from the remotest places have been recognized as truly human and entirely natural—it is plain that the popular verdict has been an enthusiastic assent. Its ethical understandings are widely regarded as benign. Its politics are as congenial to the liberal imagination as they are to the radical mind. Its broader implications have been sympathetically received by a wide range of people who have gladly melded its doctrines with their own. ANTHROPOLOGISTS for JUSTICE and PEACE.
What do we make of Occupy Wall Street? - Open Anthropology Cooperative. For those with an interest in moving the global economy in more humane directions, the story of the hour is the Occupy Wall Street movement that has now spread worldwide.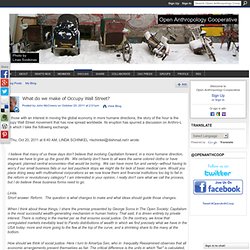 Its eruption has spurred a discussion on Anthro-L from which I take the following exchange. I believe that many of us these days don't believe that evolving Capitalism forward, in a more humane direction, means we have to give up the good life. We certainly don't have to all ware the same colored cloths or have stagnant, planned central economies--that would be boring. We can have more fun and variety--without having to worry if our small business fails or our last paycheck stops we might die for lack of basic medical care. Would you place doing away with multinational corporations as we now know them and financial institutions too big to fail in the reform or revolutionary category? Why not make films in Indigenous languages? - Transient Languages & Cultures. 2006 saw the release of several films with actors speaking endangered languages - Mel Gibson's Apocalypto (Mayan) and Rolf de Heer's film Ten Canoes, set in Arnhem Land, and with actors speaking mostly in Ganalbingu (and see Anggarrgoon on it).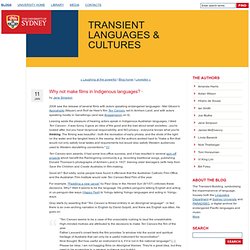 Leaving aside the pleasure of hearing actors speak in Indigenous Australian languages, I liked Ten Canoes - it was funny, it gave an idea of the good and the bad about small societies - you're looked after, but you have reciprocal responsibility, and NO privacy - everyone knows what you're thinking. The filming was beautiful - both the recreation of early photos, and the shots of the light on the water and the tangled trees in the swamp. And the authors worked hard to "make a film that would not only satisfy local tastes and requirements but would also satisfy Western audiences used to Western storytelling conventions. " [1] Hate tourism « Culture Matters. There is sex tourism, there is disaster tourism, there is volunteer tourism — sometimes, like in Chiapas, it borders on guerrilla tourism — and there is hate tourism.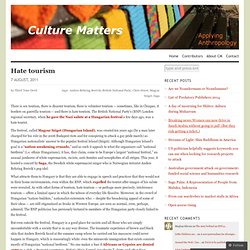 The British National Party's (BNP) London regional secretary, when he gave the Nazi salute at a Hungarian festival a few days ago, was a hate tourist. The festival, called Magyar Sziget (Hungarian Island), was created ten years ago (by a man later charged for his role in the 2006 Budapest riots and for conspiring to attack a gay pride march) as Hungarian nationalists' answer to the popular festival Island (Sziget). Although Hungarian Island's goal is a "nation-awakening crusade," and as such it appeals to what the organisers call "national brethren" (i.e. ethnic Hungarians), it has, they claim, come to be Europe's largest "national festival," an annual jamboree of white supremacists, racists, anti-Semites and xenophobes of all stripes. Scott Atran: A Memory of Claude Lévi-Strauss. In 1974, when I was a graduate student in anthropology at Columbia University, I wanted to organize a discussion of universals with people whose ideas I wished to know more about than I thought I could get from their writings.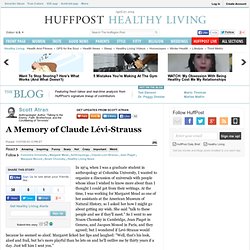 At the time, I was working for Margaret Mead as one of her assistants at the American Museum of Natural History, so I asked her how I might go about getting my wish. She said "talk to these people and see if they'll meet. " So I went to see Noam Chomsky in Cambridge, Jean Piaget in Geneva, and Jacques Monod in Paris, and they agreed; but I wondered if Levi-Strauss would because he seemed so aloof. Top 10 Things that Make Humans Special | Human Evolution, Special Traits, Human Origins.
---