Residential buildings
Contemporary house plans and designs rarely make the papers unless there is something sensational about them, be it a structural innovation of electric set of furnishings, accessories or decorations – and the word 'nice' (applied to architecture at least) can seem more like an insult than compliment – but it does not have to be bad.
Simply Modern: Nice Modular Home Plan, Design & Decor
There is something about the high-desert prairie lands that indeed seems to invite the long lines and simple naturalistic materials that date back to Frank Lloyd Wright and the so-called Prairie Style approach to designing and building homes.
Rustic Modern: Earth, Wood & Steel High-Desert Home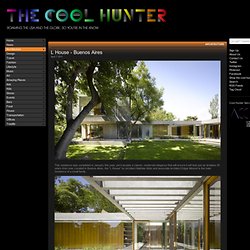 L House - Buenos Aires
This residence was completed in January this year, yet it exudes a classic, modernist elegance that will ensure it will look just as timeless 50 years from now. Located in Buenos Aires, the "L House" by architect Mathias Klotz and associate architect Edgar Minond is the main residence of a small family. Although this could be categorized as yet another grouping of concrete boxes representing the tiresome trend that just does not seem to want to die, this residence avoids all of the pitfalls most of such houses fall into. In contrast to the stacked-concrete-boxes syndrome, not one section of this residence sticks out over anything, nor jut in an odd angle. No vanity ideas, no statement characteristics, no ego trip.
This residence in the Pavilniai Regional Park, near the Lithuanian capital of Vilnius, is one of those that we just have to point out, although it is neither brand-new nor unfamiliar to many readers. The confident combination of history and modern needs of an upscale family was achieved by the architectural firm G. Natkevicius & Partners . Located by in the valley of river Vilnia that gave the city its name, the park and the city have a rich history with the oldest written records dating back to 1323. The Puckoriu escarpment in the park has rare rock formations from the Ice Age.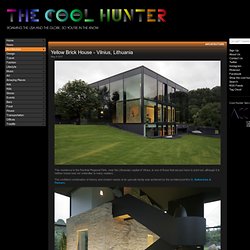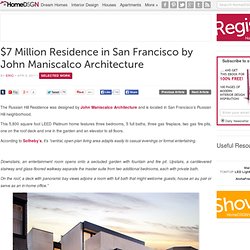 $7 Million Residence in San Francisco by John Maniscalco Architecture
The Russian Hill Residence was designed by John Maniscalco Architecture and is located in San Francisco's Russian Hill neighborhood. This 5,800 square foot LEED Platinum home features three bedrooms, 5 full baths, three gas fireplace, two gas fire pits, one on the roof deck and one in the garden and an elevator to all floors. According to Sotheby's , it's "central, open-plan living area adapts easily to casual evenings or formal entertaining. Downstairs, an entertainment room opens onto a secluded garden with fountain and fire pit. Upstairs, a cantilevered stairway and glass-floored walkway separate the master suite from two additional bedrooms, each with private bath.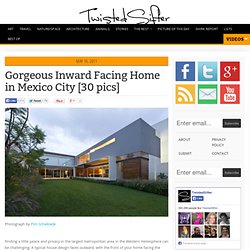 Photograph by Pim Schalkwijk Finding a little peace and privacy in the largest metropolitan area in the Western Hemisphere can be challenging. A typical house design faces outward, with the front of your home facing the street and your backyard… well it's in the back :) The architects at twentyfourseven addressed this challenge by designing a home that is L-shaped, leaving a gorgeous plot of exterior space within the confines of the property. The AE House in Mexico City is a little slice of tranquility amongst the bustle and busyness of this gigantic city with gorgeous interior and exterior spaces throughout.
The Tangga House is another Singapore's dream home designed by Guz Architects . Completed in 2009, the 7,663 square foot residence is located in Holland Village, an elite district of Singapore that is famous amongst the expatriate community. The luxury single-family home gives the owners the opportunity to live in harmony and comfort with nature, in Singapore's hot tropical climate. Tangga House by Guz Architects: "The house is a contemporary interpretation of a traditional courtyard house, laid out around a central green courtyard with a double height stair and entry area forming the focal point of the project.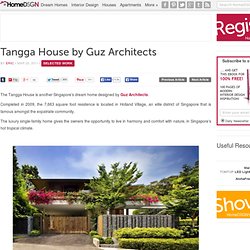 Luxury Villa Amanzi, Thailand by Original Vision Studio The Villa Amanzi by Architect firm Original Vision Studio is a stunning modern vacation residence located in the exclusive Cape Sol on the West coast of Phuket, Thailand. Villa Amanzi is a stunning six bedroom residence with a 15m infinity pool and breathtaking views over the Andaman Sea. This luxury villa enjoys a spectacular headland location along Kamala's exclusive Millionaires Mile and captures cool gentle breezes all year round with uninterrupted sea views from every vantage point, in one of the most breathtaking locations Phuket has to offer. The contemporary design features ultra modern architecture and interiors that combine to provide guests with the optimal environment to relax and unwind in unspoilt luxury. Photograpghy by Marc Gerritsen & Helicam Asia Aerial Photography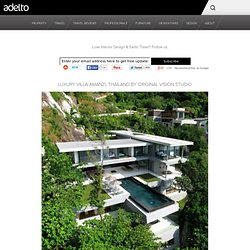 Bridle Road Residence in Cape Town, South Africa, is a beautiful example of a sizeable structure that does not impose itself onto the landscape at the base of Table Mountain. The single-family residence does not look massive or overly grand, but instead exudes a classic elegance with Scandinavian/Japanese lightness, precision and scale. The proportions and division of the walls and windows — including the "picture windows" overlooking the Cape Town harbor — create an openness without the feel of exposure.
Bridle Road Residence - Cape Town, South Africa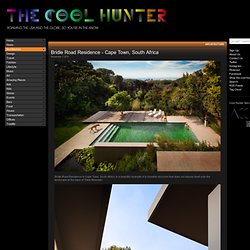 Math professor Dr. James Stewart, who is also a former violinist with the Hamilton Symphony Orchestra near Toronto, Ontario, has made millions writing calculus textbooks. When he decided to spend most of his fortune on a residence, he could have used any architect anywhere in the world. Instead of an international star, he selected the then-relatively unknown pair, Brigitte Shim and Howard Sutcliffe of Shim Sutcliffe to create his residence in a ravine in the posh Toronto neighborhood of Rosedale.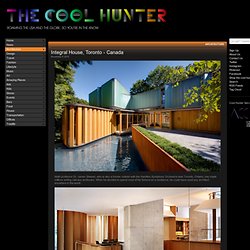 Integral House, Toronto - Canada
Screw the 557sq m Central Park duplex, the $US100 million house in South Kensington or the 17th-century apartment with views to Notre Dame. I want the Fish House. Property porn doesn't go more luscious than this. Made of wood, steel and glass, glass and more glass, the Fish House is an environmentally friendly waterfront home in Singapore. It doesn't have an underground pool with water slide , but who cares.
Lofted Living: Elevated Home Literally Sits on the Water
Eat your heart out, Fallingwater.
Good things come to those who wait – particularly in a work of uniquely detailed and highly curved architecture. Nearly a decade in the making, this structure by Robert Harvey Oshatz is much like a tree house – lofted toward the top of the canopy around it – only bigger, grander, more complex and curved than most any tree house in the world. The perimeter of the structure is pushed out into the forest around it, curving in and out to create views as well as a sense of intimacy with the coniferous and deciduous tree cover.
The House Among Trees
Any architecture that is built with nature in mind, is made with concrete and has wooden interior elements, immediately gets an instant like from me. There's just something about the combination of wood, concrete and trees that I love. In this case the trees were included by law. Local construction codes of Mar Azul, Beunos Aires, Argentina actually restrict the removal of trees. Instead of relocating the house the architects, Martín Fernández de Lema and Nicolás F. Moreno Deutsch, decided to build the house around them.
Tree House by Safdie Rabines Architects
Since the mid-1990s, recreational tree houses have enjoyed a rise in popularity. They are built among the branches, around or next to the trunk of one or more mature trees, and are raised above the ground. Tree houses can be used for recreation, work space, habitation or as temporary retreats.
Wholly Concrete Home! Foundation, Floor & Much More
Morris Arboretum Tree Adventure
Treehouse Living: Finca Bellavista, Costa Rica
Dream-Like Desert Home Design for Wide Open-Air Spaces