Mind abnormalities
Tp20116a.pdf (application/pdf Object) Keeping A Healthy Brain. Looking For Early Signs Of Autism In Brain Waves. Hide captionAn infant and his mother demonstrate electroencephalography, or EEG, technology at Children's Hospital Boston.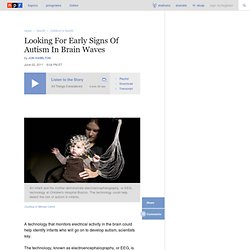 The technology could help detect the risk of autism in infants. Courtesy of Michael Carroll A technology that monitors electrical activity in the brain could help identify infants who will go on to develop autism, scientists say. Gene Linked To Severity of Autism's Social Dysfunction - 04/06/2011. With the help of two sets of brothers with autism, Johns Hopkins scientists have identified a gene associated with autism that appears to be linked very specifically to the severity of social interaction deficits.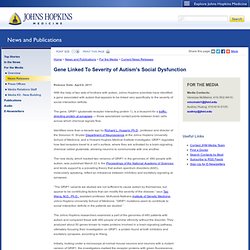 The gene, GRIP1 (glutamate receptor interacting protein 1), is a blueprint for a traffic-directing protein at synapses — those specialized contact points between brain cells across which chemical signals flow. Identified more than a decade ago by Richard L.
---