Audio
Online tools/resources for creating music. May 12
Chirbit About ChirbitChirbit is a free program that allows users to create and upload files for storage or sharing. It is best used in a classroom in which you would like to share multiple multimedia files with your students on a consistent basis. How to Use ChirbitClick the link above to visit Chirbit.
The 5 Best Free Audio Tools for Teachers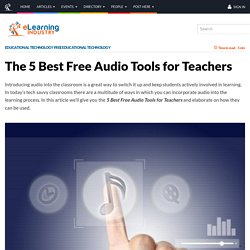 Free Web Applications Choose your language FileLab Audio Editor Rework your audio files online and get a completely new refined and enhanced with effects output track!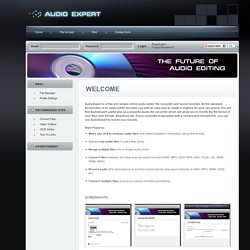 AudioExpert is a free and simple online audio editor, file converter and sound recorder. All the standard functionality of an audio editor provides you with an easy way to create a ringtone for your cell phone. You will find AudioExpert useful also as a powerful audio file converter which will allow you to modify the file format of your files, their bit rate, frequency, etc. If your computer is equipped with a camera and microphone, you can use AudioExpert to record your sounds.