SEO Info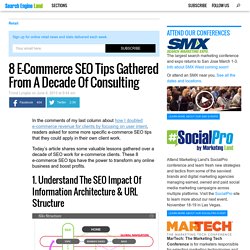 In the comments of my last column about how I doubled e-commerce revenue for clients by focusing on user intent , readers asked for some more specific e-commerce SEO tips that they could apply in their own client work. Today's article shares some valuable lessons gathered over a decade of SEO work for e-commerce clients. These 8 e-commerce SEO tips have the power to transform any online business and boost profits.
8 E-Commerce SEO Tips Gathered From A Decade Of Consulting
How to Write the In-Depth Articles that Google Loves
Another year has come and gone.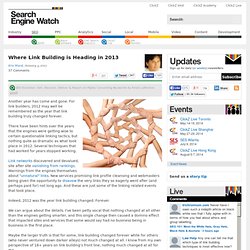 Where Link Building is Heading in 2013
79 Best SEO Videos and SEO Infographics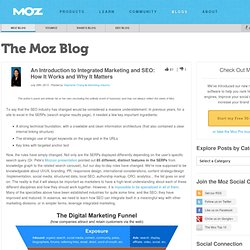 The author's posts are entirely his or her own (excluding the unlikely event of hypnosis) and may not always reflect the views of Moz. To say that the SEO industry has changed would be considered a massive understatement. In previous years, for a site to excel in the SERPs (search engine results page), it needed a few key important ingredients:
An Introduction to Integrated Marketing and SEO: How It Works and Why It Matters
The History of SEO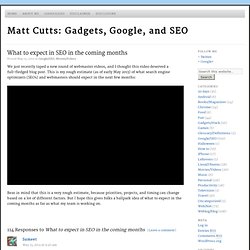 What to expect in SEO in the coming months
I have had a thread running in seo community and there is an ex-google web spam person on there.
Why I noindex tags in the All in One SEO settings
The All in One SEO WordPress plugin is a very popular plugin.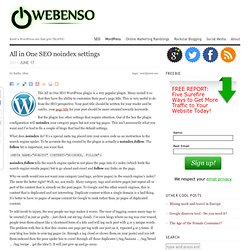 static.googleusercontent.com/external_content/untrusted_dlcp/www.google.com/en/us/insidesearch/howsearchworks/assets/searchqualityevaluatorguidelines
If you want high octane backlinks from authority sites without spending a dime, then you definitely want to check out this completely unknown link building strategy.
I'm KILLING It With This Completely New Kind of Backlink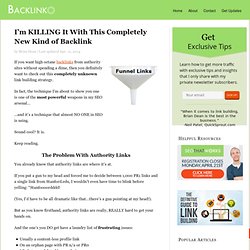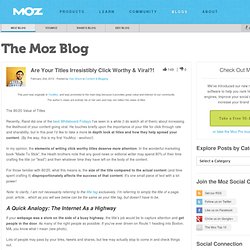 Recently, Rand did one of the best Whiteboard Fridays I've seen in a while (I do watch all of them) about increasing the likelihood of your content going viral. He touches briefly upon the importance of your title for click through rate and sharability, but in this post I'd like to take a more in depth look at titles and how they help spread your content. (By the way, this is my first YouMoz - woohoo!) In my opinion, the elements of writing click worthy titles deserve more attention. In the wonderful marketing book "Made To Stick", the Heath brothers note that any good news or editorial writer may spend 80% of their time crafting the title (or "lead") and then whatever time they have left on the body of the content.
Are Your Titles Irresistibly Click Worthy & Viral?!
0120016870
Abstract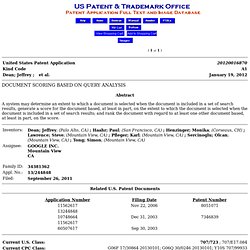 8 Ways SEO Should Influence Your Marketing Copywriting
In the world of inbound marketing, your content is your business and your calling card.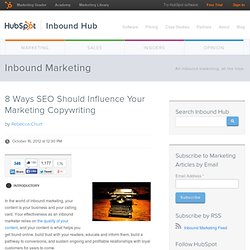 Ex-Googler: "To Please Google With Your SEO, Forget About SEO"
It's not everyday you get to hear from someone that's worked on Google's Search Quality/Webspam team and isn't named Matt Cutts. But Andre Weyher, whose LinkedIn profile lists a two-year stint as a member of the search quality team, recently spoke with James Norquay, a search/digital marketer based in Australia, and shared some interesting comments that may — and I'll say more about this below — help search marketers and webmasters understand a little better how Google views certain SEO strategies and tactics.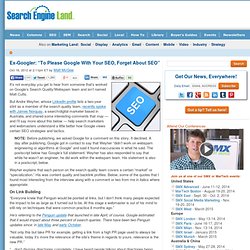 Now that tax season is over, it's once again safe to say my favorite A-word... audit!
PageSpeed Insights
Posted on Monday, Oct 01, 2012 in " Infographics SEO " by Svetlana
How Much Does SEO Cost? (Infographic)
How Google Makes Liars Out of the Good Guys in SEO
Reality: Nope. Connecting with people on social can get you links in many ways but if you did that well and didn't get anchor text, you'd probably fail. Reality: Not yet.
The author's posts are entirely his or her own (excluding the unlikely event of hypnosis) and may not always reflect the views of Moz. As an industry, SEO has struggled with setting standards of quality from day one. Even with countless professional SEOs doing best-in-class work, the industry as a whole is constantly battling the bad rap of being tactless, unethical, and sometimes even "dead." Black-hat or black cat? At SEOmoz, we find ourselves pleasantly surprised day after day by the array of high-quality SEOs that make our industry such a wonderful place to be.
How Many SEO Consultants Actually Know What They're Talking About?
Google Search Quality Raters Instructions Gain New "Page Quality" Guidelines
In the wake of Google's Panda algorithm update, its cadre of human search quality raters has a new task: giving Google specific quality ratings for individual landing pages.
7 SEO Idiots (I Mean 'Experts') to Avoid
Google Algorithm Update – Is Bounce Rate a Ranking Signal?
Nine By Blue » Google's Upcoming Algorithm Change: "Overly-Optimized Sites" » Nine By Blue
100 Lessons Learned from 10 Years of SEO
The Increasing Complexity of the Organic SEO Task List for 2012 & 2013
Penguin Analysis: SEO Isn't Dead, But You Need to Act Smarter | Microsite Masters
Terrific video on Negative SEO
6 Changes Every SEO Should Make BEFORE the Over-Optimization Penalty Hits - Whiteboard Friday
Search Engine Marketing - Should You Host Your Blog On-Site or Off-Site?
7 Steps to Measure SEO Like Paid Search
SES London: 173 free takeaways and top tips
Duplicate Content in a Post-Panda World
The Next Generation of Ranking Signals
Anchor Text Distribution: Avoiding Over Optimization
10 SEO Trends You Can't Ignore If You Want High Rankings
Fat Pandas and Thin Content
Search Engines Are Winning the War on Content Farms [STUDY]
6 SEO Jedi Tactics to Try Before Turning to the Dark Side
5 SEO Mistakes that Crush Rankings
A Real Google Friendly Website in 2012?
Google Algo Changes and Google Manual Reviews - How It Works
New Edition of the Ranking Factors for 2011 is Now Live!
What is Your SEO Archiving Plan? Search Engine Optimization and Archives.
Surviving a Site Migration [An SEO's Guide]
10 Ways to Diagnose a Google Penalty
The Future of SEO: 5 Clear Facts You Should Know
The geo-seo-sem-experts Daily
10 Most Important SEO Patents: Part 2 - The Original Historical Data Patent Filing and its Children
The Fresh Rank Algorithm, Is It More Important Than PageRank
Take 10: Six Quick Tips for Writing SEO-Friendly Content - MarketingProfs Online Seminars
Is position 2 on the first page of Google good enough?
Threat Level Has Been Raised By Google (But It's Not What You Think!) | Jon Rognerud
How and why to keep away the dreaded Google bounce
The New SEO
8 Durable SEO Elements
Profiting From Panda | Don Crowther
Mike Marshall at the System Seminar
SEO 101: Everything You Need to Know About SEO (But Were Afraid to Ask)
The Big, Bad List of Pre-SEO Questions You Need to Answer, Part VII
Google and Bing Changes You Need to Know About
Using Personas to Boost Online Marketing and SEO
Why You Can't Game Google and Bing with +1s and Likes