Astronomical Paradigms
"The Kavli Prizes recognize three scientific areas we believe are exceptionally exciting in the 21st Century and at the brink of remarkable discoveries – astrophysics, nanoscience and neuroscience. Created to honor, support and recognize scientists whose work have had a profound impact in these areas, through these Prizes we also hope to raise people's awareness of the benefits of basic science in their own lives
About the Kavli Prize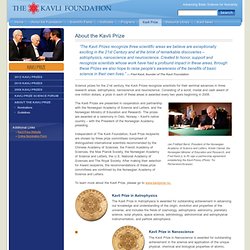 Video: Stellar cataclysm The protons that constantly smack into Earth's atmosphere at near the speed of light get their huge energies from exploding stars.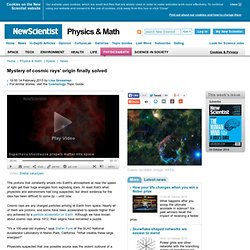 Mystery of cosmic rays' origin finally solved - physics-math - 14 February 2013
Astronomers Do It In The Dark - astrophotography, astronomical photos, astronomical photography, astro photos, astro photography, Dark Nebulae, IC Nebulae, Reflection Nebulae, Open Clusters, Abell Galaxies, Spiral Galaxies, Galaxy Clusters, Planetary Nebu
other matter
History: The Space Telescope Science Institute (STScI) was already operating an efficient archive for distribution of the Hubble Space Telescope data in 1997, when the International Ultraviolet Explorer mission ended and NASA began to search for a permanent home for the IUE data archive. The clear synergy between HST and IUE science made it logical to combine the data into a single archive.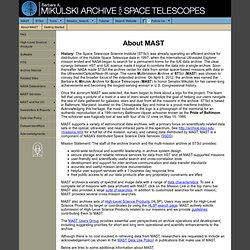 About MAST
CANDELS: A Cosmic Odyssey
About CANDELS
CMB
Cosmic Background Radiation : One of the foremost cosmological discoveries was the detection of the cosmic background radiation. The discovery of an expanding Universe by Hubble was critical to our understanding of the origin of the Universe, known as the Big Bang. However, a dynamic Universe can also be explained by the steady state theory.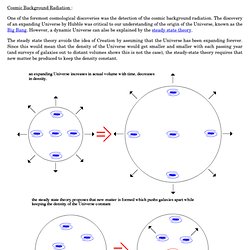 The MareNostrum Universe
According to the Bible, the universe was created in about a week.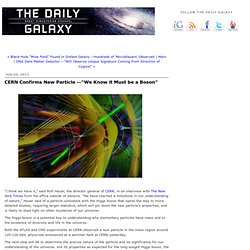 CERN Confirms New Particle --"We Know it Must be a Boson"
The Higgs boson is a potential key to understanding why elementary particles have mass and to the existence of diversity and life in the universe.