Relationships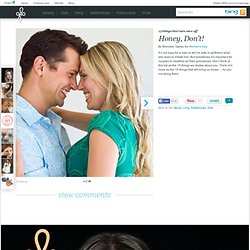 15 Things That Turn Men Off
Renovation Revelation 1 of 15By Rebecca ThienesReady to renovate but don't think you have the budget? From basic white subway tile and a sleek kitchen faucet to jazzy plaid carpet and graphic linoleum floor tiles (who knew?), here are 14 renovating and decorating ideas that will give your home a brand-new look without breaking the bank.Shiny & New 2 of 15Swapping out an old kitchen faucet is an easy and affordable way to modernize a tired kitchen. Lowes' single-lever version by Delta is svelte and sophisticated in chrome, but also functional; its pull-out nozzle makes cleaning up the sink a cinch. If your existing faucet is of the three-hole variety, an optional escutcheon plate (sold separately) will cover the extra holes for a seamless look.SHOP NOW: Delta kitchen faucet, $199 to $230, lowes.comIt's a Snap 3 of 15Hate the look of your floor? Marmoleum's click linoleum floor tiles make it easy to add a new look to any room in the house.
Healthy Relationship Advice - Love Life Tips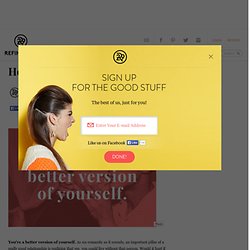 Talking about love, sex, and the general "state of affairs" is a staple of any friendship. Whether you're griping or gushing, we all turn to our closest confidants for advice. And, of course, there's always plenty of commentary from the peanut gallery. Sometimes, though, it's a lot harder to see the light when it's your own relationship in question, especially when the road is happy, but also a little rocky. Where true love is concerned, how do you really know when you've found it?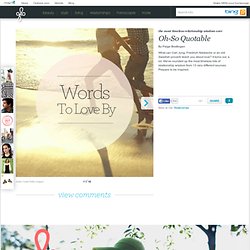 Gold Standard 1 of 23By Tiffany TseAs we kept tabs on which celebs won at this year's Golden Globes, we also paid close attention to the parade of gorgeous beauty looks. From Emma Watson's pretty chignon to Jennifer Lawrence's smoky eyes, we tracked down the exact products used to create 22 of the night's best celeb hair and makeup looks. Read on for all the details!Share this on Facebook?Think Pink 2 of 23To get Cate Blanchett's pretty pink lip, makeup artist Jeanine Lobell layered Giorgio Armani's Rouge Ecstasy Lipstick in Boudoir, a nude rose, over Scarlatto, a raspberry rose hue.
The most timeless relationship wisdom ever
The Secret Signals Your Body Language Sends to Men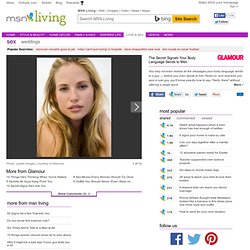 You may not even realize all the messages your body language sends to a guy — before you even speak to him. Read on, and next time you spot a cute guy, you'll know exactly how to say, "Hello, there" without uttering a single word. What catching his eye—and holding it for a couple of seconds—says to him … This is the most powerful weapon in your body-language-flirting arsenal, says Judi James, author of The Body Language Rules: A Savvy Guide to Understanding Who's Flirting, Who's Faking, and Who's Really Interested."If you hold his gaze for just a half second longer than the usual split-second gaze, and then you look down and back at him, it tells the guy that you've considered him and you like what you see," James says.
Un-Memorizing the "Silence is Sexy" Date Script | Queer Guess Code
A woman once told me pointedly something that has stayed with me to this day. We were kissing. Lying on the cold wood floor, my hand traveled across her stomach and she whispered, "I think we should take it slow." I agreed immediately. Before moving in to kiss her again, I said, "Just tell me when to stop." This, I thought, was considerate.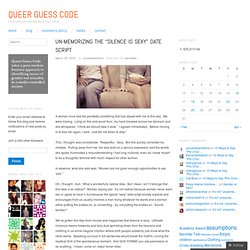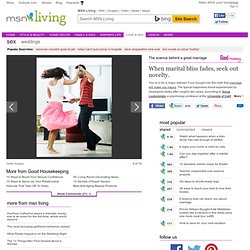 The science behind a great marriage
The secret is simple... it is respect. Respect covers everything. People that are selfish are by definition being disrespectful. I agree marriage is not for selfish people. It is no coincidence the faith helps out; since faith based people strive to be less selfish as part of their faith.
You learn to spot them when you run a couples retreat called The Marriage Checkup. But program director James V. Cordova, Ph.D., promises that if you catch the bad marriage signs early, patients can make a full recovery. You know you've got relationship work to do if you notice... "Most people think these arguments are just about spending and saving, but they're really about our emotional relationships with money," Cordova says.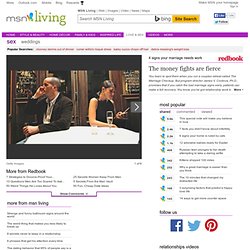 4 signs your marriage needs work
10 Unspoken Marriage Rules | Story | Glo
Things you can tell just by looking at him
All Eyes 1 of 11By Morgan OlsenIf the eyes are the windows to your soul, then squinty, beady peepers won't do. To help you achieve a doe-like effect, we asked makeup pros to share their ten best eye-opening secrets.Share this on Facebook?Crease Up 2 of 11Your eye crease dictates the shape and depth of your eye. Faking a higher crease is a shortcut to making eyes appear bigger. Start with a taupe shade on a rounded crease brush.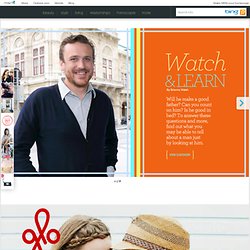 8 Words That Give a Liar Away - MSN Living#2#3#4#5
well I don't know about that. Now I kicked my lying, cheating, loser of a fiancé, so lets see. He swore up and down and said, "I don't care what THAT lying whore says, I NEVER touched her." the truth was he was doing her for 2 1/2 years. He said " I WOULD NEVER do THAT to you" **** he was already doing it!!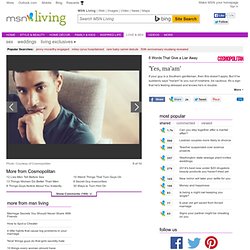 15 Secrets of Happy Couples
(How about that... four of the five posts so far are advertisements for dating sites.) Well, this one is NOT! I wanted to say something about the "chores" aspect of a relationship.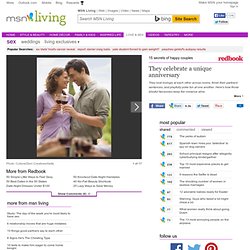 "How will I know when I meet the right person?" I often hear this question in my counseling practice. The answer is fairly complex.
Margaret Paul, Ph.D.: How to Know When You've Met the Right Person for You
Because I was a shy child who was paradoxically frightened by all things new and ashamed of the things I did not know, I became infatuated, at the age of 11, with a girl whom I can only describe as the opposite of me. I first saw Larissa in the yard of our Brooklyn Catholic school: her school-issued plaid skirt rolled up at the waist, her blond hair pulled back and gelled firmly to her head (a look appropriated from the Latino girls), her backpack stamped with a million overlapping graffiti tags drawn in colorful Sharpies. Her facial features were blunt, her eyes greenish and a little wild, and her walk like that of a rare bird—loose-hipped and confident, her ample chest thrust out, leading the way. One day, after weeks of staring at Larissa, studying her, I saw her womanly hips swaying in my direction.
Lessons in Life and Love Learned from a Girlfriend - Coming of Age Story - ELLE
Susan Sontag on Love: Illustrated Diary Excerpts
by Maria Popova "Nothing is mysterious, no human relation. Except love." HAPPY UPDATE: We've released a sequel, Susan Sontag on art, with proceeds benefiting A Room of Her Own, a foundation supporting women writers and artists. The recently released volume of Susan Sontag's diaries, As Consciousness Is Harnessed to Flesh: Journals and Notebooks, 1964-1980 (public library), is a treasure trove of insight — on writing, on censorship, on aphorisms — from the deepest corners of one of the greatest minds in modern history.
How Facebook Ruined Dating (and Breaking Up Too)
Meeting/dating/relationship-ing was hard enough before 2003. And then Facebook created a whole new set of obstacles, awkward conversations and unclear situations. "Can I admit to knowing things you've done (based on your pics) before we go on dates?" "Should we get to know each other on Facebook before we date?" The difficulty of dating in the era of Facebook is not just in your head, either.
Am I in Love - How Do You Know If You're In Love
Decor Fixes For Renters 1 of 9By Paige BrettingenAfter months of searching, you've found the perfect apartment (cue the Hallelujah chorus). But before you fantasize about hanging that giant piece of artwork or painting an accent wall pink, make sure your decorating dreams won't cost you later in damaged walls or upgrades you can't take with you. Here, ten rental mishaps to avoid, plus tips on how to make your space feel like home—without sacrificing your security deposit.Tough As Nails 2 of 9Rental Mishap: Nailing artwork into walls or using damaging adhesivesSimple Solution: "Rather than nailing holes into the drywall, try Command Picture Hanging Strips—the company has revolutionized how to hang art," says Ashlina Kaposta, an NYC-based interior designer and founder of TheDecorista.com.
How to get set up with Mr. Right - Edit Yourself
Smart Talk About Love
Why You're Not Married...Yet | Story | Glo
Pre-Marriage Move in Leads to Unhappiness | Cohabitation & Relationships | Marriage & Divorce
The Neuroscience of Relationship Breakups
Decisions, Decisions | Story | Glo
The Neuroscience of Romanticized Love – Part 1: Emotion Taboos | Neuroscience and Relationships
10 Studies That Affect Your Relationships - Can Cheating Kill?
Qualities all faithful men have
Get in Shape to Get Your Groove Back
Beware of Person? | Glo Grab Bag | Grab Bag | Glo
50 Things She Wishes You Knew - En Güzel Sözler - Blogcu
Sex and the Single Girl: Why American culture is still so scared by single people
Destiny In Bloom | A Women's Online Magazine
30 Relationship Tips For Women Who Love Men
Relationships
Modern Day Matchmaker: 12 Signs You're Not Ready for Marriage
5 Douchebag Behaviors Explained by Science
Eight Ways to Spot Emotional Manipulation
If a Man Wants You
40 healthy relationship signs
The Best Sex Positions Ever
Is He "The One"? | Story | Glo
10 First-Date Lies Women Tell
All Sex Positions
simple marriage
Never Date a Musician
75 Ways to Show Love
9 Signs You've Met The One
Triangular theory of love - Wikipedia, the free encyclopedia
How Do I Love Thee? Experts Count 8 Ways
The Psychology of Relationships
10 Truths To Keep Your Relationship Healthy | Psychology Today - StumbleUpon
50 Dating Rules for Smart Girls Who Don't Need Dating Rules | Stylish Thought
- StumbleUpon