Relationships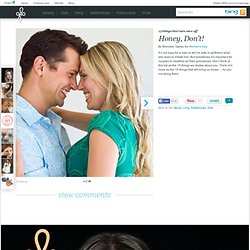 15 Things That Turn Men Off
Renovation Revelation 1 of 15By Rebecca ThienesReady to renovate but don't think you have the budget? From basic white subway tile and a sleek kitchen faucet to jazzy plaid carpet and graphic linoleum floor tiles (who knew?)
Healthy Relationship Advice - Love Life Tips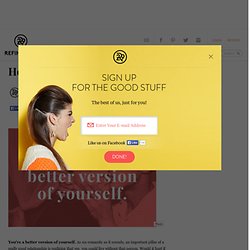 Talking about love, sex, and the general "state of affairs" is a staple of any friendship.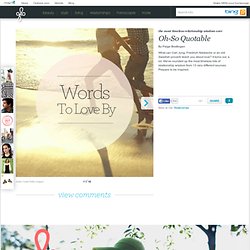 Gold Standard 1 of 23By Tiffany TseAs we kept tabs on which celebs won at this year's Golden Globes, we also paid close attention to the parade of gorgeous beauty looks.
The most timeless relationship wisdom ever
The Secret Signals Your Body Language Sends to Men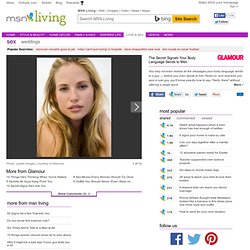 You may not even realize all the messages your body language sends to a guy — before you even speak to him.
Un-Memorizing the "Silence is Sexy" Date Script | Queer Guess Code
A woman once told me pointedly something that has stayed with me to this day. We were kissing.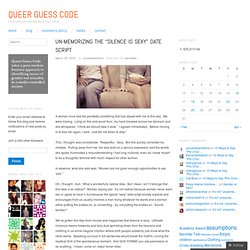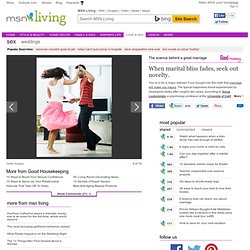 The science behind a great marriage
The secret is simple... it is respect.
You learn to spot them when you run a couples retreat called The Marriage Checkup.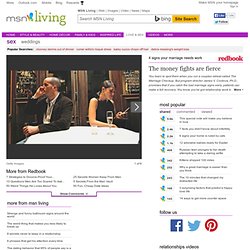 4 signs your marriage needs work
10 Unspoken Marriage Rules | Story | Glo
Things you can tell just by looking at him
All Eyes 1 of 11By Morgan OlsenIf the eyes are the windows to your soul, then squinty, beady peepers won't do.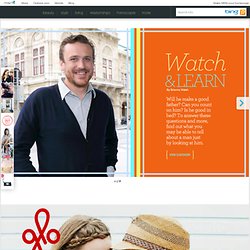 8 Words That Give a Liar Away - MSN Living#2#3#4#5
well I don't know about that.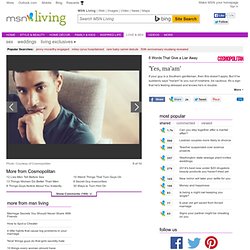 15 Secrets of Happy Couples
(How about that... four of the five posts so far are advertisements for dating sites.) Well, this one is NOT! I wanted to say something about the "chores" aspect of a relationship.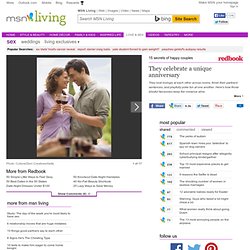 "How will I know when I meet the right person?" I often hear this question in my counseling practice. The answer is fairly complex.
Margaret Paul, Ph.D.: How to Know When You've Met the Right Person for You
Because I was a shy child who was paradoxically frightened by all things new and ashamed of the things I did not know, I became infatuated, at the age of 11, with a girl whom I can only describe as the opposite of me.
Lessons in Life and Love Learned from a Girlfriend - Coming of Age Story - ELLE
Susan Sontag on Love: Illustrated Diary Excerpts
by Maria Popova
How Facebook Ruined Dating (and Breaking Up Too)
Am I in Love - How Do You Know If You're In Love
How to get set up with Mr. Right - Edit Yourself
Smart Talk About Love
Why You're Not Married...Yet | Story | Glo
Pre-Marriage Move in Leads to Unhappiness | Cohabitation & Relationships | Marriage & Divorce
Quickly moving in with your honey may be the kiss of death for some couples. New research indicates that couples who move in together before they get engaged or married are less happy and less likely to stay together than couples who wait.
The Neuroscience of Relationship Breakups
"...Loves me, loves me not" An unexpected and unwanted breakup can cause considerable psychological distress. People report feeling as if they have been kicked in the stomach or blindsided and knocked down. Feelings of rejection and self-doubt are common, as is the feeling of being stuck and unable to let go, even when one wants to.
Decisions, Decisions | Story | Glo
The Neuroscience of Romanticized Love – Part 1: Emotion Taboos | Neuroscience and Relationships
10 Studies That Affect Your Relationships - Can Cheating Kill?
Qualities all faithful men have
Get in Shape to Get Your Groove Back
Beware of Person? | Glo Grab Bag | Grab Bag | Glo
50 Things She Wishes You Knew - En Güzel Sözler - Blogcu
Sex and the Single Girl: Why American culture is still so scared by single people
Destiny In Bloom | A Women's Online Magazine
30 Relationship Tips For Women Who Love Men
Relationships
Modern Day Matchmaker: 12 Signs You're Not Ready for Marriage
5 Douchebag Behaviors Explained by Science
Eight Ways to Spot Emotional Manipulation
If a Man Wants You
40 healthy relationship signs
The Best Sex Positions Ever
Is He "The One"? | Story | Glo
10 First-Date Lies Women Tell
All Sex Positions
simple marriage
Never Date a Musician
75 Ways to Show Love
9 Signs You've Met The One
Triangular theory of love - Wikipedia, the free encyclopedia
How Do I Love Thee? Experts Count 8 Ways
The Psychology of Relationships
10 Truths To Keep Your Relationship Healthy | Psychology Today - StumbleUpon
50 Dating Rules for Smart Girls Who Don't Need Dating Rules | Stylish Thought
- StumbleUpon