Asp.net
Web Development Blog - Umbraco Consultant
Ezine ASP.Net - training, asp, asp.net, ajax, vb script,free javascripts, sql training - Page 1
AJAX FilteredTextbox Control Extender
The FilteredTextbox Extender control enables the Textbox server control of ASP.Net to filter the input given by user that allows only valid input characters into the textbox. You can use the FilteredTextboxExtender for the field of username to validate and filter the invalid characters e.g.: allows the input characters as alphabets + special characters (- or _) + numbers. There is a limitation of using FilteredTextboxExtender that user can disable the javascript feature of web browser.
Ashraf's Blog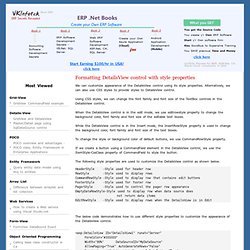 We can customize appearance of the DetailsView control using its style properties. Alternatively, we can also use CSS styles to provide styles to DetailsView control. Using CSS styles, we can change the font family and font size of the TextBox controls in the DetailsView control.
Formatting DetailsView control with style properties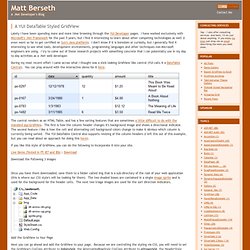 Lately I have been spending more and more time browsing through the YUI Developer pages. I have worked exclusively with Microsoft's .Net Framework for the past 5 years, but I find it interesting to learn about other competing technologies as well (I even went so far to get certified on Sun's Java platform ).
Matt Berseth: A YUI DataTable Styled GridView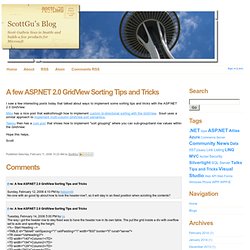 A few ASP.NET 2.0 GridView Sorting Tips and Tricks
I saw a few interesting posts today that talked about ways to implement some sorting tips and tricks with the ASP.NET 2.0 GridView:
Scott Mitchell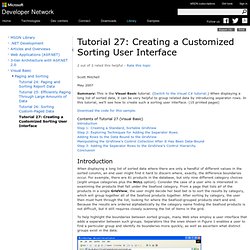 Tutorial 27: Creating a Customized Sorting User Interface
ASP.NET
Tutorial 25: Efficiently Paging Through Large Amounts of Data
Scott Mitchell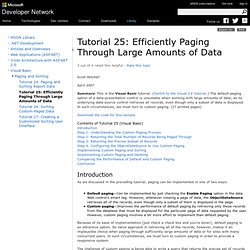 Bind Gridview using LINQ - C#, ASP.Net, VB.Net
Noticias sobre el grupo Microsoft .Net Developers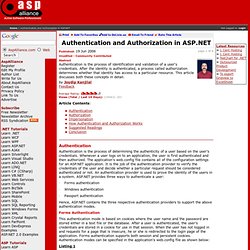 Authentication and Authorization in ASP.NET
Authentication is the process of determining the authenticity of a user based on the user's credentials. Whenever a user logs on to an application, the user is first authenticated and then authorized. The application's web.config file contains all of the configuration settings for an ASP.NET application.
Agosto de 2005 Publicado: 21 de Diciembre de 2005 patterns & practices Developer Center (en inglés)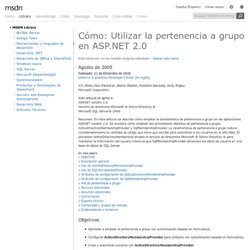 Cómo: Utilizar la pertenencia a grupo en ASP.NET 2.0
IDisposable Thoughts | Honey, where is my coding t-shirt?