iPADs in the Classroom
The Eanes ISD iPad Project. - 29 Ways to Use the Only iPad in the Classroom. 0 Comments December 18, 2012 By: Guest Blogger Michele Vance Dec 17 Written by: 12/17/2012 6:34 PM ShareThis How would you use ONE iPad in the classroom?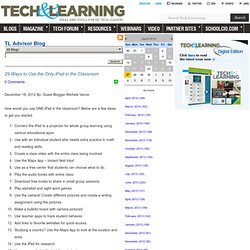 SlideShare Presentations. Ideal iPad Settings for School Use | SchooliPads. *PLEASE NOTE: The layout of the Settings menu is subject to change as Apple updates their iOS.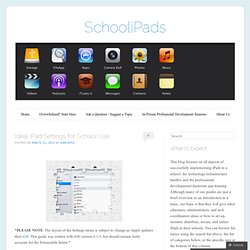 This guide was written with iOS version 6.1.3, but should remain fairly accurate for the foreseeable future. . * Appitic Eduapps. 5 Critical Mistakes Schools Make With iPads (And How To Correct Them) Over the last few years K-12 schools and districts across the country have been investing heavily in iPads for classroom use .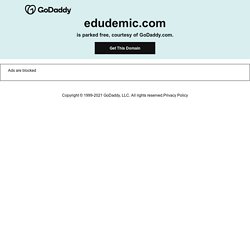 EdTechTeacher has been leading iPad professional development at many of these schools and we've seen firsthand how they approach iPad integration. While we've witnessed many effective approaches to incorporating iPads successfully in the classroom, we're struck by the common mistakes many schools are making with iPads, mistakes that are in some cases crippling the success of these initiatives.
We're sharing these common challenges with you, so your school doesn't have to make them. 1) Focusing on content apps The most common mistake teachers make with iPads is focusing on subject-specific apps. 103 iPad 2 uses.pptx. Comprehensive guide to the iMovie app on the iPad for teachers & students. I have updated my guide for iMovie on the iPad. iMovie on the iPad is in many ways a significantly better application than its much larger cousin on the Apple Mac.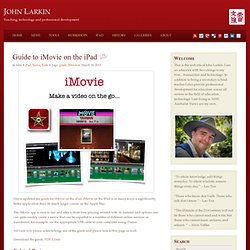 The iMovie app is easy to use and after a short time playing around with its features and options one can quite readily create a movie that can be exported to a number of different online services or transferred, for example, via the appropriate USB cable to your computer using iTunes. All I ask is to please acknowledge use of the guide and please link to this page as well. Download the guide. iPads in the Classroom – App Evaluation/Research. With second semester now in full swing, many of our teachers have had time to utilize the iPad as a tool in their instruction.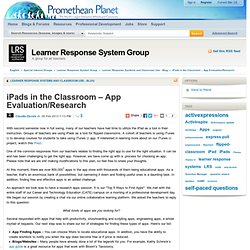 Groups of teachers are using iPads as a tool for flipped classrooms. A cohort of teachers is using iTunes U to develop courses for students to take using iTunes U app. iPad Trial | iPad Research. Transformative iPad Use in Early Elementary School. 10+ Activities to Get Students Moving with the iPad. Apple TV In The Classroom – The New Smart Board. An iPad and Apple TV can combine to provide an advantageous alternative to more expensive, traditional interactive white boards.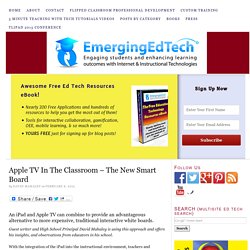 Guest writer and High School Principal David Mahaley is using this approach and offers his insights, and observations from educators in his school. With the integration of the iPad into the instructional environment, teachers and students have discovered many new ways in which the device can expand and enhance the learning environment. iPadsInMiddleSchool - home. Ipadsinmiddleschool.wikispaces.com/file/view/one_ipad_classroom.pdf/353231296/one_ipad_classroom.pdf. iPads/Apps for Teaching & Learning. iPads in Education. Copy of iPads in Schools by Mike Fisher. iPads in Education - Home. McAllen ISD - TLC3_Parent_Orientation. TLC3 Parent Orientation | Student Mobile Device Procedures Parents may complete the required orientation online by following the instructions below or attend a scheduled orientation at a McAllen ISD campus, schedule will be posted soon.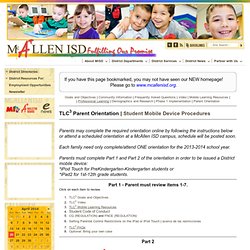 Each family need only complete/attend ONE orientation for the 2013-2014 school year. Internet Catalogue. Season 1, Episode 2 | Those Who Can...Write About It. I asked another class today to share their initial thoughts on the iPads.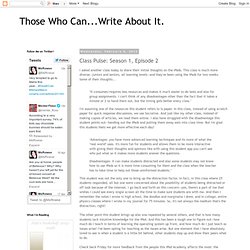 This class is much more diverse--juniors and seniors, all learning levels--and they've been using the iPads for two weeks. Some of their thoughts... "It consumes/requires less resources and makes it much easier to do tests and also for group assignments. I can't think of any disadvantages other than the fact that it takes a minute or 2 to hand them out, but the timing gets better every class. " 5 Reasons The iPad Will Stay The King of the Classroom. The following piece is by the amazingly talented Adam Webster, Assistant Director of Learning and Teaching at a secondary school in Surrey, England.
He writes for both the Edudemic Magazine and his blog ' Cageless Thinking ' (worth bookmarking). This article originally appeared on Cageless Thinking and was cross-posted with Adam's permission. 1. It's not a laptop. What I Am Still Taking for Granted. Even though these iPads have been in the classroom for over a month, and in the past two weeks my class hasn't started using any new app, I am still taking what my students know (and are comfortable with) for granted.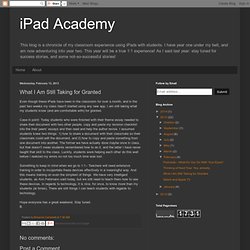 Case in point: Today students who were finished with their theme essay needed to share their document with two other people, copy and paste my revision checklist into the their peers' essays and then read and help the author revise. I assumed students knew two things: 1) how to share a document with their classmate so their classmate could edit the document, and 2) how to copy and paste something from one document into another.
iTunes Course Manager | ourinspiredclassroom. I have been playing around with iTunes Course Manager and I am so excited about the potential applications that it is going to have on my class and beyond. Before I get into the process and my experience with creating a course, I'll start off by saying that I have always thought that iTunes U was one of the most underused brilliant resources available to teachers. I have worked with people, who I would classify as quite IT savvy, who haven't heard of iTunes U at all! This is where things usually get a little awkward as I somehow morph into an almost Evangelical iTunes U fanatic and go on and on with my spiel about "how amazing iTunes U is" and "how there is so much amazing content available literally sitting there waiting to be downloaded and integrated into classrooms. The content ranges in complexity; from Ivy league universities such as Yale, Oxford, Harvard etc to a grade 3 student's reflection about a ball game they played in PE.
It's awaiting you!" Let Your Fingers Learn - LiveBinder. 10 MORE Things NOT to do in an iPad 1:1 Initiative « Trying to be a mobile Djay At the end of last school year I reflected on the 10 things NOT to do in an iPad 1:1 program. I was blown away with the amount of responses and views the post got from all over the world.
It seems that it was at the right time, and right moment for districts out there planning on entering the Fall with a new 1:1 implementation. That said, it's almost too late by that point to make real swift changes to your implementation. I felt assured we had ferreted out all the little details that make things go astray during this process and hoped by providing a list of the 10 things, other districts could learn from our mistakes. iPad with Wes | iPad Training for Business Productivity. iPad in the Primary Classroom - Home. iPads/Apps for Teaching & Learning.
PrometheanPlanet. The end of September marked the culmination of the iPad deployment—known as Power Up! —in our district. It has been a great endeavor. All told, we delivered close to 9,000 iPads to 9–12 grade students at six high schools. We came short due to students opting out of receiving an iPad. This month, I'll share with you how it went and our future plans for the initiative we've named Power Up! Ipadsbyhuss - Ideas in the Works. iPad lessons. Borupcommoncore - home. How to Search Through Your Notes Application | iPhone Techie.
iPad & Literacy. Apps for Principals. iPad Activity: Open House Scavenger Hunt. iPads in the Primary Classroom - HCSMobile. iBrainstorm - Shared Brainstorming on iPads. The 60-Second Guide To Teaching With Tablets. The 100 Best iOS Apps For Mobile Learning. 103 Interesting Ways to use an iPad in the Classroom- 5 New Apps for Back to School. Using iPads With Mixed-Ability Students, Teachers Must 'Give Up Some Control' How One Classroom Actually Used iPads To Go Paperless (Part 1: Research) Connecting iPads and Reading in the Classroom: Part 1. iPAD Apps. Ipadschools - home. Blooms Taxonomy of Apps. iPad in the Classroom Helps Students to Study on Their Own. Recommended Apps for MBMS 1-1 iPad Program. iPad Basics. We Give Books - Books. 50 really useful iPad tips and tricks. Technology Timesavers for Teachers - myTeachersLounge. Dodgecitydc3 / FrontPage. Evernote: A 0-to-60 MPH Guide. PD for ipads.
Initial iPad Class Set-up. iPad Classroom. iPad in Education. Essential Paid iPad Apps for Schools. iPad implementation. iPad implementation. iPads can't improve learning without good teaching Pt 1. Digital Storytelling. Creating an iTunes Store, App Store, iBookstore, and Mac App Store account without a credit card. "The 3R's" Using iPad in Reading.
---