Mysql memory limits
1 Reference Manual :: 13.6.3 InnoDB Startup Options and System Variables
innodb_flush_method to O_DIRECT can degrade performance of simple SELECT statements by a factor of three. by uglycharly Nov 16
Linux HugeTLBfs: Improve MySQL Database Application Performance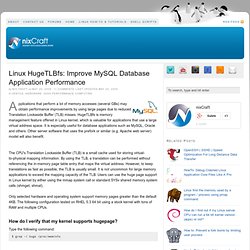 Applications that perform a lot of memory accesses (several GBs) may obtain performance improvements by using large pages due to reduced Translation Lookaside Buffer (TLB) misses.
Michael Tokarev: Re: O_DIRECT question
Linus Torvalds wrote:> > On Thu, 11 Jan 2007, Viktor wrote:>> OK, madvise() used with mmap'ed file allows to have reads from a file>> with zero-copy between kernel/user buffers and don't pollute cache>> memory unnecessarily. But how about writes?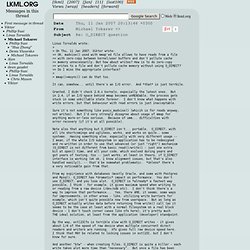 Bugs: #40757: server crash after failed plugin/engine initialization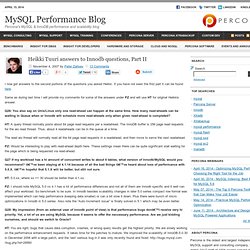 Heikki Tuuri answers to Innodb questions, Part II | MySQL Performance Blog
I now got answers to the second portions of the questions you asked Heikki.
il recommande clairement d'utiliser O_DIRECT pour éviter le double buffering by uglycharly Nov 15
Properties: Description: This variable changes the way InnoDB open files and flush data to disk and is should be considered as very important for InnoDB performance.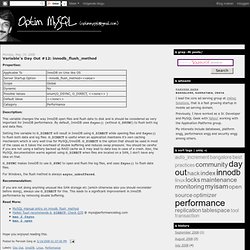 Variable's Day Out #12: innodb_flush_method
tentative d'explication du risque avec O_DIRECT sans le BBU du contrôleur RAID ou SAN by uglycharly Nov 15
Linux 64-bit, MySQL, Swap and Memory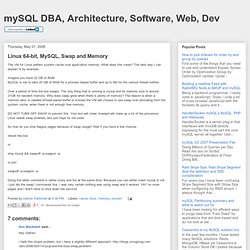 The VM for Linux prefers system cache over application memory.
November 3, 2007 By Peter Zaitsev39 Comments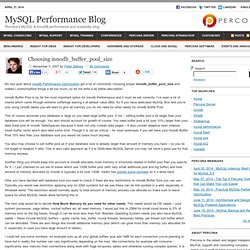 très intéressant, innob_db_buffer_size prend en fait deux fois sa taille en ram ! by uglycharly Nov 8
I'm often asked how one can evaluate IO subsystem (Hard drive RAID or SAN) performance for MySQL needs so I've decided to write some simple steps you can take to get a good feeling about it, it is not perfect but usually can tell you quite a lot of what you should expect from the system.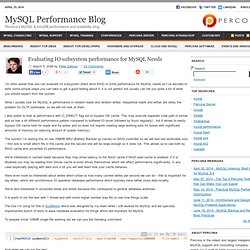 Evaluating IO subsystem performance for MySQL Needs | MySQL Performance Blog
Percona MySQL Consulting can often recover lost or corrupted data from MyISAM and InnoDB tables or from corrupted MySQL binary logs and general query logs. We have created special data recovery software that can recover data from InnoDB tables to assist with your MySQL restore. If you want to try InnoDB data recovery yourself, see the Percona Data Recovery Tool for InnoDB. These scenarios are often recoverable: Accidentally deleted data in MySQLDropped InnoDB tablesTruncated or recreated MySQL tablesInnoDB tablespace corruption that innodb_force_recovery will not repairMySQL database with a filesystem corruption We always encrypt your sensitive data and we destroy our copy of it after we are done.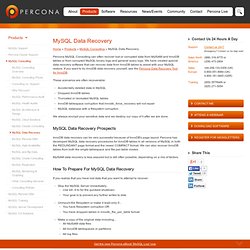 Data Recovery - Percona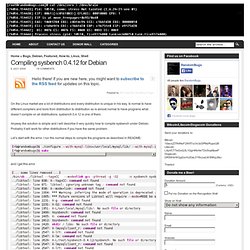 Compiling sysbench 0.4.12 for Debian | Random Bugs
Home » Bugs, Debian, Featured, How-to, Linux, Shell
If you want sysbench running on a stable debian release by uglycharly Nov 15
A thread on the lkml began with a query about using O_DIRECT when opening a file.
Accessing Files With O_DIRECT
In mid 2006, YouTube served approximately 100 million videos in a single day.
IT Conversations | MySQL Conference from O'Reilly Media | Paul Tuckfield
7.9.8 Enabling Large Page Support
Although most Linux users are familiar with the role of process schedulers, such as the new O(1) scheduler, many users are not so familiar with the role of I/O schedulers.
Kernel Korner - I/O Schedulers
Linux: How To Clear The Cache From Memory
Dans cet article, je vais tenter d'expliquer les différentes informations que le noyau Linux nous donne au travers du fichier /proc/meminfo. Comme support, je vais afficher les données qui concernent mon système.
La mémoire sous Linux : analyse du fichier /proc/meminfo - Sygus.net
drop_caches | LinuxInsight
Writing to this will cause the kernel to drop clean caches, dentries and inodes from memory, causing that memory to become free. To free pagecache:
/proc/sys/vm | LinuxInsight
Linux System Administrators Guide: Prev Chapter 6.
Linux System Administrator's Guide - The buffer cache
The Linux Page Cache and pdflush
énorme cet article mais bien amené ! by uglycharly Nov 9
MySQL Swapping to Disk
5.1.5 Server Status Variables
7.4.8 Quand MySQL ouvre et ferme les tables
7.9.3 Tuning Server Parameters
7.9.5 How MySQL Uses Memory
16.1.1 How to Set Up Replication
16.1.1.3 Creating a User for Replication