Idea management
Mural.ly. Social Innovation, Crowdsourcing, Community, Brainstorming - Atizo. Yutongo - [ongrowing ideas] Crowdicity | Enterprise Social Innovation Platform - John Lewis, Lego, Ofsted, BBC. Www11.in.tum.de/userfiles/File/ideastream/ideastream.pdf. Free Online Idea Management and Collaboration Service | Wridea.c. Solvster. Stake Your Claim: Login. Kickstarter. Welcome to Idea Engine. Software Search. Download. Choose your operating system: TheBrain 8 for Windows Windows 8, Windows 7, Vista, XP, 2003, or 20001 GHz CPU, 1GB RAM, 100 MB available storageWorks on both 32-bit and 64-bit versions of Windows 64-bit specific installer (Only recommended for users needing drag and drop from Outlook 64-bit) Archive format without an installer (For experts only) TheBrain 8 for Linux.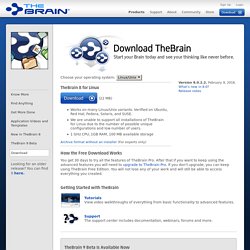 The Underlying Blog. Burritos & Sundresses It's summertime and most of my motivation, to put it bluntly, is focused on Chipotle, Mountain Dew and girls.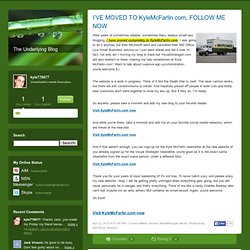 It reminds me of that episode of Friends when someone asks Joey what he'd rather give up, food or women? Root maps. This article proposes some conventions on formats for common mind maps used in organizations, with a view to enhancing their use by using familiar patterns.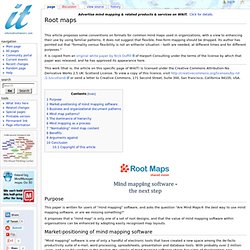 It does not suggest that flexible, free-form mapping should be dropped. Its author has pointed out that "formality versus flexibility is not an either/or situation – both are needed, at different times and for different purposes. " Southbeach Modeller . . . and TRIZ. If you have spent a few minutes at Mind-Mapping.Org or on this blog, you will know that I like and use mind maps and concept maps.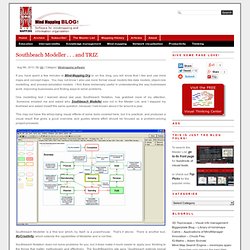 You may not know I also use more formal visual models like data models, object-role modelling, and process simulation models. I find these immensely useful in understanding the way businesses work, improving businesses and finding ways to solve problems. One modelling tool I learned about last year, Southbeach Notation, has grabbed more of my attention. Someone emailed me and asked why Southbeach Modeller was not in the Master List, and I slapped my forehead and asked myself the same question, because I had known about it for around a year. This may not have the whizz-bang visual effects of some tools covered here, but it is practical, and produces a visual result that gives a good overview, and guides where effort should be focused as a problem-solving project proceeds. Southbeach Notation - Improve Everything Always. Informal modelling, systematic detailed design or an effective research tool, it's up to you.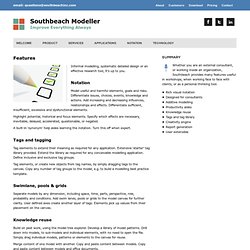 Notation Model useful and harmful elements, goals and risks. Differentiate issues, choices, events, knowledge and actions. Add increasing and decreasing influences, relationships and effects. MyCreativity - open source problem solving. IdeaTorrent | Ideatorrent v0.9 demo. Home | Kindling Idea Management. Products & Services | BrainBank Inc - Idea Management Software. Industry leading tools and services to support your business.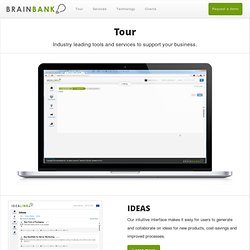 Ideas Our intuitive interface makes it easy for users to generate and collaborate on ideas for new products, cost-savings and improved processes. Learn more Challenges Idea Challenges enable you to focus your communities to innovate around the issues and opportunities most important to your organization at that moment. Orchidea Innovations Oy. IdeaTorrent. Innovation Portal - CogniStreamer® Innovation Cloud. ID8 Systems - Everything starts with an idea: Home. Idea Management Software - | Qmarkets. Idea Management Software: brainstorming, innovation tracking, mind mapping. Which Idea Management software works best? | LinkedIn Answers.
---