Green houses
Alternative and/or Green Construction Methods and Housing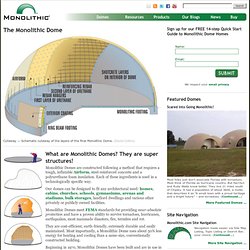 Monolithic Domes are constructed following a method that requires a tough, inflatable Airform, steel-reinforced concrete and a polyurethane foam insulation. Each of these ingredients is used in a technologically specific way. Our domes can be designed to fit any architectural need: homes, cabins, churches, schools, gymnasiums, arenas and stadiums, bulk storages, landlord dwellings and various other privately or publicly owned facilities. Monolithic Domes meet FEMA standards for providing near-absolute protection and have a proven ability to survive tornadoes, hurricanes, earthquakes, most manmade disasters, fire, termites and rot. They are cost-efficient, earth-friendly, extremely durable and easily maintained. Most importantly, a Monolithic Dome uses about 50% less energy for heating and cooling than a same-size, conventionally constructed building.
The Monolithic Dome
Dreamhill Dome
Hive Modular, Architecturally Designed Modular Housing.
Kodiak Steel Homes | Models and Pricing
The Albion Architectural Series Custom Home
The Vantage Architectural Classic Series Custom Home
Linwood Custom Homes – Award winning Custom Home Packages including house plans
The Carmel Post and Beam Series Custom Home
The Sonoma 1 Architectural Series Custom Home
The Delta Architectural Classic Series Custom Home
The Homestead Post and Beam Series Custom Home
The Toverno Architectural Series Custom Home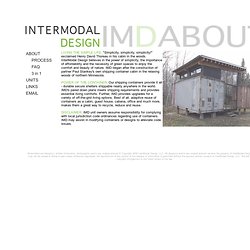 LIVING THE SIMPLE LIFE_"Simplicity, simplicity, simplicity!" exclaimed Henry David Thoreau in his cabin in the woods. InterModal Design believes in the power of simplicity, the importance of affordability and the necessity of green spaces to enjoy the comfort and beauty of nature.
InterModal Design - Shipping Container Design - About
Breaking News The New Solo 40 Returns to Toronto The fifth generation design of the new Solo modular PreFab makes a return to Toronto for the Spring Cottage Life Show, Fri-Sun March 28th-30th.
The Oakhill Architectural Series Custom Home
The Cygnet Architectural Series Custom Home
The Vista Cruise Post and Beam Series Custom Home
The Kingsbury 1 Architectural Classic Series Custom Home
Kit Homes
The Lark 2 Architectural Series Custom Home
modular homes, log home, mobile home, Prefabricated modular homes, manufactured homes, prefab modular homes, Prefab home and custom modular homes in Canada & USA
Manufactured modular home, Modular home kits in Canada & USA
International :: Sea Hawk Homes
Universal Manufactured Homes - Modular home floor plans, sectional home, mobile home, doublewide
Pricing - Blu Homes
17 - 1024 Square Feet : CMBS - Building Communites - Manufactured Homes : Cottages : Ready to Move Homes
29 - 1352 Square Feet : CMBS - Building Communites - Manufactured Homes : Cottages : Ready to Move Homes
Resolution: 4 Architecture | RES4 Prefab | The Modern Modular | The Dwell Home