Free Technology for Teachers
This Pearltree contains useful free online tools for teachers to use.
Assessment and Rubrics. Web 2.0 tresnak hezkuntzarako prest. Gune hau Mondragon Unibertsitateko Lehen Hezkuntzan Graduko 2. mailako ikasleak eta irakasleek sortutakoa da, IKTak hezkuntzan ikasgairako.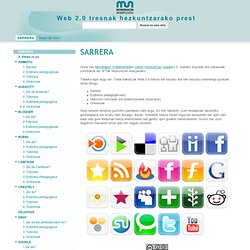 Taldeka egin dugu lan. Talde bakoitzak Web 2.0 tresna bat hautatu eta hari buruzko ondorengo puntuak landu ditugu: SarreraErabilera pedagogikoa(k)Idatzizko tutorialak eta bideotutorialak (euskaraz)Ondorioak Gure lanaren emaitza guztiokin partekatu nahi dugu. Draw me an idea-Blog by Philippe Packu(TLI)-Creative mind map on computer/iMindMap (ThinkBuzan) Bloom's Taxonomy: Bloomin' Peacock. Featured Post & What it is: Tomorrow I launch my virtual classroom and honestly, I am a little nervous!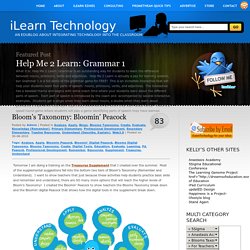 It is like the first day of school; everything is carefully planned, all the resources are ready to go, and the students are enrolled and have received their welcome packet. But, there is still that anticipation and sense of dread that all that careful planning won't be enough…that something unexpected will happen that will force me to think on my feet. Really, isn't that what teaching (and learning) ends up being every day?
7 Tools for Creating Mind Maps and Outlines Online. One of the presentations that I made this week was about having students create videos to demonstrate their knowledge of a topic.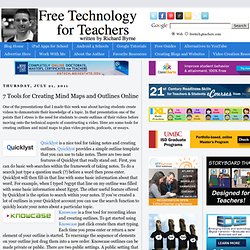 In that presentation one of the points that I stress is the need for students to create outlines of their videos before moving onto the technical aspects of constructing a video. Here are some tools for creating outlines and mind maps to plan video projects, podcasts, or essays. Quicklyst is a nice tool for taking notes and creating outlines. Quicklyst provides a simple outline template that you can use to take notes. The 7 ½ Steps to Successful Infographics. You know when you've been doing something for a long time and it gets ingrained?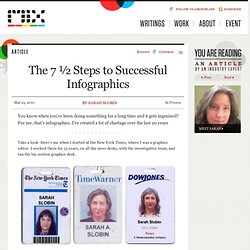 For me, that's infographics. I've created a lot of chartage over the last 20 years Take a look: Here's me when I started at the New York Times, where I was a graphics editor. Welcome to the Belle Plaine Public Schools! 35 Best Websites for Free Educational Videos. What are the best websites to watch educational videos?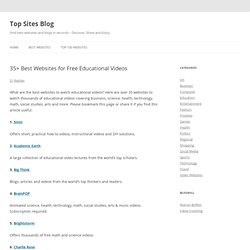 Here are over 35 websites to watch thousands of educational videos covering business, science, health, technology, math, social studies, arts and more. Please bookmark this page or share it if you find this article useful. 1. 5min Offers short, practical how to videos, instructional videos and DIY solutions. 2. Ten Search Tools and Tactics Teachers and Students Need to Know. I often find myself in conversations with teachers and students about Internet search strategies.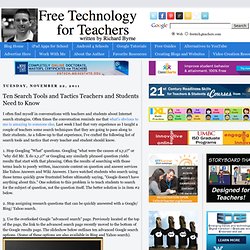 Often times the conversation reminds me that what's obvious to me is amazing to someone else. Last week I had that very experience as I taught a couple of teachers some search techniques that they are going to pass along to their students. As a follow-up to that experience, I've crafted the following list of search tools and tactics that every teacher and student should know. 1. Stop Googling "What" questions. Polls & Surveys. Secure Social Learning Network for Teachers and Students. Diigo - Web Highlighter and Sticky Notes, Online Bookmarking and Annotation, Personal Learning Network. Writing. Make a homepage in minutes. Screencast-O-Matic - Free online screen recorder for instant screen capture video sharing.
Backchannels & notifications
Twiddla. InfoGraphics. Google Drive - Store Files, Share Files, and Talk About Them. Today, Google introduced a new service for saving, sharing, and discussing files online.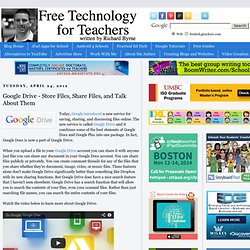 The new service is called Google Drive and it combines some of the best elements of Google Docs and Google Plus into one package. In fact, Google Docs is now a part of Google Drive. When you upload a file to your Google Drive account you can share it with anyone just like you can share any document in your Google Docs account. You can share files publicly or privately. You can create comment threads for any of the files that you share whether they're document, image, video, or music files.
Month in Review - April's Most Popular Posts. A new month has started but that doesn't mean we can't take a quick look back at the month of April.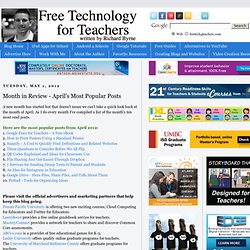 As I do every month I've compiled a list of the month's ten most read posts. Here are the most popular posts from April 2012: 1. Google Docs for Teachers - A Free eBook 2. How to Print Posters Using a Standard Printer 3. Snapify - A Tool to Quickly Find Definitions and Related Websites 4. Flipping Your Classroom With Free Web Tools - Guest Post. Pages Monday, February 20, 2012 Flipping Your Classroom With Free Web Tools - Guest Post The Flipped Classroom is gaining steam in schools across the world.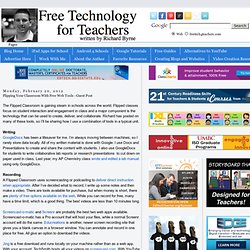 Flipped classes focus on student interaction and engagement in class and a major component is the technology that can be used to create, deliver, and collaborate. Richard has posted on many of these tools, so I'll be sharing how I use a combination of tools in a typical unit.WritingGoogleDocs has been a lifesaver for me. Accompaniments, free sheet music, interpretations of classical music. Fakebook: homepage. Create educational games and quizzes at classtools.net. "Fakebook" allows teachers and students to create imaginary profile pages for study purposes.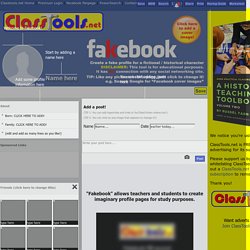 Use "Fakebook" to chart the plot of a book, the development of a character, a series of historical events, the debates and relationships between people, and so on! Get started by entering a name at the top of the page. Then proceed to add friends, posts, comments and profile information. Evernote in Education. Screenr | Instant screencasts: Just click record.
Video Slideshow Maker with Music. EDU. Free Educational Videos for K-12 Students. LiveMinutes | ICTmagic. The 100 Best Web 2.0 Classroom Tools Chosen By You. The Wordle of this list! (Click image to enlarge) One of the most popular posts on Edudemic in 2010 was The 35 Best Web 2.0 Classroom Tools Chosen By You and I felt it might be time for an update to that list for 2011. In order to put together a list of the best Web 2.0 classroom tools, I polled my Twitter followers, Facebook fans (are they still called fans? Likes?) ClipYourPhotos - Do funky things with your digital photos. Tagxedo - Word Cloud with Styles. TagMyDoc :The new way to share documents | Interactive Teaching and Learning. Five Best Online File Storage Services | Digital Tools and Education. Feedback Badges! | A great way to motivate and inspire your students! Wikis for Everyone - Wikispaces. Blogger: Create your free Blog. Easily Publish Gorgeous Magazines.
My Library. DrawIsland - Drawing & Animation Tool | ICTmagic. AvatarBook Cinderella for iPad on the iTunes App Store. Home | Dropmark® — Organize, collaborate, and share. Used by productive people and teams at: Drag & Drop Drag and drop files right from your desktop or web browser. Drawing tool - DrawIsland. Witty Comics - Make a Comic. Sketchpad - Online Paint/Drawing application. FlockDraw - Free Online Drawing Tool - Collaborative Group Whiteboard. Odosketch. Bomomo. ArtPad. Popplet - Free online whiteboard software. Groupboard is a free online whiteboard and chat app that can be easily embedded into your website.
It works on any web browser including iPhone, iPad and Android with no downloads or plugins required (we also have iPhone/iPad and Android native apps available). Groupboard has been used by universities, online tutors, architects, designers and artists since 1998 for distance learning, collaborative design and online doodling! "It's a desperately needed tool for online learning and you have done a remarkable job at making it flexible and affordable" - Jeremy Nash @ class.com"Groupboard is the app we have had the most success with...very affordable for the features it offers" - Nathan Stevens @ ncsu.edu NEW! Glogster EDU - 21st century multimedia tool for educators, teachers and students | Text, Images, Music and Video. Organize your resources in an online binder - LiveBinders. Free Resources.
Triptico | Inspiration for Imaginative Teachers | Interactive Resources for Imaginative Teachers. Zunal WebQuest Maker. OpenStudy (5) Grockit. TeacherTube - Teach the World | Teacher Videos | Lesson Plan Videos | Student Video Lessons | Online Teacher Made Videos | TeacherTube.com. Loremipsem's YouTube. Earth. Dabbleboard - Online whiteboard for drawing & team collaboration - Interactive whiteboard software. TodaysMeet. Free Interactive Online Whiteboard. Create Virtual Room. Visual_ly - Yammer : The Enterprise Social Network. Popplet - Twitter. Google+ ToonDoo - World's fastest way to create cartoons! Upload & Share PowerPoint presentations and documents.
12 Puzzle and Quiz Creation Tools for Teachers. There are many different sites on the internet that allow you to create your own puzzles and games to use either directly in class, or which can be linked to/embedded into your VLE. I've been doing some trawling ahead of a training session I am running soon, and here are a few of the best ones that I've found. There are others out there, but the focus specifically for my session was KS4 and 5, so these links are aimed at older students. If you have any other favourites, please add them to the comments!
1. Classtools Net. Noterr - create sticky notes instantly. Peg it up, Move it Around, Get it Done. ArtisanCam - Home. How to Use Google Search More Effectively [INFOGRAPHIC] | teaching with technology. Flapcast.com. PBS Kids Cyberchase - Dozens of Math Activities. Remember Everything | Evernote Corporation. Educationalwikis - Examples of educational wikis. Issuu - You Publish. Las 10 mejores herramientas para Evernote. 5 Ways You Can Use Wikis. iPad Creative - iPad Creative Blog - Guest Post: Sketchnotes for visual thinkers | teaching with technology. Chemical Sciences. Python. eLearning. CSS. Resources. FREE GRAPHICS. InfoGraphics. How to Choose a Safe Password.
---
ostarr Jul 10 2014

Hi folks. I'm Oliver, the Chief Evangelist for Pearltrees. I'd like to connect with some teachers here and learn how you are using Pearltrees. If you want to chat, please @ me on twitter: @owstarr

thecyberesq Jan 25 2013

Thanks for adding me to the team. This Pearltree is unbelievably detailed! I think I see the Fibonacci Sequence in it, the motherlode of all techy teachy things.

loremipsem May 19 2012

Welcome, and thanks for joining in. I hope you find this useful

loremipsem May 19 2012

Thanks, and thanks for adding too

bucharesttutor Feb 12 2012

Absolutely fab resources shared here :)

technerd Jan 28 2012

This is a SUPER COOL TREE! Great Job!

vivianamat Nov 23 2011

hi loremipsen, i've just copied and pasted my free resurces tree to "ours" cheers!
---