Organizations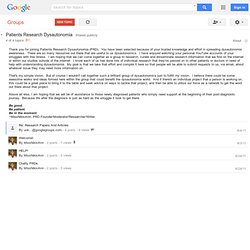 Ce groupe ne comporte pas de message de bienvenue. Thank you for joining Patients Research Dysautonomia (PRD).
Patients Research Dysautonomia - Google Groups
Dysautonomia is a medical term often utilized for a group of complex conditions that are caused by a dysfunction of the autonomic nervous system (ANS).
:: Dysautonomia Youth Network of America, Inc. :: What is Dysautonomia?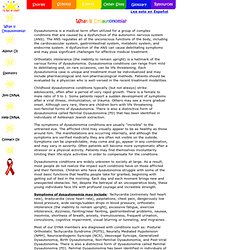 NDRF
Dr. Levine , Dr. Benjamin Levine, Dr. Benjamin David Levine
Autonomic Dysfunction Center - Autonomic Dysfunction Center Home
The Vanderbilt Autonomic Dysfunction Center was established in 1978 as the first international center for patient care, research, and training focusing exclusively on disorders of the autonomic nervous system.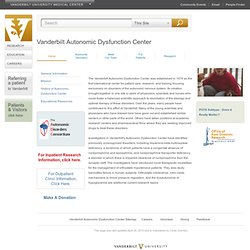 Home - STARS - Syncope Trust And Reflex anoxic Seizures, information and support
Invisible Disabilities Association — Encouraging, Educating and Connecting
The Dysautonomia Connection
DINET.org