How Organizations Work
How to Advance Your Career
Succeeding as an organizational consultant
Everyone's heard of the Peter Principle - that employees tend to rise to their level of incompetence - a concept that walks that all-too-fine line between humor and reality. We've all seen it in action more times than we'd like. Ironically, some percentage of you will almost certainly be promoted to a position where you're no longer effective. For some of you, that's already happened. Sobering thought. Well, here's the thing.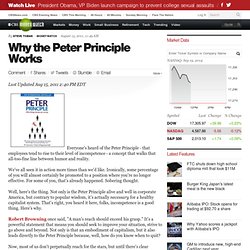 Why the Peter Principle Works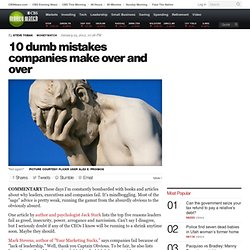 COMMENTARY These days I'm constantly bombarded with books and articles about why leaders, executives and companies fail. It's mindboggling. Most of the "sage" advice is pretty weak, running the gamut from the absurdly obvious to the obviously absurd. One article by author and psychologist Jack Stark lists the top five reasons leaders fail as greed, insecurity, power, arrogance and narcissism. Can't say I disagree, but I seriously doubt if any of the CEOs I know will be running to a shrink anytime soon. Maybe they should.
10 dumb mistakes companies make over and over
Thinkers50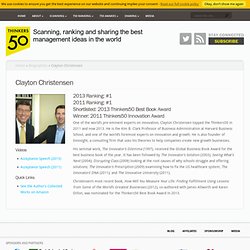 2011 Ranking: #1 Winner: 2011 Thinkers50 Innovation Award Clayton M. Christensen is the Kim B. Clark Professor of Business Administration at Harvard Business School, and is widely regarded as one of the world's foremost experts on innovation and growth.
10 Things Managers Should Never Do | BNET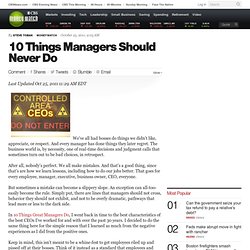 We've all had bosses do things we didn't like, appreciate, or respect. And every manager has done things they later regret. The business world is, by necessity, one of real-time decisions and judgment calls that sometimes turn out to be bad choices, in retrospect. After all, nobody's perfect. We all make mistakes. And that's a good thing, since that's are how we learn lessons, including how to do our jobs better.
The Silent Language of Leaders | The Live One | BNET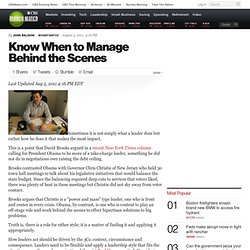 Know When to Manage Behind the Scenes | BNET
Sometimes it is not simply what a leader does but rather how he does it that makes the most impact. This is a point that David Brooks argued in a recent New York Times column calling for President Obama to be more of a take-charge leader, something he did not do in negotiations over raising the debt ceiling. Brooks contrasted Obama with Governor Chris Christie of New Jersey who held 30 town hall meetings to talk about his legislative initiatives that would balance the state budget.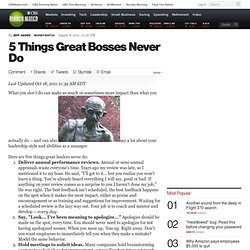 What you don't do can make as much or sometimes more impact than what you actually do -- and can also say a lot about your leadership style and abilities as a manager. Here are five things great leaders never do:
5 Things Great Bosses Never Do | BNET
Where to go when your organization needs knowledge and help
Managing A Not-For-Profit Organization