Crisis Communications
I'm really stupid. I can tell you in advance. I think at heart, if I work at it, I can be smart. But at the moment I'm largely an idiot. I feel I have the right knowledge but I let a lot of stuff get in the way.
How to Be Less Stupid Altucher Confidential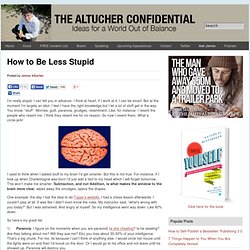 Last year, after the Fukushima Daiichi nuclear meltdown, the Japanese parliament requested an independent report on the causes of the disaster. The 10 members of the report committee were not connected with the nuclear industry or the government bureaucracy and included distinguished scientists, doctors, lawyers, and even a science journalist. The resulting report , released this week, is damning. It was already more or less known that the disaster was at least in part caused by negligence on the part of the utility company TEPCO and the failure of government agents to enforce safety regulation, but the committee has had access to all of the documents and resources involved, and they write that even given the unusual force of the tsunami that struck the plant, had regulations been enforced, the nuclear meltdown would not have happened:
Independent Report: Fukushima Disaster was Entirely Preventable | 80beats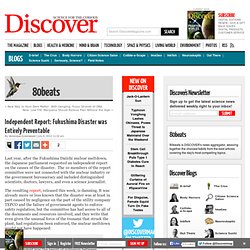 A Parent's Guide to School Shootings | Active Response Training
I walked into the high school wearing two guns and a bullet resistant vest. I had a rifle, six spare magazines, and a ballistic helmet stashed close by in my car. It was Wednesday, April 21 st 1999, the day after what had been the worst school shooting in United States history.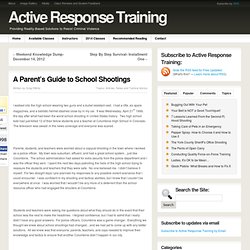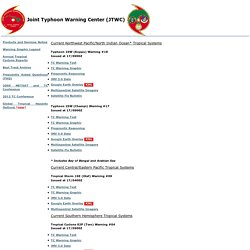 No Active Tropical Warnings in the Northwest Pacific, North Indian Ocean, Central Pacific, Eastern Pacific, or Southern Hemisphere There are no active tropical warnings in the Northwest Pacific/North Indian Ocean, Central/Eastern Pacific, or Southern Hemisphere at this time. Current Significant Tropical Weather Advisories : ABPW10 (Western/South Pacific Ocean) - ABPW10 Text - Satellite Image ABIO10 (Indian Ocean) - ABIO10 Text - Satellite Image Products on this website are intended for use by U.S. government agencies. Please consult your national meteorological agency or the appropriate World Meteorological Organization Regional Specialized Meteorological Center for tropical cyclone products pertinent to your country, region and/or local area.
Sheepdog Tip of the Day
Officer Stacy Lim from the Los Angeles Police Department pulled into her driveway after an enjoyable evening of softball practice. When Lim got out of her personal car, she was immediately confronted by a group of gangbangers who had followed her with the intent of carjacking her vehicle. Her first response was to call out that she was a police officer. They responded by firing a .357 magnum round into her chest, which penetrated her heart, and blew a tennis ball-size exit wound out her back.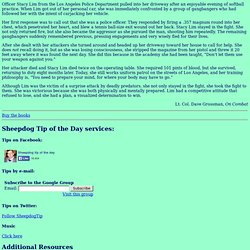 (NaturalNews) In the wake of violent storms, the power remains out today for millions of Americans across several U.S. states. Governors of Virginia, West Virginia and Ohio have declared a state of emergency. Over a dozen people are now confirmed dead, and millions are sweltering in blistering temperatures while having no air conditioning or refrigeration. As their frozen foods melt into processed goo, they're waking up to a few lessons that we would all be wise to remember. See some shocking photos of recent weather events, including a trampoline strung over power lines at: http://www.accuweather.com/en/weather-news/shocking-images-follow-sup... Here are 10 hard lessons we're all learning (or re-learning, as the case may be) as we watch this situation unfold:
10 sobering realizations the Eastern U.S. power grid failure is teaching us about a real collapse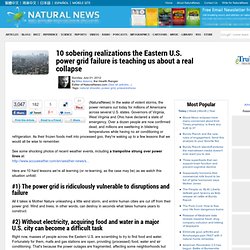 Compilation of Every Known 911 WTC Video Video
Dramatic New Video of Japan Tsunami
By Dave Hitt on Mar 31, 2010 in Featured , Police State What's the best response when a cop asks you something? Silence, or a short, polite non-answer. Shut up.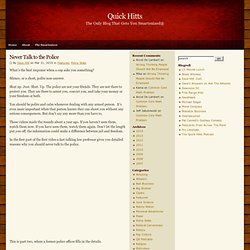 Eagle Eye Personal Protection Every Place I Sell
Keep Calm and Carry On
La comunicazione di crisi 1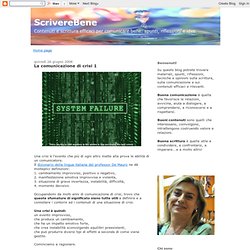 Una crisi è l'evento che più di ogni altro mette alla prova le abilità di un comunicatore. Il dizionario della lingua italiana del professor De Mauro ne dà molteplici definizioni: 1. cambiamento improvviso, positivo o negativo, 2. manifestazione emotiva improvvisa e violenta, 3. situazione di grave incertezza, instabilità, difficoltà, 4. momento decisivo. Occupandomi da molti anni di comunicazione di crisi, trovo che queste sfumature di significato siano tutte utili a definire e a connotare i contorni ed i contenuti di una situazione di crisi.
Comunicazione in Tempo Di Crisi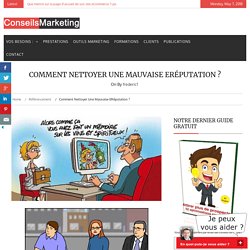 Votre entreprise a eu une mauvaise presse sur plusieurs sites internet ? Vous avez un homonyme un peu trop visible dans les résultats sur Google ? Vous avez sur le Web des casseroles un peu ennuyeuses comme une vidéo ou des images de soirées un peu trop arrosées ? Et donc vous voulez « nettoyer » votre eRéputation afin de faire remonter un nouveau contenu ou "cacher" du contenu existant… Pour cela il existe deux méthodes : Tout d'abord le Curring pour supprimer un contenu existant sur Internet.
Par Un membre de WebRankInfo, Lundi 15 mars 2010 Si vous êtes victime d'une atteinte à votre réputation sur Internet, que devez-vous faire pour faire respecter vos droits ? Voici la réponse de Maitre Cahen , avocate à la Cour d'Appel de Paris. Cette problématique est également abordée dans le module e-réputation chez Ranking Metrics (formation avec prise en charge OPCA et DIF possible). Un article de Me Murielle Cahen Bien qu'Internet soit indubitablement un accélérateur de progrès, il est également un des plus gros vecteurs de commission d'actes criminels.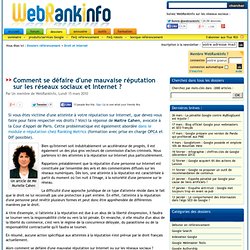 Per chi fosse interessato a partecipare a un dibattito sulla comunicazione di crisi e il crisis management, martedì 27 marzo, a Torino, si terrà la presentazione della più completa guida in materia edita dal Gruppo 24 Ore, dal titolo Crisis Management. Come comunicare la crisi: strategie e case history per salvaguardare la business continuity e la reputazione. L'evento, organizzato dal Club della Comunicazione d'Impresa di Torino, si terrà alle ore 18.00, presso l'Unione Industriale, Sala Torino, via Vela 17, Torino. Oltre agli autori del libro (Giampietro Vecchiato, Luca Poma, Enrico Finucci), interverranno Luca Glebb Miroglio (Presidente Club Comunicazione d'Impresa), Daniele Rosa (Direttore comunicazione Bayer), Alessandro Magnoni (Direttore comunicazione Coca Cola Hellenic), Luciana Santaroni (giornalista ed esperta in comunicazione per organizzazioni complesse). Moderatore: Augusto Grandi (giornalista de Il Sole 24 Ore).
Comunicazione di crisi: Costa Crociere e il naufragio della Concordia
Virtual Reality Journalism Immerses Users in a Public Crisis
Former Newsweek correspondent Nonny de la Peña has developed a 3D virtual reality simulation that recreates a real eyewitness account of a crisis in Los Angeles as people wait outside a food bank. 'Hunger in Los Angeles' was designed using gaming development tools and includes a body-tracking system. Users wear a head-mounted goggle display to fully immerse themselvesin the game where they can walk around and interact with other characters in real-time.
Emergency 2.0 Wiki Project
Using Social Media for Crisis Communications Sign Up Form
Crisis PR Analysis: Costa Cruises and the Costa Concordia tragedy
The running aground of the cruise ship Costa Concordia has so far meant the death of six passengers, with many also being injured. The reaction by Costa Cruises in its dealing with the press and the information released has caused a stir, not least the company's decision to issue a press release blaming the captain in full for the disaster. Adrian Johnson, managing director of PR and social media agency, Umpf who has handled crisis communications for a number of travel companies, discusses the communications strategy so far. The tragedy that unfolded on Friday night off the coast of Italy is a PR team's worst nightmare. And that's the trouble with crisis comms – there's no predicting when they will strike, so no matter how prepared you are, they always take you by surprise.
Social Media and Crisis Management - Iabc- Eventbrite
We've all seen examples of social media eruptions burying companies in wave after wave of bad news. Amazingly, major corporations still struggle as often as not in their management of crises online. Sometimes, the corporations themselves make things worse. In today's social media-crazed world, a clear understanding and diligent implementation of damage control principles will make or break a company in its reaction to such a crisis. Having handled numerous crises for a few dozen companies over the years, I know firsthand how much heavy lifting is involved with the successful suppression of stories, let alone turning bad news into opportunities for favorable outcomes. The rise of social media has changed that calculus though, and has made what used to be regarded as successful crisis management seem almost archaic.
6 ways to control a social media crisis
What are the top 3 questions you have on #socialmedia & #crisiscommunications ? #crisispr #PR #reputation
Is Crisis+ the Future?: Implementing Google+ in Crisis Communications (Benefits & Challenges) a wonderful publication of PRSA !! Some of you have had a hard time reaching the link, so her is the link again and the text: "It seems like the entire world (or social media world at that) is discussing the new launch of Google +, which is the social networking site that is the answer to Facebook. Some say that it is going to be the site that will transform how we search for information and how it truly encompasses the social life as we know it, but there are others that still say that there are some issues with the site that need to be explored further in development.
Social Media Blog » Is Crisis+ the Future?: Implementing Google+ in Crisis Communications (Benefits & Challenges)
Using Social Media for Crisis Communications Sign Up Form
Crisis Communications: A Special Five-Part Series
Pavese, i social e la crisis management
Did you integrate social media in your #crisiscommunications plan ? (via @horationelson)
100621-COT-Twitter-in-crisiscommunicatie
CWJulAug10_Crisis2_Borremans
What should definitely, absolutely be covered in a "#SocialMedia & Crisis communications" online training course ? - Tweet Press - 140plus.com
e-learning - Conversationblog
Crisis Communications and Social Media
CS&A, Fully Integrated Crisis and Business Continuity Management
Crisis Communication group
New Realities Emerging in Crisis Communications
Speaking about ROI of Social Media at Brussels Conference
Crisis Management - Crisis Public Relations