Corporate culpability
Corporate culpability in violations of human rights and civil liberties. dmaculate Dec 4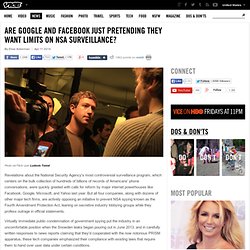 Are Google and Facebook Just Pretending They Want Limits on NSA Surveillance?
Photo via Flickr user Ludovic Toinel Revelations about the National Security Agency's most controversial surveillance program, which centers on the bulk collection of hundreds of billions of records of Americans' phone conversations, were quickly greeted with calls for reform by major internet powerhouses like Facebook, Google, Microsoft, and Yahoo last year. But all four companies, along with dozens of other major tech firms, are actively opposing an initiative to prevent NSA spying known as the Fourth Amendment Protection Act, leaning on secretive industry lobbying groups while they profess outrage in official statements.
And real corporate security is still impossible. A surveillance camera outside Google's China headquarters in 2010 (Jason Lee / Reuters) If you've been reading the news recently, you might think that corporate America is doing its best to thwart NSA surveillance. Google just announced that it is encrypting Gmail when you access it from your computer or phone, and between data centers. Last week, Mark Zuckerberg personally called President Obama to complain about the NSA using Facebook as a means to hack computers, and Facebook's Chief Security Officer explained to reporters that the attack technique has not worked since last summer. Yahoo, Google, Microsoft, and others are now regularly publishing "transparency reports," listing approximately how many government data requests the companies have received and complied with.
Don't Listen to Google and Facebook: The Public-Private Surveillance Partnership Is Still Going Strong - Bruce Schneier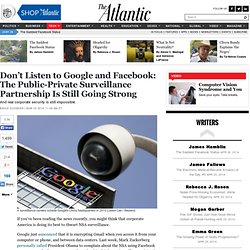 Tyrants and Technology: How Western Mercantilism Leads to Censorship and Disappearances
Cisco's cloud vision: Mandatory, monetized, and killed at their discretion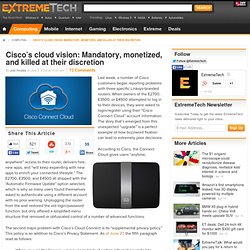 Last week, a number of Cisco customers began reporting problems with three specific Linksys-branded routers. When owners of the E2700, E3500, or E4500 attempted to log in to their devices, they were asked to login/register using their "Cisco Connect Cloud" account information. The story that's emerged from this unexpected "upgrade" is a perfect example of how buzzword fixation can lead to extremely poor decisions. According to Cisco, the Connect Cloud gives users "anytime, anywhere" access to their router, delivers free, new apps, and "will keep expanding with new apps to enrich your connected lifestyle."
Trade Fair... For Trojans
Most of the technology used in such intrusions are not developed by the governments themselves. They are made by private companies which are specializing in providing exploits, infection proxies and backdoors to governments. For more background, see our blog posts: • Egypt, FinFisher Intrusion Tools and Ethics • Possible Governmental Backdoor Found ("Case R2D2") • More Info on German State Backdoor Where do governments buy this stuff from?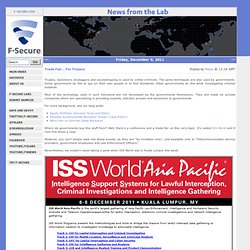 Enlarge Guang Niu / Getty Images Chinese laborers adjust a surveillance camera at Tiananmen Square in 2007 in Beijing, China. Guang Niu / Getty Images In a piece today, the reports that Cisco Systems Inc. will help China build a massive surveillance network in the city of Chongqing.
Report: Cisco Joins China In Developing Massive Surveillance Network : The Two-Way
Cisco Sued By Chinese Political Prisoners Over 'Golden Shield'
The three Chinese dissidents accusing Cisco of aiding and abetting their imprisonment and torture. Cisco, one of the world's largest technology companies, is being sued by Chinese political prisoners for allegedly providing the technology and expertise used by the Chinese Communist Party to monitor, censor and suppress the Chinese people. Daniel Ward, of US law firm Ward & Ward, has brought the case on behalf of Du Daobin, Zhou Yuanzhi, Liu Xianbin and 10 unnamed others. He compared Cisco's actions to "IBM's behaviour in Nazi Germany". They aren't just selling routers to a corrupt regime. They are selling the technology, training and software specifically designed to monitor, censor and suppress the Chinese people.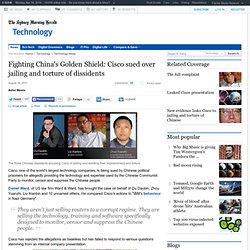 Group Says It Has New Evidence of Cisco's Misdeeds in China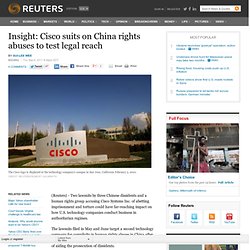 BEIJING (Reuters) - Two lawsuits by three Chinese dissidents and a human rights group accusing Cisco Systems Inc. of abetting imprisonment and torture could have far-reaching impact on how U.S. technology companies conduct business in authoritarian regimes. The lawsuits filed in May and June target a second technology company for complicity in human rights abuses in China after Yahoo Inc. in 2007 paid to settle a case in which it was accused of aiding the prosecution of dissidents. Both cases could provide answers to an evolving legal question: Can U.S. companies be held liable if foreign governments use their products for repression? The first lawsuit, filed in May by the Human Rights Law Foundation in Washington in the Federal District Court in San Jose, California, accuses Cisco of designing products to help the Chinese government persecute members of China's banned spiritual group, Falun Gong.
Insight: Cisco suits on China rights abuses to test legal reach
I thought I saw a comment about Google changing their site to raise awareness about these crazy laws. I wrote an open letter to Google on my blog, I've posted the contents here: Dear Google, I'm writing this letter to ask for your assistance in a campaign of awareness.
All the Companies Supporting SOPA, the Awful Internet Censorship Law—and How to Contact Them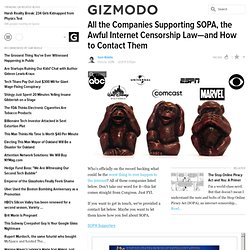 MOUNTAIN VIEW, California — An embattled phone-monitoring software maker said Friday that its wares, secretly installed on some 150 million phones, have the capacity to log web usage, and to chronicle where and when and to what numbers calls and text messages were sent and received. The Carrier IQ executives, speaking at their nondescript headquarters in a residential neighborhood in the heart of Silicon Valley, told Wired that the data they vacuum to their servers from handsets is vast — as the software also monitors app deployment, battery life, phone CPU output and data and cell-site connectivity, among other things. But, they said, they are not logging every keystroke as a prominent critic suggested. The data, which gets downloaded from consumers' phones roughly once a day, is encrypted during transit and also provided to carriers to enhance the "user experience," these executives said.
Carrier IQ Admits Holding 'Treasure Trove' of Consumer Data, But No Keystrokes | Threat Level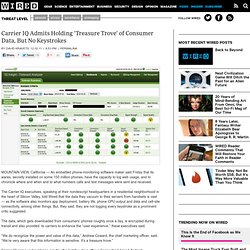 Amazon's treatment of its warehouse workers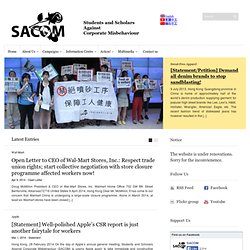 Sacom
Open Letter to CEO of Wal-Mart Stores, Inc.: Respect trade union rights; start collective negotiation with store closure programme affected workers now! Doug McMillon President & CEO of Wal-Mart Stores, Inc. Walmart Home Office 702 SW 8th Street Bentonville, Arkansas72716 United States 9 April 2014, Hong Kong Dear Mr. McMillon, It has come to our concern that Walmart China is undergoing a large-scale closure programme.
Apple's iPad and the Human Costs for Workers in China
Ored to Death - The Daily Show with Jon Stewart - 05/12
Coca Cola Parches Agricultural Lands in India - Global Policy Forum - Globalization
CorpWatch IndiaMay 28, 2002 On 22 April, 2002, more than 2,000 irate protestors, consisting mostly of indigenous people and dalits (oppressed castes), gathered at the gates of the Hindustan Coca Cola factory in Plachimada, Palghat district, Kerala. Residents from the villages surrounding Coke's greenfield soft-drink bottling factory here say that Coke's indiscriminate mining of groundwater has dried up many wells, and contaminated the remainder. At least 50 villagers have maintained a picket outside the factory gate every day since the strike began. According to local sources, the villagers are angry enough to destroy the factory failing government action to shut down the water-intensive unit. Till date, the Government has taken no action to check groundwater depletion by Coke in the region.
America is currently plagued by people making bad personal choices. But, the worst decisions rendered are not those of everyday Americans treading water in order to keep their heads above water, but by politicians like Paul Ryan. Exhibit A: his latest budget.
Alexander Cockburn: How Coke Gave Back to Plachimada
Press Room- India Resource Center- Second Massive Protest Against Coca-Cola in India in New Year
Monsanto Shifts ALL Liability to Farmers
By Cassandra AndersonFebruary 21, 2011 Farmers like genetically modified (GM) crops because they can plant them, spray them with herbicide and then there is very little maintenance until harvest. Farmers who plant Monsanto's GM crops probably don't realize what they bargain for when they sign the Monsanto Technology Stewardship Agreement contract. One farmer reportedly 'went crazy' when he discovered the scope of the contract because it transfers ALL liability to the farmer or grower. Here is the paragraph that defines Monsanto's limit of liability that shifts it to the farmer:
Dangers In The Dust: Inside the Global Asbestos Trade
NEW DELHI, Feb 10, 2011 (IPS) - Activists hope that a popular agitation against the setting up of a factory to manufacture asbestos products in the eastern Bihar state will result in a nationwide ban on the large-scale import into this country of the deadly mineral fibre. Following six months of agitation against the setting up of the factory in the Chainpur-Bishunpur area of Bihar's Muzzaffarpur district, state chief minister Nitish Kumar sought to lay blame on the central government for lack of uniform laws on asbestos use across the country. "This factory has received the environmental clearance from the government of India. But we (the state government) have not permitted its establishment we have not given any permission. As of now asbestos is not prohibited.
INDIA: Agitation Challenges Asbestos Import
Editor's Note: In March 2012, the national radio show "This American Life", which ran a long excerpt from Mike Daisey's play "The Agony and the Ecstasy of Steve Jobs", retracted its story saying it contains significant fabrications. Daisey responded saying the play "uses a combination of fact, memoir, and dramatic license to tell its story." TechCrunch has interviewed Daisey several times about his acclaimed play and he repeated to us some of the stories he has now admitted he didn't actually witness. For more, see John Biggs' TechCrunch post on "The Agony and Ecstasy of Mike Daisey", and other posts about the retraction and Daisey's response. Last I night I had the good fortune to see Mike Daisey's highly acclaimed show The Agony and the Ecstasy of Steve Jobs at the Berkeley Repertory Theatre.
Exposed: Apple's Terrible Sin in China (TCTV) - techcrunch.com
Why Journalists Aren't Reporting the Real Story about Apple and Foxconn (TCTV) - techcrunch.com
What Everyone Is Too Polite to Say About Steve Jobs
Eve Ensler Calls for Rape-Free Cell Phones (Video)
Wiwa v. Shell