Art
Magazine | Arts | london. It's been a while now since dolls firmly left the territory of adorable and great and started to creep us out.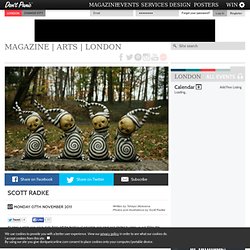 Films like Chucky and The Twilight Zone: Living Doll definitely played a role, as did any footage you may have ever seen of an avid doll collector describing their darlings. It seems, then, that artist Scott Radke has tapped right into that dark side of the doll with his series of handmade marionettes. All saggy of face and with the kind of eyes to beat you at a stare-down contest every time, his little creations conjure up Tim Burton-esque stories of bittersweet horror. And yes, he might be looking to make ones that move on screen too. Una artista dejó que su hija termine sus dibujos, el resultado fue épico. Peter Root | Ephemicropolis. Improbabilità – 25 strange objects by Giuseppe Colarusso. Shintaro Ohata combines sculpture and canvas in his art « Odditiesity. Rashad Alakbarov Paints with Shadows and Light. This is kind of flying all over the internet right now, but I couldn't resist sharing.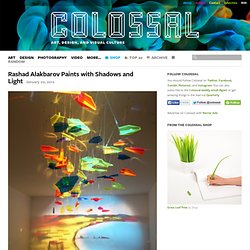 Artist Rashad Alakbarov from Azerbaijan uses suspended translucent objects and other found materials to create light and shadow paintings on walls. The jaw-dropping light painting above, made with an array of colored airplanes is currently on view at the Fly to Baku exhibition at De Pury Gallery in London through January 29th. (via art wednesday, fasels suppe) The Diagram Queen. The Diagram Queen Works by Korean artist Minjeong An (born 1981) Update / Anatomy of a post: Researching another Korean artist, I stumbled upon a thumbnail of Minjeong An's work in a Korean gallery's archived 2008-ish exhibit.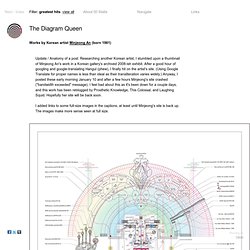 The hybrid sculptures of Brendan Lee Tang. Image Courtesy of Brendan Lee Tang We are proud to introduce you the fanTANGstic cocktail of Irish artist Brendan Lee Tang: in a glass pour some generous doses of Asian ceramic culture, western pop icons, blinding colors, manga aesthetics, kitsch references and, last but not least, a huge amount of craziness and creativity and you will finally enter Brendan's magical world.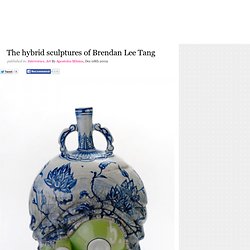 Brendan Tang was born in Dublin, Ireland, of Trinidadian parents and is a naturalized citizen of Canada. Awesome Papercut. Unique Steampunk Insects. Since the late 1990′s style steampunk is becoming more and more popular, and not only in the literature.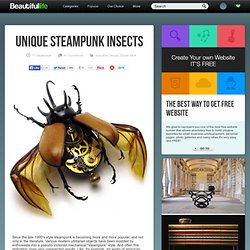 Various modern utilitarian objects have been modded by enthusiasts into a pseudo-Victorian mechanical "steampunk" style. And often this stylization gives very unexpected results. Like, for example, art works of american sculptor Mike Libby. Kim Yong Soo. I was delighted to stumble onto the work of Korean artist Kim Yong Soo whose artwork, at first glance, takes on the somewhat familiar appearance of traditional Japanese paintings of cherry tree bossoms.
Closer inspection reveals a textured assemblage of semi-conductors, speaker wires, and acrylic cement, used to form the delicate tree branches, flowers, and ominous humanoid figures that bring an unexpectedly dark presence to these otherwise serene paintings. Simen Johan - StumbleUpon. Making Furniture with Magnetism - StumbleUpon. Beyond Drawing: Creative Colored Pencil Art & Sculpture & Dornob - StumbleUpon. From a very first look at these wonderfully detailed colored pencil sculptures by Jennifer Maestre, it should come as no surprise that her artwork was initially inspired by spiny sea urchins – beautiful be dangerous to the touch.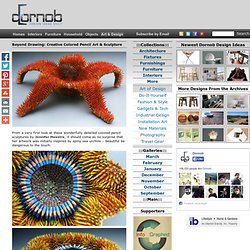 For each sculpture, Jennifer hacks apart hundreds of colored pencils, cores them perpendicular to their length and turns them into beads, essentially, which she then meticulously stitches back together and slowly shapes into solid sculptures. Though her beginnings were with creatures of the water, Jennifer quickly expanded her subject matter to cover other organic objects – from plants and flowers to house pets and more abstract animals. While some of her work has a planned form from the very beginning, other pieces morph and shift as they take shape into something completely unplanned but nonetheless compelling. Sculptures Popping Out of Paintings - My Modern Metropolis - StumbleUpon. Oh, to have been in Tokyo in June!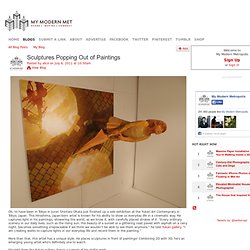 Shintaro Ohata just finished up a solo exhibition at the Yukari Art Contemprary in Tokyo, Japan. This Hiroshima, Japan-born artist is known for his ability to show us everyday life in a cinematic way. He captures light in his paintings, showering the world, as we know it, with carefully placed strokes of it. "Every ordinary scenery in our daily lives, such as the rising sun, the beauty of a sunset or a glittering road paved with asphalt on a rainy night, becomes something irreplaceable if we think we wouldn't be able to see them anymore," he told Yukari gallery. "I am creating works to capture lights in our everyday life and record them in the painting." Michał Dziekan - StumbleUpon. The best hyper realistic painters. Nemo et Nihil. RoboRen 7. Kate MacDowell - "locusts" Tōhoku Japanese Earthquake Sculpture | Luke Jerram. This sculpture was made to contemplate the 2011 Tōhoku earthquake and tsunami in Japan.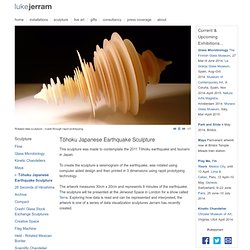 To create the sculpture a seismogram of the earthquake, was rotated using computer aided design and then printed in 3 dimensions using rapid prototyping technology. The artwork measures 30cm x 20cm and represents 9 minutes of the earthquake. The sculpture will be presented at the Jerwood Space in London for a show called Terra. Exploring how data is read and can be represented and interpreted, the artwork is one of a series of data visualization sculptures Jerram has recently created. Exhibitions. Print My Fingers in Eight Ways. Illustrating with Thread and Pins. Miniature Cement Sculptures Street Art by Isaac Cordal [25 pics] Carved Book Landscapes by Guy Laramee. 35 Celebrity Mosaics That Will Blow Your Mind. Atlas on the Behance Network. V.O.W N°48 // The 3.2 Million Ink Dots Portrait. Celebrating the Art of the Doodle: 20 Awesome Doodles. EVOL's Rural City. Street art in Poland.
Jorge Rodríguez-Gerada. Carlos Meira's paper sculptures. Skateboard Sculptures. Making the Ordinary Extraordinary - Unbelievable Paper Cut Sculptures by Peter Callesen: Denmark. Map Collages by Matthew Cusick. 21 Amazing Examples Of Shadow Art. Life on the mini mean streets: Sculptor puts New York cityscapes under the microscope to produce incredibly detailed dioramas. Yuki Matsueda. Hearty magazine | Katsuyo Aoki: Porcelain skulls. Hyper-Realistic Rubber: Tire Sculpture by Yong Ho Ji. The Amazing Crayon Art Of Christian Faur. ++Subway Life++ Public Poster Project on the Behance Network. Make Something Cool Every Day 2009 on the Behance Network. Cool sculptures by Stephane Halleux. Tiny People's Wonderful World of Food. A Portrait of Tobias Wong Using 13,138 Dice. Rune Guneriussen. 71 BiG Walls – A Street Art Collection | STREET ART UTOPIA. Choi Xooang. Junk Portraits by Zac Freeman. Art by Typewriter. Sculptures Made Out of a Single Paper Sheet.
Nick Gentry | Social art from the obsolete | Paintings. 23 Fascinating and Forgotten Monuments from Yugoslavia. Etched Leather Artwork by Mark Evans. Every direction is North. Even if the whole world were to fall to pieces, the unity of the. Today and tomorrow. Ralph Goings American Photorealist Painter.
---