Wind Power Manufacuterer
Home - Kenersys. Elecon Engineering Pvt. Ltd - Material Handling - Power Transmission- Energy Solutions. RRB Energy. Pioneer Wincon. ReGen Powertech - Madhusudhan Khemka led Initiative for Wind Energy Solutions. MTorres – Máquina herramienta, utillajes, empalmadores, portabobinas, aerogeneradores y proyectos de ingeniería. / MTorres – Machine tools, assembly jigs, splicers, roll stands, wind turbines and engineering projects. ACCIONA Energy. WELCOME. Wind Turbine Industries. A leading energy company in oil and gas production. Blaaster Wind Technologies — Developing the next generation wind turbines. Aeronautica Windpower. Welcome : Northern Power Systems. SEPC - Home. Eviag. E.n.o. energy: Home. Home. NEPC INDIA LIMITED. Leading wind power solutions provider. Dewind. Ghodawat Industries (India) Pvt. Ltd. ::-CHIRANJJEEVI WIND ENERGY LIMITED-:: WES - Home. BARD Gruppe - Windkraftanlagen und Offshore Windparks.
Nordic WindPower. Windmatic,Wind turbines for sale,Used Wind Turbines, Micon, Nordtank. SUREnergy | Your source for Sustainable Use of Renewable Energy. ACSA. Nordex: nordex-online.com - english. Energy AG – Willkommen. Fuhrländer. Lagerwey.nl. STX Windpower B.V. - Home. EWT: EWT presents High Yield DW52/54 - 500kW wind turbine. :: Inox Wind Limited :: GE Energy Services, GE Power & Water, GE Oil & Gas | GE Energy.
AREVA Wind GmbH - 5 MW Offshore-Anlage M5000: Portrait. A global leader in power generation solutions for renewable energy including hydro, geothermal, solar, wind power ; thermal energy including gas, industry processes, nuclear, coal and oil power. Time: 11:56:45.644 Message: Setting up ready handler...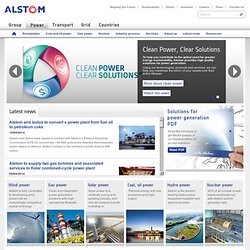 Time: 11:56:45.645 Message: Successfully setup ready handler. Time: 11:56:46.214 Message: Assigning onclick to all links on this page... Alizéo: fabricant d'éoliennes rabattables pour les zones anticycloniques. ENERCON. DDIS - Direct Drive System. SA - Groupe Vergnet. Frontpage. Wind. It means the world to us. | Vestas. Welcome to Norwin. Global leader in nuclear energy and major player in renewable energies. Avantis. Nordwind-Energieanlagen - Willkommen. Windtechnik Nord :::Enge-Sande ::: Nordfriesland. Global Wind Power. Energy Sector. REpower Systems SE: REpower Aktuell.
Strathy North 67 megawatt confirmed for Senvion Senvion SE, a wholly owned subsidiary of the Suzlon Group, the world's fifth-largest* manufacturer of wind turbines, has continued its strong start to 2014 with the signing of a major turbine deal with Scottish energy firm, SSE.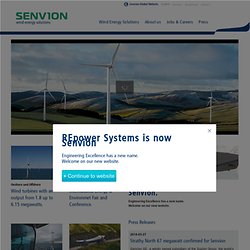 This is the fourth contract with SSE and Senvion, and will see the...More Senvion installs prototype of new 6.2M152 offshore turbine Senvion SE, a wholly owned subsidiary of the Suzlon Group, the world's fifth-largest* manufacturer of wind turbines, has started to install the prototype of its new 6.2M152. With this turbine, the company is setting new standards for efficient electricity generation in offshore wind farms. W2E Wind to Energy GmbH: START. Willkommen bei Schuler. Mit uns sichern Sie Ihren Wettbewerbsvorteil. Voith Turbo Wind GmbH & Co. KG (WIND TECHNOLOGY)
---