Wind Power Manufacuterer
SYNERDRIVE is the Kenersys synergetic drive train technology that combines the advantages of an improved distributed drive train architecture with the electrical design features of direct drive turbines.THE ADVANTAGES Three highly reliable on-shore turbines with a conservative mechanical drive train and a unique electrical architecture fulfilling all modern grid requirements and harsh grid conditions. This content is hidden Close In more than 400 accumulated years of expertise we have learned how to design, to engineer and to produce highly efficient, highly reliable multi-megawatt turbines. We know what it takes to make it work: Intelligent solutions in every single detail.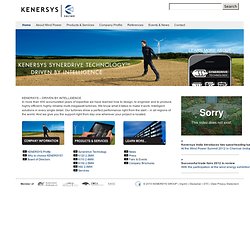 Home - Kenersys
Elecon Engineering Pvt. Ltd - Material Handling - Power Transmission- Energy Solutions
Way back in 1951, Elecon set out on is its jouorney to scale new heights of technical excellence, creating landmarks at every juncture, From elevators and conveyours, to high quality gears and material handling equipments. Elecon set up a separate Gear Division in the year 1976. Elecon is also known for its pioneering concept, case-hardened and ground gear technology in fledged departments employing a strong, skilled work force. It has supplied hi-tech equipments to major core sectors such as Fertilizer Plants, Cement Plants, Coal & Lignite Mines, Power Plants, Textile Plastic, Steel Plants, etc in India and abroad. [...]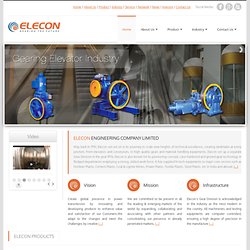 RRB Energy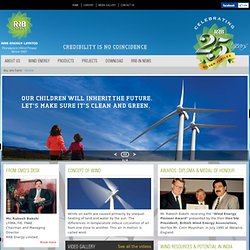 Winds on earth are caused primarily by unequal heating of land and water by the sun. The differences in temperature induce circulation of air from one zone to another. This air in motion is called wind. Mr. Rakesh Bakshi receiving the "Wind Energy Pioneer Award" presented by the then Hon'ble President, British Wind Energy Association, Hon'ble Mr. Colin Moynihan, in July 1995 at Warwick, England.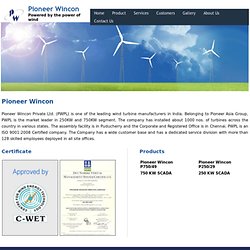 Pioneer Wincon
Pioneer Wincon Pioneer Wincon Private Ltd. (PWPL) is one of the leading wind turbine manufacturers in India. Belonging to Pioneer Asia Group, PWPL is the market leader in 250KW and 750KW segment.
ReGen Powertech is committed to providing an alternate source of energy that is clean, green and sustainable. ReGen is the third largest Wind Energy Company in India in just 4 years of commissioning its state of the art manufacturing facility at Tada, Andhra Pradesh. One of the fastest growing wind energy company, ReGen is making a huge contribution to meet India's electricity demand with largest market share in the Independent Power Producers sector and it is uniquely positioned to capitalize on the growing demand for wind power energy in India and other geographies. read more In line with the minimalist approach of Vensys, ReGen Powertech believes in the simplicity of the wind turbine design.
ReGen Powertech - Madhusudhan Khemka led Initiative for Wind Energy Solutions
MTorres – Máquina herramienta, utillajes, empalmadores, portabobinas, aerogeneradores y proyectos de ingeniería. / MTorres – Machine tools, assembly jigs, splicers, roll stands, wind turbines and engineering projects.
ACCIONA Energy
WELCOME
Wind Turbine Industries
a leading energy company in oil and gas production
Blaaster Wind Technologies has developed a direct-drive wind turbine concept that during summer 2012 has been realized in an onshore 3MW unit for all wind conditions. By Blaaster's platform strategy, the turbines can also easily be realised in other turbine sizes. The Blaaster turbines are based on the best experience of more than 15 years of wind power knowledge. The Blaaster concept is a low-maintenance concept, optimized for manufacturing around the world, easy road transportation over long distances and with a favorable all over weight not seen before on large direct-drive wind turbines.
Blaaster Wind Technologies — Developing the next generation wind turbines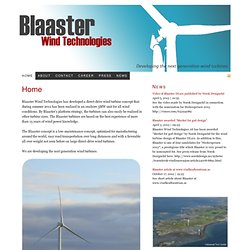 Aeronautica Windpower
Welcome : Northern Power Systems
SEPC - Home
Eviag
e.n.o. energy: Home
Home
NEPC INDIA LIMITED
leading wind power solutions provider
Dewind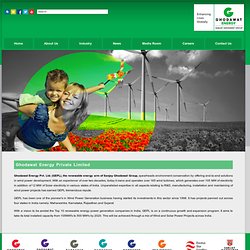 Ghodawat Energy Private Limited Ghodawat Energy Pvt. Ltd. (GEPL), the renewable energy arm of Sanjay Ghodawat Group, spearheads environment conservation by offering end-to-end solutions in wind power development.
Ghodawat Industries (India) Pvt. Ltd
::-CHIRANJJEEVI WIND ENERGY LIMITED-::
Sustainable energy in a remote location When sufficient wind is available in a remote, isolated grid area, the WES Hybrid system can significantly reduce energy costs. Installed WES Hybrid turbines have demonstrated that up to 80% of energy need can be met by wind energy.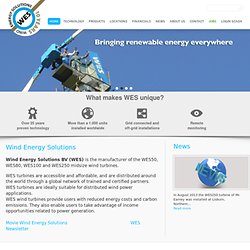 WES - Home
BARD Gruppe - Windkraftanlagen und Offshore Windparks
Nordic WindPower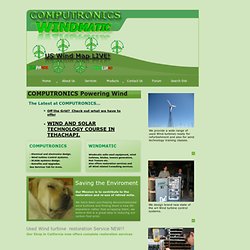 Windmatic,Wind turbines for sale,Used Wind Turbines, Micon, Nordtank
We have been purchasing decommissioned wind turbines and finding them a new life elsewhere rather that scrapping them, we believe this is a great step in reducing our carbon foot print. Our Mission is to contribute to the restoration and re-use of retired mills. Windmatic sells used equipment, wind turbines, blades, towers generators, Met Towers etc. Also offers restoration services and all Wind related Consulting services.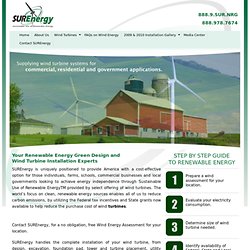 SUREnergy | Your source for Sustainable Use of Renewable Energy
Your Renewable Energy Green Design and Wind Turbine Installation Experts SUREnergy is uniquely positioned to provide America with a cost-effective option for those individuals, farms, schools, commercial businesses and local governments looking to achieve energy independence through Sustainable Use of Renewable EnergyTM provided by select offering of wind turbines. The world's focus on clean, renewable energy sources enables all of us to reduce carbon emissions, by utilizing the Federal tax incentives and State grants now available to help reduce the purchase cost of wind turbines. Contact SUREnergy, for a no obligation, free Wind Energy Assessment for your location. SUREnergy handles the complete installation of your wind turbine, from design, excavation, foundation pad, tower and turbine placement, utility interconnection, commissioning, site restoration and maintenance upon completion.
ACSA
Nordex: nordex-online.com - english
Energy AG – Willkommen
Fuhrländer
lagerwey.nl
STX Windpower B.V. - Home
EWT: EWT presents High Yield DW52/54 - 500kW wind turbine
:: Inox Wind Limited ::
GE Energy Services, GE Power & Water, GE Oil & Gas | GE Energy
AREVA Wind GmbH - 5 MW Offshore-Anlage M5000: Portrait
a global leader in power generation solutions for renewable energy including hydro, geothermal, solar, wind power ; thermal energy including gas, industry processes, nuclear, coal and oil power.
Alizéo: fabricant d'éoliennes rabattables pour les zones anticycloniques
ENERCON
DDIS - Direct Drive System
SA - Groupe Vergnet
Welcome to Norwin
Avantis
Nordwind-Energieanlagen - Willkommen
Windtechnik Nord :::Enge-Sande ::: Nordfriesland
Global Wind Power
Energy Sector
REpower Systems SE: REpower Aktuell
W2E Wind to Energy GmbH: START
Willkommen bei Schuler. Mit uns sichern Sie Ihren Wettbewerbsvorteil.
Voith Turbo Wind GmbH & Co. KG (WIND TECHNOLOGY)