Dream homes
Tangga House by Guz Architects | HomeDSGN, a daily source for inspiration... - StumbleUpon. By Eric • Mar 23, 2011 • Selected Work The Tangga House is another Singapore's dream home designed by Guz Architects.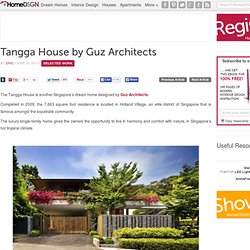 Completed in 2009, the 7,663 square foot residence is located in Holland Village, an elite district of Singapore that is famous amongst the expatriate community. The luxury single-family home gives the owners the opportunity to live in harmony and comfort with nature, in Singapore's hot tropical climate. Tangga House by Guz Architects: Lofted Forest Home: Organic Curves & Natural Materials | Designs &I... - StumbleUpon.
Good things come to those who wait – particularly in a work of uniquely detailed and highly curved architecture.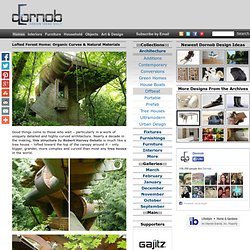 Nearly a decade in the making, this structure by Robert Harvey Oshatz is much like a tree house – lofted toward the top of the canopy around it – only bigger, grander, more complex and curved than most any tree house in the world. The perimeter of the structure is pushed out into the forest around it, curving in and out to create views as well as a sense of intimacy with the coniferous and deciduous tree cover.
The wood and metal detailing is incredible in its variety and customization – each piece designed to fit a particular form and function. Germ26077.jpeg from terragalleria.com. Inspirational - Folders - Andrea_ - People | mydeco. A Wall That Plays Music When It Rains - ** Happiness Is...** 8 Unbelievable Homes You Have to See to Believe. A home office that's less than eight feet wide but four stories high, an apartment with 24 rooms in just 344 square feet, a secret room hidden under the stairs, a real-life wardrobe with a secret passage way, elaborate homes built in storm drains underneath Las Vegas ... you definitely have to see these eccentric homes to believe them.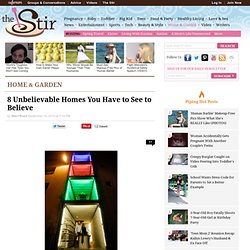 Check out the 8 Unbelievable Homes we found, and tell us which one you find most amazing. Shown above: 1. Creative Scan-and-Draw Color-Changing Pen Design | Designs &Ideas on Do... Any artist or designer who works with color knows that the best inspiration and perfect coloration can often be found in real-life objects all around us.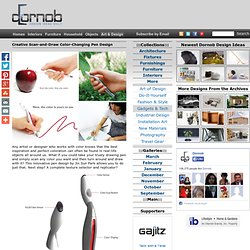 What if you could take your trusty drawing pen and simply scan any color you want and then turn around and draw with it? This innovative pen design by Jin Sun Park allows you to do just that. Next step? Stalking a suburban&tardis. The Armada House. Amazing estate in Provence with cozy interiors | 1 Kind Design. Hanse Colani Rotor House. Designer Luigi Colani has created a space-saving house with a six square meter cylinder inside that contains a bedroom, kitchen and bathroom. + hanse-haus.de The cylinder rotates left or right bringing the room you want into view of the main living room.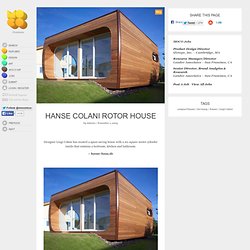 Tree House Plans - How to Build a Backyard Tree House. A chain hoist helped raise a heavy pile of green oak, barn siding and pine flooring up into this formerly unoccupied Kentucky coffee tree.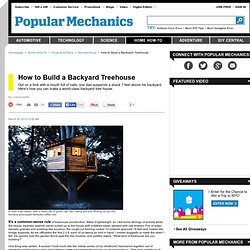 It's a common-sense rule of treehouse construction: Make it lightweight. So I felt some stirrings of anxiety when the stocky, bearded sawmill owner pulled up to the house with a flatbed trailer stacked with oak timbers. Full of water, densely grained and smelling like bourbon, the rough-cut framing lumber I'd ordered spanned 18 feet and looked like bridge supports. As we offloaded the first 2 x 8, each of us taking an end in hand, I smiled doggedly to mask the strain I felt. He peered over the garden fence past the lilac bushes, and politely asked, "What kind of treehouse are you building?" Neuschwanstein- The Real Cinderella Castle in Bavaria Germany & ... After hiking the trail up the Bavarian Alps foothills from the small town of Hohenschwangau (nearby to Füssen) I discovered a real Cinderella Castle- the magical, Neuschwanstein Castle.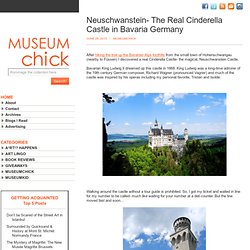 Bavarian King Ludwig II dreamed up this castle in 1868. King Ludwig was a long-time admirer of the 19th century German composer, Richard Wagner (pronounced Vagner) and much of the castle was inspired by his operas including my personal favorite, Tristan and Isolde. Walking around the castle without a tour guide is prohibited. Loft 24/7 | Miss Design.
---