Sears Homes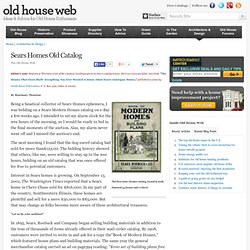 Sears Homes Old Catalog
The Old House Web Editor's note: Rosemary Thornton is one of the country's leadingexperts on Sears catalog homes. Here are excerpts of her new book, "The Houses That Sears Built: Everything You Ever Wanted to Know About Sears Catalogue Homes," published in 2002 by Gentle Beam Publications, P. O. Box 1392, Alton, IL 62002.
Antique Home::Vintage House Plans::1900 to 1960::Home Styles::Interior and Exterior
When oil prices started up last winter, I started to panic. In three months' time, we burned more than $1,600 in fuel oil. At the end of January 2011, Mr.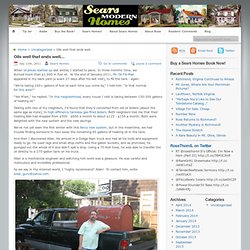 Oils well that ends well… | Sears Modern Homes
Old houses often contain many mysteries. It's our 21st Century paradigm (and ignorance of recent history) that makes our old homes seem "mysterious." Take ice boxes, for instance. We're just one or two generations away from these once-modern marvels, and yet most of us baby boomers know little about them! If fact, most post-WW2 folks know very little about day-to-day life in the early 20th Century. Discovering the answers to those "old house mysteries" can be pretty darn fun (and satisfying, too).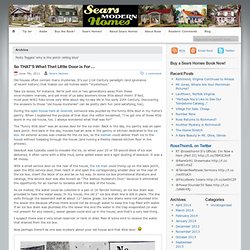 Why Is The Porch Ceiling Blue | Sears Modern Homes
The House My Ancestors Bought at Sears By: Nephi Henry As I imagine a lot of people do, I used to think of genealogy as one of the blandest, most tedious things a person could do.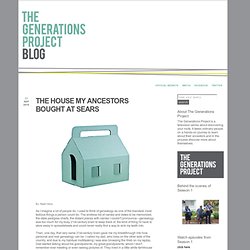 The House My Ancestors Bought at Sears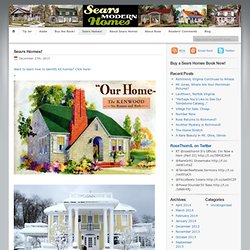 Sears Modern Homes
Want to learn how to identify kit homes? Click here! Original catalog image from 1922 Sears Modern Homes catalog Rose is the author of several books, including The Houses That Sears Built (2002,) Finding the Houses That Sears Built (2004), The Ugly Woman's Guide to Internet Dating (2009) and The Sears Homes of Illinois (2010). She's the co-author of California's Kit Homes (2004) and Montgomery Wards Mail-Order Homes (2010). Rose has traveled to 25 states to give more than 200 lectures on Sears Homes, from Bungalow Heaven in Los Angeles to The Smithsonian in Washington, DC.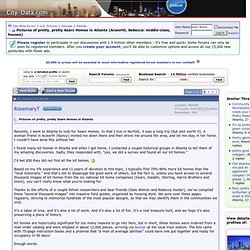 Pictures of pretty, pretty Sears Homes in Atlanta (Acworth, Rebecca: middle-class, houses)
Recently, I went to Atlanta to look for Sears Homes. In that I live in Norfolk, it was a long trip (but well worth it). A woman friend in Acworth (Nancy) invited me down there and then drove me around the area, and let me stay in her home. I couldn't have done this without her. I found many kit homes in Atlanta and when I got home, I contacted a couple historical groups in Atlanta to tell them of my amazing discoveries.
Manassah W. Henderson, Ray City, GA resident and husband of the evangelist Rebecca J. Henderson ( seeArson and Evangelism in Rays Mill, GA), was injured in a Valdosta train wreck in the summer of 1910. He was traveling on the Georgia and Florida train, the new railroad built through Ray City in 1909.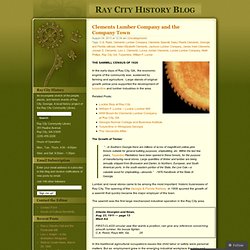 Georgia and Florida railroad « Ray City History Blog
Sears Modern Home #119 | Sears Modern Homes
My dear friend Rebecca Hunter found a Sears Modern Home #119 in Iowa (in 2003) and she got a nice photo. Other than that ONE house she found in Iowa, I've never laid eyes on a #119, which is pretty remarkable. But we know that there was one built in Martinez, Georgia, by R.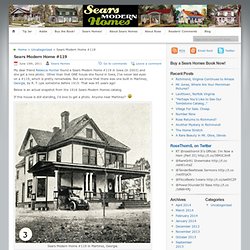 Georgia Historic Property - Victorian Homes, Colonial Homes, Greek Revival & Antebellum
Atlanta Georgia | Sears Modern Homes
For 12 years, I lived in Illinois and I spent many happy years seeking and finding kit homes throughout the Midwest. In 2006, I moved back "home" to Virginia, and I've spent subsequent years looking for kit homes in the south. I'm surprised at how many I've found in this part of the country.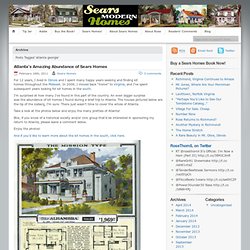 In 2010, I visited Atlanta, Georgia (and surrounding areas), where Nancy (an old house lover, kind soul and Acworth resident) drove me many miles seeking and finding kit homes. Below are a few of the houses we found in the area. It's likely that there are many more kit homes in Atlanta. Nancy and I devoted one day to photographing the Magnolia in Piedmont, Alabama (see photo below), and another day we went to small towns north of Atlanta. I'd love to return to Atlanta sometime soon and do a more thorough survey. If you know of a historical society and/or civic group that'd be interested in sponsoring my visit, please contact me by leaving a comment below.
Sears Homes in Atlanta, Georgia | Sears Modern Homes
Old-House Journal
Click on the associated link for a collection of images and photographs of almost all 447 house designs sold through the Sears Modern Homes program. You can search the house listings by clicking on a group of years (1908–1914, 1915–1920, 1921–1926, 1927–1932 and 1933–1940). You will then see a thumbnail picture of each house, and next to it are the house name and/or model number, plus the price range. Click on the thumbnail to see a full-screen version of the Sears Modern Homes catalog page on which the house appeared and floor plans and descriptions (if available). If you do not know exactly which house you are looking for, be patient.
Images of Sears Homes
Illinois: Sears Catalog Homes (Local Legacies: Celebrating Community Roots - Library of Congress)
The great American dream has been the owning of a home of your own. Sears Roebuck and Company helped to fulfill this dream for over 100,000 American families by offering for sale 450 different models of built-it-yourself home "kits" between 1908 and 1940. Downers Grove, Illinois, is the site of about 100 of these Sears Roebuck houses. Originally submitted by: Judy Biggert, Representative (13th District). The Local Legacies project provides a "snapshot" of American Culture as it was expressed in spring of 2000.
Kit Homes History
Topic: HISTORY OF MODULAR CONSTRUCTION - MODULAR HOMES Home Max Center
Sears, Roebuck homes in the Historic West Side Neighborhood
In 1908, Sears, Roebuck added to their building materials department by offering kit homes. A prospective home builder would review the Modern Homes catalog and choose their model. Home materials would be usually shipped via railroad and carted to the building site. There are several Sears kit homes in the Historic West Side neighborhood. Many of these homes have not changed remarkably from their original appearance.
Trolley Tour of Sears Homes in Downers Grove, Illinois
Downers Grove is the Sears Catalog Home Capitol of the World! From 1908 to 1937 one could order a kit to build an entire house from the Sears Catalog. Downers Grove became a primary spot to build these homes as the components were delivered by rail and Downers Grove has 3 train stops. Most of the 300 Sears Homes assembled in Downers Grove are within four blocks of the Downers Grove Main Street Station. Approximately 100 Sears Catalog Homes still Exist in Downers Grove today and you can take part in the Sears Home Trolley Tour on September 18, 2010 at 9:00 AM.
Oh, how we love the old Sears house. The enormous influence of the railroad spurred the booming popularity of "kit homes" sold through the Sears and Roebuck Company. Over 70,000 "Sears Modern Homes" were sold in North America from 1908 to 1940. The one seen above is located in Reedville, Va. which also has a bunch of preserved Victorians.
Sears House
Kit Homes::Aladdin, Sears, Lewis/Liberty, Gordon-Van Tine, Wardway::Vintage Floor Plans
Sears Homes Enthusiasts
Sears Homes of Illinois - Montgomery Wards Mail-Order Homes
Kit Houses, National Trust for Historic Preservation Library Collection
Windows on the past
How to Identify a Sears Kit Home
Cairo, Illinois: When Bad Things Happen to Little Cities… | Sears Modern Homes
Sears Modern Homes In Illinois | Sears Modern Homes
‪WICS & Carlinville Sears Homes‬‏
‪Carlinville, Illinois Sears Houses‬‏
Carlinville's Standard Addition: $1M Worth of Sears Homes
Sears Archives Home Page
Sears Catalog Home
A Dazzling Collection of Sears Homes in Northern Illinois | Sears Modern Homes
Illinois | Sears Modern Homes