Cloud computing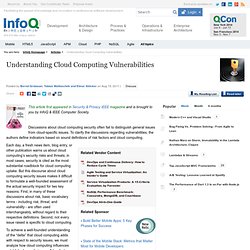 Understanding Cloud Computing Vulnerabilities
Posted by Bernd Grobauer, Tobias Walloschek and Elmar Stöcker on Aug 15, 2011 Sections Operations & Infrastructure , Architecture & Design Topics
dellcloudedge's Profile - GitHub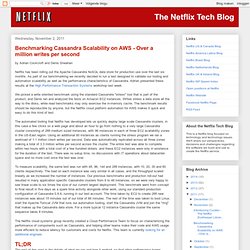 Benchmarking Cassandra Scalability on AWS - Over a million writes per second
by Adrian Cockcroft and Denis Sheahan Netflix has been rolling out the Apache Cassandra NoSQL data store for production use over the last six months. As part of our benchmarking we recently decided to run a test designed to validate our tooling and automation scalability as well as the performance characteristics of Cassandra. Adrian presented these results at the High Performance Transaction Systems workshop last week.
Open Cloud Initiative (OCI) | A non-profit advocate of open cloud computing
This is my first Cloudonomics.com post in a while, as I've been engaged in developing a number of Monte Carlo simulations and detailed proofs of The 10 Laws of Cloudonomics . Here's an overview of the results, with summaries of conclusions for those that don't want to read through over 200 pages of proofs and analyses spanning economics, behavioral economics, calculus, probability, statistics, trigonometry, system dynamics, and computational complexity theory. Links to the papers and supporting simulations at ComplexModels.com are included. Here are the 10 Laws and a few bonus insights: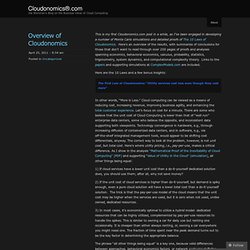 Overview of Cloudonomics « Cloudonomics.com
Cloud Computing Roundtable
Posted by Ivan Arce and Anup Ghosh on Apr 11, 2011 Sections Operations & Infrastructure ,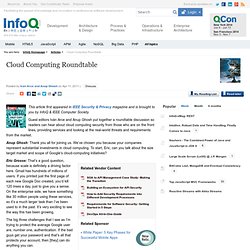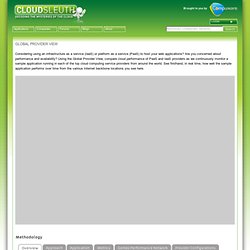 Considering using an infrastructure as a service (IaaS) or platform as a service (PaaS) to host your web applications? Are you concerned about performance and availability?
Global Provider View
Orchestra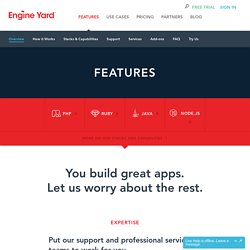 Deploy, Manage, Scale Your PHP Applications
cloudControl » Cloud hosting platform
Cloud Patterns from VMware
This talk explores when to start performance testing, how to avoid the common pitfalls, how to profile when the results cause your team to pull a funny face, and what you can do about that funny face. This talk investigate WebSocket and how trading systems can be designed to leverage this new web protocol for reliability,security and performance for desktop,mobile,datacenter and cloud environments. Frank Greco Mar 29, 2013 Having a decent education system in IT and computer science is important. If we leave it to someone else, they'll screw it up.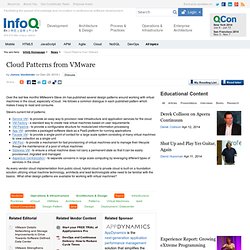 Executive Summary With Cloud Computing becoming more widely utilized, it is important for organizations to understand ways to maximize benefits and minimize risks of a move to the cloud . This paper details the significant benefits that Cloud Computing brings and provides guidance to IT decision makers to help their decision making process. This is especially important given the plethora of vendors in the marketplace today.
Moving your Infrastructure to the Cloud: How to Maximize Benefits and Avoid Pitfalls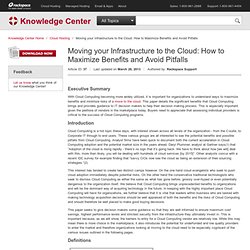 Dr Dobbs - Cloud Computing on Rich Data