Audio Engineering
#7 - Vocal Mixing Techniques, McDSP Plug-Ins, and Corner Office Q+A. How to Process Vocals for an Amazing Professional Sound. Persuading a problematic vocal recording to play nicely with the rest of your mix can seem like a futile task.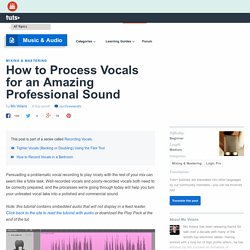 Well-recorded vocals and poorly-recorded vocals both need to be correctly prepared, and the processes we're going through today will help you turn your untreated vocal take into a polished and commercial sound. Note: this tutorial contains embedded audio that will not display in a feed reader. Click back to the site to read the tutorial with audio or download the Play Pack at the end of the tut. 4Track | Home Recording and DIY Promotion Magazine. Music Mixing Tips and Articles. Sharpen your music mixing skills with the knowledge and techniques you'll discover below.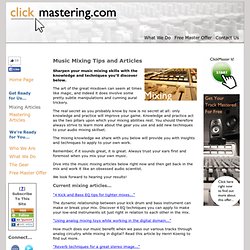 The art of the great mixdown can seem at times like magic, and indeed it does involve some pretty subtle manipulations and cunning aural trickery. The real secret as you probably know by now is no secret at all: only knowledge and practice will improve your game. Knowledge and practice act as the two pillars upon which your mixing abilities rest. You should therefore always strive to learn more about the gear you use and add new techniques to your audio mixing skillset. The mixing knowledge we share with you below will provide you with insights and techniques to apply to your own work. Blog | Sounds and Success. While many studios are still using Pro Tools 8 and Accel cards, Avid announced the availability of Pro Tools 10 and the new Pro Tools|HDX DAW systems.
According to Avid, Pro Tools 10 represents "a gigantic leap in sound and speed," … You can't log on to Twitter without seeing an artist or producer with 0 placements claiming to have just cooked up a "hit." What exactly is a hit song? Although some of what makes a song popular can't be measured, HitSongsDeconstructed.com has … [Written by Ian Clifford. Soundstud.io. Audio How To: get professional sounding mix. DAWGuidelineLong. Pro Sound Web. Sound How - "How'd they get that sound?" Audio Undone. The Pro Audio Files | Recording, Mixing & Production Blog. Audio Issues - Audio Production Tips. Music Production, Mastering, Mixing, Recording | Techniques, hints and tips. Microphone Database | Audio Recording News | RecordingHacks.
Home Studio Corner. The REAPER Blog: Dedicated to the BEST DAW in the world! The Home Recording Show Podcast. Audio Engineering Society (AES) Lab Electronic Musician's Hangout. Tape Op Magazine. Audio and production tutorials, from beginner to advanced | Audiotuts+
---