Audio Engineering
#7 - Vocal Mixing Techniques, McDSP Plug-Ins, and Corner Office Q+A
How to Process Vocals for an Amazing Professional Sound
Persuading a problematic vocal recording to play nicely with the rest of your mix can seem like a futile task. Well-recorded vocals and poorly-recorded vocals both need to be correctly prepared, and the processes we're going through today will help you turn your untreated vocal take into a polished and commercial sound. Note: this tutorial contains embedded audio that will not display in a feed reader. Click back to the site to read the tutorial with audio or download the Play Pack at the end of the tut.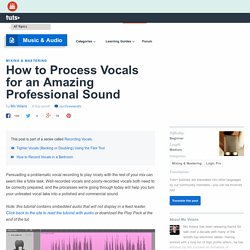 4Track | Home Recording and DIY Promotion Magazine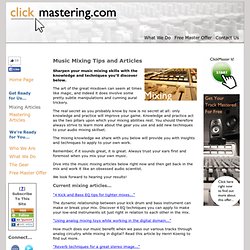 Music Mixing Tips and Articles
Sharpen your music mixing skills with the knowledge and techniques you'll discover below. The art of the great mixdown can seem at times like magic, and indeed it does involve some pretty subtle manipulations and cunning aural trickery. The real secret as you probably know by now is no secret at all: only knowledge and practice will improve your game. Knowledge and practice act as the two pillars upon which your mixing abilities rest. You should therefore always strive to learn more about the gear you use and add new techniques to your audio mixing skillset. The mixing knowledge we share with you below will provide you with insights and techniques to apply to your own work.
While many studios are still using Pro Tools 8 and Accel cards, Avid announced the availability of Pro Tools 10 and the new Pro Tools|HDX DAW systems. According to Avid, Pro Tools 10 represents "a gigantic leap in sound and speed," … You can't log on to Twitter without seeing an artist or producer with 0 placements claiming to have just cooked up a "hit." What exactly is a hit song? Although some of what makes a song popular can't be measured, HitSongsDeconstructed.com has … [Written by Ian Clifford.
Blog | Sounds and Success
Auria is a 48 track DAW system capable of recording up to 24 simultaneous tracks on your iPad! Thats right I said iPad. Wow finally someone did it.
Soundstud.io
Audio How To: get professional sounding mix
DAWGuidelineLong
Sound How - "How'd they get that sound?"
Audio Undone
Purpose of four-channel systems The merits of three front channels have already been introduced in the previous section. In the 3-1 approach, an additional 'effects' channel or 'surround' channel is added to the three front channels, routed to a loudspeaker or loudspeakers located behind (and possibly to the sides) of listeners. It was developed first for cinema applications, enabling a greater degree of audience involvement in the viewing/listening experience by providing a channel for 'wrap-around' effects. This development is attributed to 20th Century Fox in the 1950s, along with wide-screen Cinemascope viewing, being intended to offer effective competition to the new television entertainment.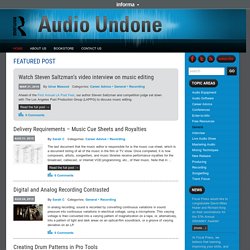 The Pro Audio Files | Recording, Mixing & Production Blog
Audio Issues - Audio Production Tips
Sign up for the Production Advice Newsletter today to receive occasional short, helpful emails from me, highlighting some of the best content from the site and it's archives, plus a free mp3 of my interview with Joe Gilder from Home Studio Corner. No thanks, take me straight to the main site Questions answered in the interview: Can you really master your own music ? Should you consider going to a professional mastering engineer ?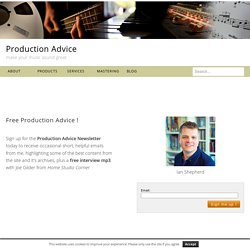 Microphone Database | Audio Recording News | RecordingHacks
USB microphones are an affordable and simple way to record audio into your computer or portable device. Just about every mic manufacturer and their grandma have released their own USB microphones. Some have even created USB versions of their most popular mics, such as the Audio-Technica AT2020 USB.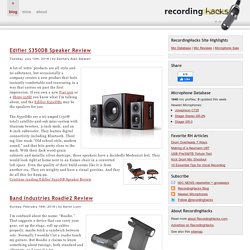 m.phase Multi-touch DAW controller for iPad By Admin on April 1, 2014 It's been a while since we talked about using controllers with REAPER (It's been awhile since we posted anything, but nevermind that), previously it was TouchOSC. I've just been made aware of "The world's first multi-touch gesture remote for DAWs!"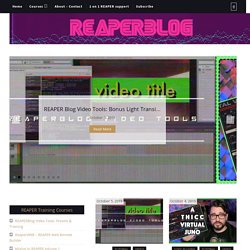 The REAPER Blog: Dedicated to the BEST DAW in the world!
The Home Recording Show Podcast
This week we respond to your questions and comments. Topics include: drum comping; 500 series preamps; micro tube amps; location audio kit; mixing with iphone in mind; thoughts on Shure Beta 57a; Les Paul replacement pickups; the beginning of the end; more 500 series stuff; buffers; Slate VTM and tape emulations; more buffers; don't be scared of MIDI piano; wah pedal replacement pots; making plugins with iplug; it's possible we went off topic a couple times too. Download Show #237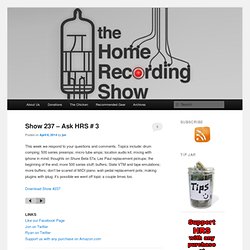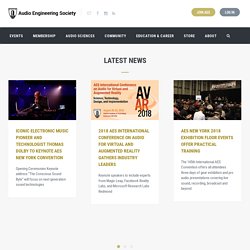 Member Login forgot username/password? AES Store
Tape Op Magazine