Audio Engineering
#7 - Vocal Mixing Techniques, McDSP Plug-Ins, and Corner Office Q+A
How to Process Vocals for an Amazing Professional Sound
Persuading a problematic vocal recording to play nicely with the rest of your mix can seem like a futile task. Well-recorded vocals and poorly-recorded vocals both need to be correctly prepared, and the processes we're going through today will help you turn your untreated vocal take into a polished and commercial sound. Note: this tutorial contains embedded audio that will not display in a feed reader. Click back to the site to read the tutorial with audio or download the Play Pack at the end of the tut.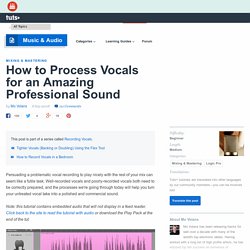 4Track | Home Recording and DIY Promotion Magazine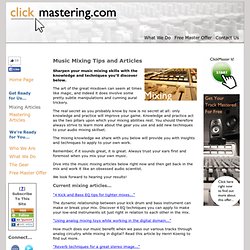 Music Mixing Tips and Articles
Sharpen your music mixing skills with the knowledge and techniques you'll discover below. The art of the great mixdown can seem at times like magic, and indeed it does involve some pretty subtle manipulations and cunning aural trickery.
While many studios are still using Pro Tools 8 and Accel cards, Avid announced the availability of Pro Tools 10 and the new Pro Tools|HDX DAW systems. According to Avid, Pro Tools 10 represents "a gigantic leap in sound and speed," …
Blog | Sounds and Success
Soundstud.io
Audio How To: get professional sounding mix
DAWGuidelineLong
Pro Sound Web
Sound How - "How'd they get that sound?"
Audio Undone
The Pro Audio Files | Recording, Mixing & Production Blog
Audio Issues - Audio Production Tips
Microphone Database | Audio Recording News | RecordingHacks
Home Studio Corner
The REAPER Blog: Dedicated to the BEST DAW in the world!
The Home Recording Show Podcast
Lab Electronic Musician's Hangout
Tape Op Magazine