Analytics
has_sante - Tweet Archive and Analytics
Sign in - Twitter Analytics
TweepsKey
mentionmapp.com/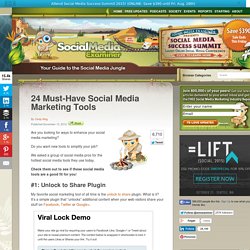 Are you looking for ways to enhance your social media marketing? Do you want new tools to simplify your job? We asked a group of social media pros for the hottest social media tools they use today. Check them out to see if these social media tools are a good fit for you ! #1: Unlock to Share Plugin
Earlier this week, Klout announced its own version of brand pages -- Brand "Squads." Klout calls these pages a "way of giving influencers a place to be recognized and have a direct impact on the brands they care about most." And while influencers get excited for their potential to be recognized by top brands, social media marketers also have plenty of reasons to be excited for this cool new tool. This post will break down all the new features Klout Brand Squads will provide, and why they matter to marketers.
Klout to Launch Brand Pages: Should Marketers Care?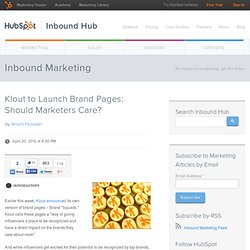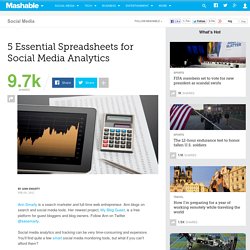 Ann Smarty is a search marketer and full-time web entrepreneur. Ann blogs on search and social media tools. Her newest project, My Blog Guest , is a free platform for guest bloggers and blog owners.
Twitter Lance Enfin Son Outil Analytics !
Bonjour! Si vous visitez Emarketinglicious pour la 1ère fois, abonnez-vous à notre flux RSS pour recevoir nos dernières actualités. Les billets de la série Marketing sont ouverts au parrainage.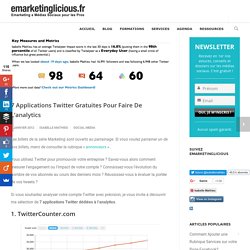 Beyond Google: 6 Tools to Help You Track Your Online Reputation | Network Solutions Small Business Blog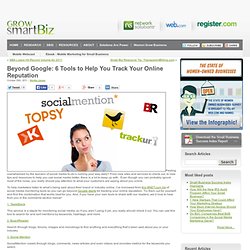 Feeling overwhelmed by the tsunami of social media to-do's coming your way daily? From new sites and services to check out, to new tips and resources to help you use social media better, there is a lot to keep up with. Even though you can probably ignore most of the noise, you really should pay attention to what your customers are saying about you online. To help marketers listen to what's being said about their brand or industry online, I've borrowed from this BNET.com list of social media monitoring tools so you can go beyond Google Alerts for tracking your online reputation. Try them out for yourself, and find the combination that works best for you.
7.8K Flares Twitter 3.6K Facebook 348 Google+ 95 Pin It Share 71 71 LinkedIn 607 in Share 607 7.8K Flares × By: @Garin After researching over a thousand Twitter Tools for the Twitter Tools Book I came across many tools that tried to add value by presenting a different way to visualize or analyze your tweets, the people in your network, and the tweets from the people in your network. Many tools tried to add value and failed.