Foreign Relations/ Diplomacy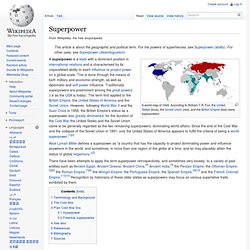 A superpower is a state with a dominant position in the international system which has the ability to influence events and its own interests and project power on a worldwide scale to protect those interests.
Superpower
Polarity in international relations is any of the various ways in which power [ vague ] is distributed within the international system [ vague ] . It describes the nature of the international system at any given period of time. One generally distinguishes four types of systems: Unipolarity , Bipolarity , Tripolarity , and Multipolarity , for four or more centers of power.
Polarity in international relations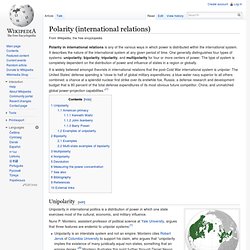 Diplomatic immunity
Diplomatic immunity is a form of legal immunity and a policy held between governments that ensures that diplomats are given safe passage and are considered not susceptible to lawsuit or prosecution under the host country's laws, although they can still be expelled . It was agreed as international law in the Vienna Convention on Diplomatic Relations (1961), though the concept and custom have a much longer history.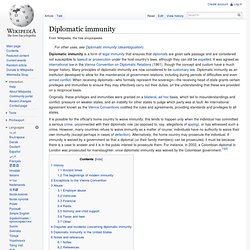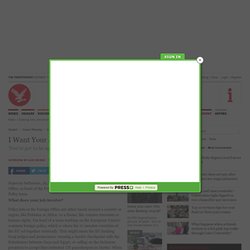 I Want Your Job: Foreign Office diplomat - Getting a Job, Career Planning
What does your job involve? Policy jobs at the Foreign Office are either based around a country or region, like Pakistan or Africa; or a theme, like counter-terrorism or human rights.
Career Center Article - So, You Want to Be a Diplomat?
September 4, 2012 Leslie (Les) McBee, Diplomat in Residence (DIR) at Cal from 2005-2007, offers his insights about how to prepare for an international affairs career and life as a diplomat. Les came to Cal from a posting as Consul General for the south of France, Corsica, and Monaco.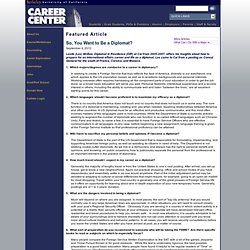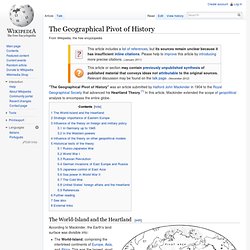 "The Geographical Pivot of History" was an article submitted by Halford John Mackinder in 1904 to the Royal Geographical Society that advanced his Heartland Theory . [ 1 ] In this article, Mackinder extended the scope of geopolitical analysis to encompass the entire globe. [ edit ] The World-Island and the Heartland According to Mackinder, the Earth's land surface was divisible into:
The Geographical Pivot of History
A diplomat is a person appointed by a state to conduct diplomacy with another state or international organization .
Diplomat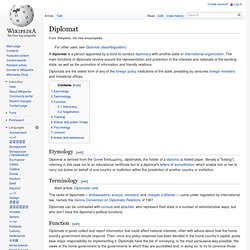 Diplomatic Corps plaque used on some Embassies and Diplomatic Missions The diplomatic corps or corps diplomatique is the collective body of foreign diplomats accredited to a particular country or body. The diplomatic corps may, in certain contexts, refer to the collection of accredited heads of mission ( ambassadors , high commissioners , and others) who represent their countries in another state or country.
Diplomatic corps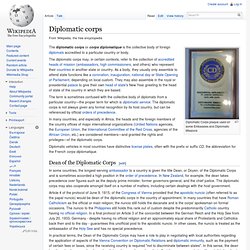 Diplomacy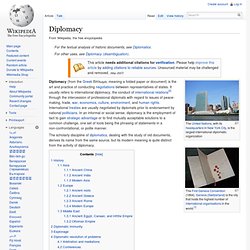 Diplomacy (from Latin diploma , meaning an official document, which in turn derives from the Greek δίπλωμα , meaning a folded paper/document) is the art and practice of conducting negotiations between representatives of groups or states. It usually refers to international diplomacy, the conduct of international relations [ 1 ] through the intercession of professional diplomats with regard to issues of peace-making, trade, war , economics , culture , environment , and human rights .