Lol
HOW TO TICK PEOPLE OFF
Points to ponder
Batmanning is here
Dear blank, please blank | iGNANT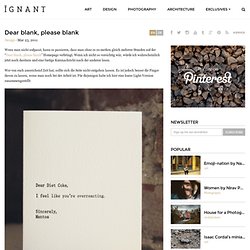 Wenn man nicht aufpasst, kann es passieren, dass man ohne es zu merken gleich mehrere Stunden auf der "Dear blank, please blank" Homepage verbringt. Wenn ich nicht so vorsichtig wär, würde ich wahrscheinlich jetzt noch dasitzen und eine lustige Kurznachricht nach der anderen lesen. Wer von euch ausreichend Zeit hat, sollte sich die Seite nicht entgehen lassen.
The Most Brilliantly Obnoxious Responses To Moronic Graffiti | Happy Place
I just wanna feeeel | Fredo and Pidjin. The Webcomic.
60 Funny Demotivators | Clikked
Expectations vs. Reality (16 Pics) |