Bread/Pastry recipes
Pâtisserie
Bread. Pies. Making empanadas from scratch and memory - Guest Chef. "I'll make the dough this year," I tell Nelly on the phone.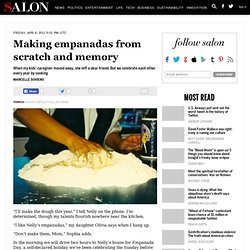 I'm determined, though my talents flourish nowhere near the kitchen. "I like Nelly's empanadas," my daughter Olivia says when I hang up. "Don't make them, Mom," Sophia adds. Pretzel Bites with Quick Cheddar Dip Recipe | Epicurious. Make Pretzel Dough: Stir together warm water and yeast in a large bowl and let stand until a creamy beige foam develops on the surface, about 10 minutes.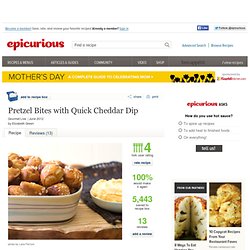 (If mixture doesn't foam, start over with new yeast.) Meanwhile, in a smaller bowl, stir together flour, salt, and light brown sugar. Smoked Gouda Gougeres. I picked up a copy of the Autumn edition of Food and Drink magazine the other day.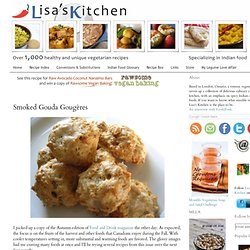 As expected, the focus is on the fruits of the harvest and other foods that Canadians enjoy during the Fall. With cooler temperatures setting in, more substantial and warming foods are favored. How to Make Paneer (Indian Cheese): 7 steps (with pictures) Edited by Shaiaqua, KnowItSome, Flickety, Maluniu and 38 others Paneer is a type of cheese first made in the Indian subcontinent.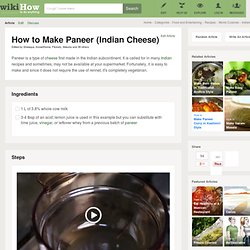 It is called for in many Indian recipes and sometimes, may not be available at your supermarket. Do you make your own paneer? Home >> Recipes Making your own paneer - the ubiquitous Indian fresh cheese - is easy and great fun.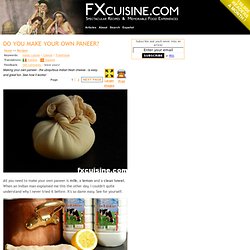 See how it works! All you need to make your own paneer is milk, a lemon and a clean towel. When an Indian man explained me this the other day, I couldn't quite understand why I never tried it before. It's so damn easy. Peanut Butter and Banana Stuffed French Toast. Cupcakes tout tomate & Îles flottantes au concombre et au chèvre. La semaine dernière, j'ai eu la chance d'être invitée par Tomates & Concombres de France à un atelier de cuisine animé par la pétillante Louise Denisot.
Nous avons concocté les recettes qu'elle avait créé pour l'occasion en compagnie de plein de bloggeurs que j'adore (Pascale Weeks, Sandrine, Requia, Audrey, Dorian…). Tomates et concombres gorgés de soleil et recettes bien fraîches, tout ce que j'aime en été ! Nous avons donc préparé des cupcakes tout tomates délicieux et des îles flottantes au concombre et au chèvre très rafraichissantes. J'avais organisé un petit brunch sur ma terrasse samedi, j'avais tellement adoré les cupcakes à la tomate de Louise que je les ai refaits pour l'occasion en mini cette fois. J'avais prévu un autre message pour aujourd'hui mais mes copines m'ont tellement réclamé la recette que je n'ai pas trop eu le choix… Merci à Louise Denisot et à l'équipe Tomates & Concombres de France. . IHM Carta Musica - Matzos.
---