Bread/Pastry recipes
Peanut Butter and Banana Stuffed French Toast Recipe :
Make Pretzel Dough: Stir together warm water and yeast in a large bowl and let stand until a creamy beige foam develops on the surface, about 10 minutes. (If mixture doesn't foam, start over with new yeast.) Meanwhile, in a smaller bowl, stir together flour, salt, and light brown sugar.
Pretzel Bites with Quick Cheddar Dip Recipe | Epicurious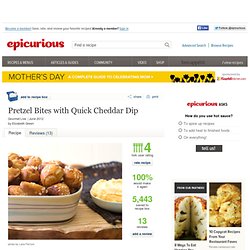 IHM Carta Musica - Matzos
Naan Bread Ingredients • 4tsp. instant dry yeast • 1scant cup warm milk • 1T sugar • 1egg • 1T yogurt • ½cup olive oil • 4cups all-purpose flour • 1tsp. salt • 1cup melted butter • 4T Madras curry powder • 2tsp. nigella seeds or black sesame seeds • 2T coarse sea salt
Flatbreads Recipe-Entertaining-travel-elledecor.com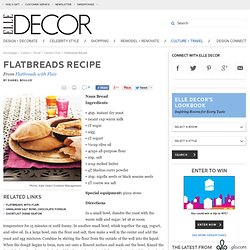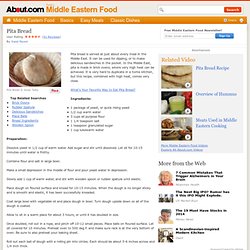 Pita bread is served at just about every meal in the Middle East. It can be used for dipping, or to make delicious sandwiches in the pocket. In the Middle East, pita is made in brick ovens, where very high heat can be achieved. It is very hard to duplicate in a home kitchen, but this recipe, combined with high heat, comes very close.
Smoked Gouda Gougeres
I picked up a copy of the Autumn edition of Food and Drink magazine the other day. As expected, the focus is on the fruits of the harvest and other foods that Canadians enjoy during the Fall. With cooler temperatures setting in, more substantial and warming foods are favored.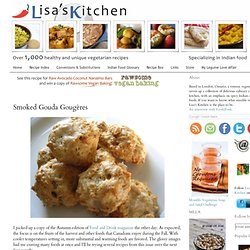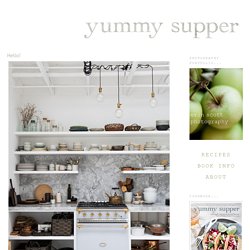 I hear the old lock click as the gate to our backyard squeaks open. Footsteps cross the gravel. The garage door springs open wide as Otis tucks his bike away for the afternoon. Backpack strapped on, my thirteen year old marches through the back door chittering and chattering about his life.
Yummy Supper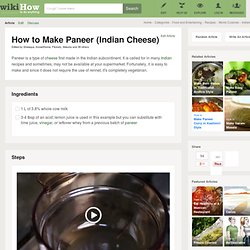 Edited by Shaiaqua, KnowItSome, Flickety, Maluniu and 38 others Paneer is a type of cheese first made in the Indian subcontinent. It is called for in many Indian recipes and sometimes, may not be available at your supermarket.
How to Make Paneer (Indian Cheese): 7 steps (with pictures)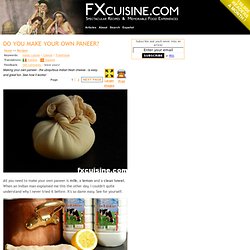 Do you make your own paneer?
Home >> Recipes Making your own paneer - the ubiquitous Indian fresh cheese - is easy and great fun. See how it works! All you need to make your own paneer is milk, a lemon and a clean towel. When an Indian man explained me this the other day, I couldn't quite understand why I never tried it before. It's so damn easy.
Atelier d'été – Cupcakes tout tomate & Îles flottantes au concombre et au chèvre
La semaine dernière, j'ai eu la chance d'être invitée par Tomates & Concombres de France à un atelier de cuisine animé par la pétillante Louise Denisot. Nous avons concocté les recettes qu'elle avait créé pour l'occasion en compagnie de plein de bloggeurs que j'adore (Pascale Weeks, Sandrine, Requia, Audrey, Dorian…). Tomates et concombres gorgés de soleil et recettes bien fraîches, tout ce que j'aime en été ! Nous avons donc préparé des cupcakes tout tomates délicieux et des îles flottantes au concombre et au chèvre très rafraichissantes. J'avais organisé un petit brunch sur ma terrasse samedi, j'avais tellement adoré les cupcakes à la tomate de Louise que je les ai refaits pour l'occasion en mini cette fois. J'avais prévu un autre message pour aujourd'hui mais mes copines m'ont tellement réclamé la recette que je n'ai pas trop eu le choix… Merci à Louise Denisot et à l'équipe Tomates & Concombres de France. .
"I'll make the dough this year," I tell Nelly on the phone. I'm determined, though my talents flourish nowhere near the kitchen. "I like Nelly's empanadas," my daughter Olivia says when I hang up. "Don't make them, Mom," Sophia adds.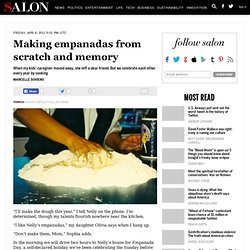 Making empanadas from scratch and memory - Guest Chef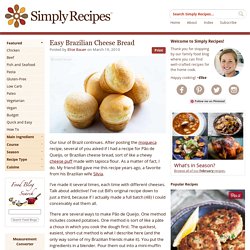 Our tour of Brazil continues. After posting the moqueca recipe, several of you asked if I had a recipe for Pão de Queijo, or Brazilian cheese bread, sort of like a chewy cheese puff made with tapioca flour. As a matter of fact, I do. My friend Bill gave me this recipe years ago, a favorite from his Brazilian wife Silvia. I've made it several times, each time with different cheeses.
Sourdough Bread
Throughout my entire life as a cook, nothing has been so vexing as perfecting Sourdough Bread. Equally vexing was the breadth of time required in order to determine each effort's degree of failure. Several batches required up to twenty hours of 'resting' time and, thus, it would be two days later that I discovered that sourdough nirvana remained out of reach. Other tricky foods, for example, soufflés, hot emulsions and clear jellies require no large investment of time in order to fail, and can, in fact, be quickly tossed out and a second endeavor completed before anyone lingering has blinked an eye. Not so for the elusive sourdough which must be fed, rested and babysat like an errant child before a simple bread dough is even stirred together.
Irish Soda Buns
This sweet bread is stuffed with whiskey-soaked raisings and orange rind and served with whiskey butter for a delicious variation of traditional Irish soda bread. If you don't want to use whiskey, simply soak the raisins in hot water. Prep Time: 10 minutes Cook Time: 50 minutes
Whiskey Soda Bread Recipe
Oven-fresh bread is one of life's simple joys. Ciabatta, a crisp-crusted Italian bread with hints of sourdough and loads of crannies longing for butter, is one of the easiest breads to make at home. Why are we talking about baking bread on Lifehack?
This dessert is part of a larger meal "A Taste of Autumn" where every single dish was made using "edible" or natural "bowls." That post is my entry for Project Food Blog Round 6. You can check out the post and vote for me here. I'm not a baker. Bakers are precise, careful, planned, and detail-oriented people.
After heart problems forced me to stop eating saturated and trans fats, I thought I would never make or eat pie again (and believe me, I cried myself to sleep over that one). Then I saw a crust recipe in Saveur made with white flour, vegetable oil and whole milk. The old Cathy would have scoffed at this idea, but I had to give it a try – especially considering that a pie with this crust won the Iowa State Fair pie contest!
Seriously good heart-healthy apple pie - Guest Chef