Bread/Pastry recipes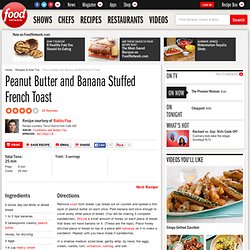 Ingredients 6 slices day-old white or wheat bread 1 to 2 ripe bananas 8 tablespoons creamy peanut butter Honey, for drizzling 4 eggs 1/4 cup heavy cream 1 tablespoon vanilla 1 tablespoon dark rum 1/2 teaspoon cinnamon 1/4 teaspoon nutmeg Dash salt Butter or oil, for frying Powdered sugar, for topping Maple Syrup, for topping Directions
Peanut Butter and Banana Stuffed French Toast Recipe :
Make Pretzel Dough: Stir together warm water and yeast in a large bowl and let stand until a creamy beige foam develops on the surface, about 10 minutes. (If mixture doesn't foam, start over with new yeast.) Meanwhile, in a smaller bowl, stir together flour, salt, and light brown sugar.
Pretzel Bites with Quick Cheddar Dip Recipe | Epicurious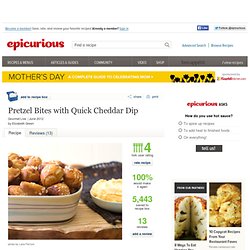 Evan Sung for The New York Times I had eaten the flatbread a few times in Genoa, where there is a large Sardinian community. When I encountered it not long ago at Grandaisy bakery, which has a small operation in my Manhattan neighborhood, I asked if I could watch it being produced. It turns out to be a snap; the bread has such a high percentage of olive oil that rolling it super-thin is almost no work at all. But Grandaisy uses a touch of yeast in its carta musica, and using yeast takes time. Traditional or not, I was more interested in producing an unleavened matzo-like bread, one that contained more flavor than matzo does — the olive oil takes care of that.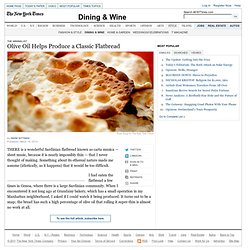 IHM Carta Musica - Matzos
I made this for dinner w/ friends - 2013/10/28. And again 2013/11/12, a rainy Tuesday night - Marco, JMB & SP. by mindshare2000 Oct 29
Naan Bread Ingredients • 4tsp. instant dry yeast • 1scant cup warm milk • 1T sugar • 1egg • 1T yogurt • ½cup olive oil • 4cups all-purpose flour • 1tsp. salt • 1cup melted butter • 4T Madras curry powder • 2tsp. nigella seeds or black sesame seeds • 2T coarse sea salt
Flatbreads Recipe-Entertaining-travel-elledecor.com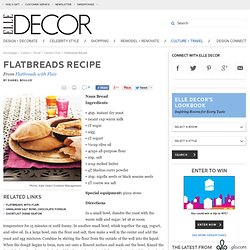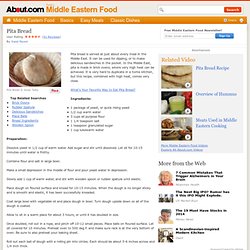 Pita bread is served at just about every meal in the Middle East. It can be used for dipping, or to make delicious sandwiches in the pocket. In the Middle East, pita is made in brick ovens, where very high heat can be achieved. It is very hard to duplicate in a home kitchen, but this recipe, combined with high heat, comes very close.
Smoked Gouda Gougeres
I picked up a copy of the Autumn edition of Food and Drink magazine the other day. As expected, the focus is on the fruits of the harvest and other foods that Canadians enjoy during the Fall. With cooler temperatures setting in, more substantial and warming foods are favoured.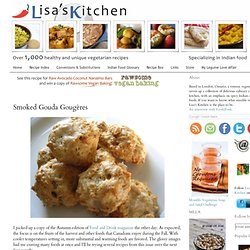 Yummy Supper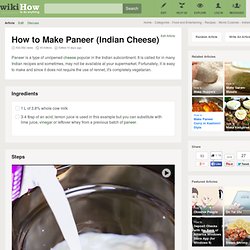 Edit Edited by Shaiaqua, KnowItSome, Flickety, Maluniu and 34 others Paneer is a type of cheese first made in the Indian subcontinent. It is called for in many Indian recipes and sometimes, may not be available at your supermarket. Fortunately, it is easy to make and since it does not require the use of rennet, it's completely vegetarian.
How to Make Paneer (Indian Cheese): 7 steps (with pictures)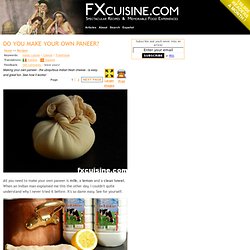 Do you make your own paneer?
Home >> Recipes Making your own paneer - the ubiquitous Indian fresh cheese - is easy and great fun. See how it works! All you need to make your own paneer is milk , a lemon and a clean towel . When an Indian man explained me this the other day, I couldn't quite understand why I never tried it before. It's so damn easy.
Atelier d'été – Cupcakes tout tomate & Îles flottantes au concombre et au chèvre
Last week, I was fortunate to be invited by Tomatoes & Cucumbers of France to a cooking workshop led by the sparkling Louise Denisot. We have put together the recipes she had created for the occasion in the company of lots of bloggers that I love ( Pascale Weeks , Sandrine , Requia , Audrey , Dorian …). Tomatoes and cucumbers and sun-drenched recipes very fresh, everything I love in summer ! So we prepared delicious all-tomato cupcakes and very refreshing cucumber and goat cheese floating islands. I organized a small brunch Saturday on my terrace, I so loved the cupcakes and tomato Louise that I have redone for the occasion into a mini this time. I had planned another recipe for today, but my friends asked me for this recipe so I just had to give it to you ...
"I'll make the dough this year," I tell Nelly on the phone. I'm determined, though my talents flourish nowhere near the kitchen. "I like Nelly's empanadas," my daughter Olivia says when I hang up. "Don't make them, Mom," Sophia adds.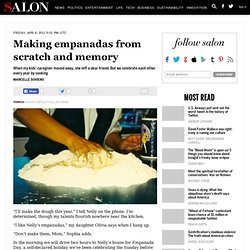 Making empanadas from scratch and memory - Guest Chef
Our tour of Brazil continues. After posting the moqueca recipe, several of you asked if I had a recipe for Pão de Queijo, or Brazilian cheese bread, sort of like a chewy cheese puff made with tapioca flour. As a matter of fact, I do. My friend Bill gave me this recipe years ago, a favorite from his Brazilian wife Silvia . I've made it several times, each time with different cheeses.
Sourdough Bread
Throughout my entire life as a cook, nothing has been so vexing as perfecting Sourdough Bread. Equally vexing was the breadth of time required in order to determine each effort's degree of failure. Several batches required up to twenty hours of 'resting' time and, thus, it would be two days later that I discovered that sourdough nirvana remained out of reach. Other tricky foods, for example, soufflés, hot emulsions and clear jellies require no large investment of time in order to fail, and can, in fact, be quickly tossed out and a second endeavor completed before anyone lingering has blinked an eye. Not so for the elusive sourdough which must be fed, rested and babysat like an errant child before a simple bread dough is even stirred together.
Irish Soda Buns
This sweet bread is stuffed with whiskey-soaked raisings and orange rind and served with whiskey butter for a delicious variation of traditional Irish soda bread. If you don't want to use whiskey, simply soak the raisins in hot water. Prep Time: 10 minutes Cook Time: 50 minutes
Whiskey Soda Bread Recipe
Oven-fresh bread is one of life's simple joys. Ciabatta, a crisp-crusted Italian bread with hints of sourdough and loads of crannies longing for butter, is one of the easiest breads to make at home. Why are we talking about baking bread on Lifehack?
This dessert is part of a larger meal " A Taste of Autumn " where every single dish was made using "edible" or natural "bowls." That post is my entry for Project Food Blog Round 6. You can check out the post and vote for me here . I'm not a baker. Bakers are precise, careful, planned, and detail-oriented people.
Seriously good heart-healthy apple pie - Guest Chef