Food
Oreo and Peanut Butter Brownie Cakes. So, after being gone all last week, this has been catch up on the house week.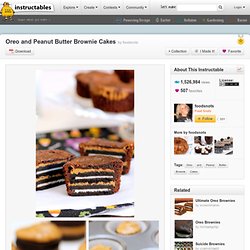 Mostly laundry actually. Man, who knew that a weeks worth of laundry from 5 people could be so daunting. Yikes!! But I am kind of behind on my cooking and baking as well since I've been gone and cleaning. Apple Pie Bites on a Stick. Ingredients: - 1 large red delicious apple, finely chopped - 1 tbsp butter - 1/8 cup brown sugar, packed - 1 tsp corn starch - 1/2 tsp cinnamon - 1/4 tsp nutmeg - 1/4 tsp cloves, or all-spice - 2 tbsp cream cheese - 1 package of refrigerated crescent roll pastry (i.e.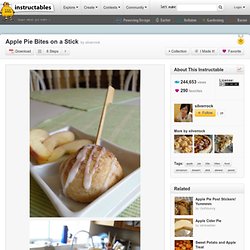 Pillsbury) Topping: - 1 tbsp melted butter - 1/2 tsp cinnamon - 3 tbsp granulated sugar - 1 tbsp brown sugar Icing Drizzle: - 1/2 cup confectioner's sugar - 2 tsp water or milk. Cinnamon Toast Rolls. The USDA released its new food pyramid the other day (which is actually a plate now instead of a pyramid), and I am sorely disappointed to report that cinnamon rolls did not appear anywhere on that plate.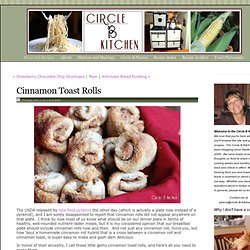 I think by now most of us know what should be on our dinner plate in terms of healthy, well-rounded nutrient-laden meals, but it is my considered opinion that our breakfast plate should include cinnamon rolls now and then. And not just any cinnamon roll, mind you, but how 'bout a homemade cinnamon roll hybrid that is a cross between a cinnamon roll and cinnamon toast, is super easy to make and gosh darn delicious. In honor of their ancestry, I call these little gems cinnamon toast rolls, and here's all you need to make them… The Brownie Project - StumbleUpon. Basic Crepes. The Best Oils | Pure Bar. I love to lightly sauté, roast and toast veggies, grains and nuts.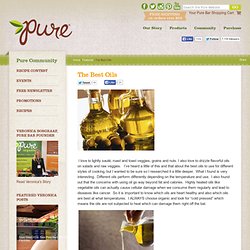 I also love to drizzle flavorful oils on salads and raw veggies. I've heard a little of this and that about the best oils to use for different styles of cooking, but I wanted to be sure so I researched it a little deeper. What I found is very interesting. Romancing the Stove - StumbleUpon. Free Online Recipes | Free Recipes. Spinach and Prosciutto Lasagna - Martha Stewart Recipes - StumbleUpon. Virginia Willis' Cola-glazed Wings. Image Credit: Jaden Hair This is a recipe that I return to time and time again -- it's a friends and family favorite, and the entire plate gets devoured every time.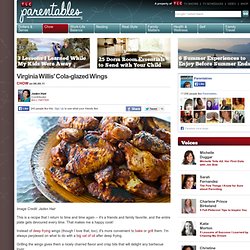 That makes me a happy cook! Instead of deep frying wings (though I love that, too), it's more convenient to bake or grill them. Make Your Own Ice Cream in Five Minutes. Photo Credit: Sarah Fernandez I have such fond memories of making homemade ice cream in the summer when we were kids.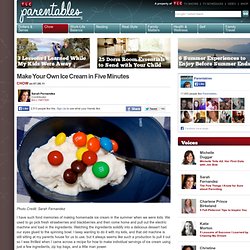 We used to go pick fresh strawberries and blackberries and then come home and pull out the electric machine and load in the ingredients. Watching the ingredients solidify into a delicious dessert had our eyes glued to the spinning bowl. I keep wanting to do it with my kids, and that old machine is still sitting at my parents house for us to use, but it always seems like such a production to pull it out so I was thrilled when I came across a recipe for how to make individual servings of ice cream using just a few ingredients, zip top bags, and a little man power.
Photo Credit: Sarah Fernandez. 14 Cupcakes Disguised As Other Food - StumbleUpon. Potatoes Romanoff - A Fancy Twice Baked Potato - StumbleUpon. I'm totally ready for fall.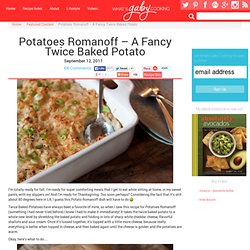 I'm ready for super comforting meals that I get to eat while sitting at home, in my sweat pants, with my slippers on! And I'm ready for Thanksgiving. Too soon perhaps? Cajun Chicken Pasta. Note: Since this recipe is featured on the Food Network episode this morning, I'm bringing it to the front for easy reference.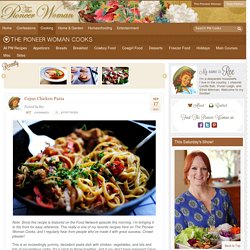 This really is one of my favorite recipes here on The Pioneer Woman Cooks, and I regularly hear from people who've made it with great success. Crowd-pleaser! This is an exceedingly yummy, decadent pasta dish with chicken, vegetables, and lots and lots of scrumptious carbs. Chicken Stir-Fry Recipe. There is nothing as good as a simple and easy Chinese chicken stir fry.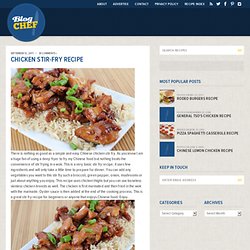 As you know I am a huge fan of using a deep fryer to fry my Chinese food but nothing beats the convenience of stir frying in a wok. This is a very basic stir fry recipe; it uses few ingredients and will only take a little time to prepare for dinner. You can add any vegetables you want to this stir fry such a broccoli, green pepper, onion, mushrooms or just about anything you enjoy. TasteSpotting | a community driven visual potluck - StumbleUpon. Millet Salad with Meyer Lemon Vinaigrette & The Whole Kitchen. In the blur of the last two weeks of dog sadness and new-hound hope, I almost forgot that this was a food blog.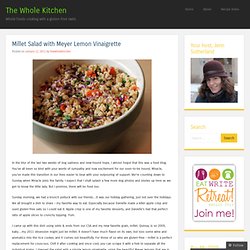 You've all been so kind with your words of sympathy and now excitement for our soon-to-be hound, Miracle, you've made this transition in our lives easier to bear with your outpouring of support. We're counting down to Sunday when Miracle joins the family. I expect that I shall splash a few more dog photos and stories up here as we get to know the little lady. But I promise, there will be food too. Cream Cheese Chocolate Chip Cookies & Betchacanteatjustone's Blog - StumbleUpon. This just may be my new favorite Chocolate Chip Cookie. It's made with butter AND cream cheese. It's dense, chewy, chocolatey and very delicious.
I had half a package of cream cheese that needed to be used up and I really wanted chocolate chip cookies so I figured surely there must be a recipe… a quick google blog search led me to baking blonde and a really delicious recipe that's definitely being added to my regular cookie repertoire! Cream Cheese Chocolate Chip Cookies recipe from BakingBlonde. Twix Cheesecakes – Gingerbread Bagels. Red Velvet Cheesecake Brownies | Sweet Pea's Kitchen - StumbleUpon. Red Velvet Cheesecake Brownies These Red Velvet Cheesecake Brownies are rich, decadent and so perfect for Valentine's Day! Brownie and cheesecake batter are swirled together to make a festive and impressive dessert. Indianapolis, along with many other states in the Midwest, is coping with a huge ice storm that is supposed to cover us in over an inch of ice. Unfortunately the worst of the storm is supposed to come tonight.
Someone Left The Cake Out In The Rain - StumbleUpon. Pizza Swirl Bread | How Sweet It Is - StumbleUpon. I have good news and bad news. The good news is… I made you bread. It tastes like pizza. It's swirled with piles of grated provolone and spicy pepperoni and a nice little mixture of Italian seasoning [...that came out of a tube]. Yeah. StillTasty: Your Ultimate Shelf Life Guide - Save Money, Eat Better, Help... - StumbleUpon. World Hearth Recipe Collection - StumbleUpon. Tiramisu Pancakes : Parentables - StumbleUpon. A few days ago, I put a call out on Twitter for help. Marscapone help, to be specific. Many people came to the rescue, however it was @Ivoryhut her responded with a recipe idea that went beyond delectable. Tiramisu Pancakes. oh. hell yeah. Greens and chocolate: pumpkin bars with cinnamon cream cheese frosting. Pumpkin Roundup | Sweet Pea's Kitchen - StumbleUpon.
Pumpkin Roundup It's time to whip up all those pumpkin treats you've been longing for all summer long! Ahhhh…pumpkin season has arrived! This is my favorite season to bake. Pumpkin anything and everything are always on my list. Caramel Tart-Caramel Tarts-Chocolate Tart-Chocolate Tarts-Pasta Frolla | La... Sugarcrafter. Fall Recipe Roundup - All Things Apple - StumbleUpon. John Legends Macaroni and Cheese - Martha Stewart Recipes - StumbleUpon. Bacon and Cheddar Macaroni & Cheese - iVillage - StumbleUpon. Kayotic Kitchen. Macaroni and Cheese. 20 Easy One-Pot Meals - iVillage. Nutella Mug Cake | Family Kitchen - StumbleUpon. Five-Minute Chocolate Mug Cake - iVillage - StumbleUpon. Baked French Toast with Honey-Poached Blueberries. Grilled Avacado Guacamole. Raspberry and Serrano Sangría : TreeHugger - StumbleUpon. Whipped Frosting - Martha Stewart Recipes - StumbleUpon.
Snickerdoodle Cupcakes - Martha Stewart Recipes - StumbleUpon. Spiced Zucchini Cupcakes with Cinnamon Cream Cheese Frosting | Tasty... Oreo and Peanut Butter Brownie Cakes | Picky Palate - StumbleUpon. Oreo Truffles Dusted in Cocoa Powder | The Food Addicts. How To Make Perfect Brownies | How To Cook Like Your Grandmother - StumbleUpon. Cinnamon Roll Pancakes | recipegirl.com - StumbleUpon. Food - Recipes : Apple crumble cheesecake - StumbleUpon.
---