Facebook Business Model
++ Les nouvelles marches de l'empire Facebook, Analyses de la rédaction. Facebook game leaders: We're not worried about Google+ games. For now, Facebook's gaming managers aren't worried about the competition from Google+.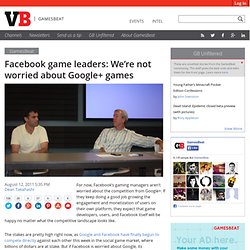 If they keep doing a good job growing the engagement and monetization of users on their own platform, they expect that game developers, users, and Facebook itself will be happy no matter what the competitive landscape looks like. The stakes are pretty high right now, as Google and Facebook have finally begun to compete directly against each other this week in the social game market, where billions of dollars are at stake. 5 Ways Facebook Will Impact E-commerce. Mitchell Harper is co-founder of BigCommerce, a leading provider of shopping cart software used by more than 40,000 organizations worldwide.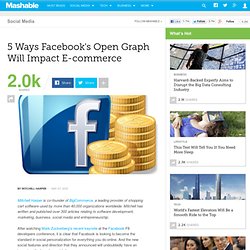 Mitchell has written and published over 300 articles relating to software development, marketing, business, social media and entrepreneurship. After watching Mark Zuckerberg's recent keynote at the Facebook F8 developers conference, it is clear that Facebook is looking to become the standard in social personalization for everything you do online. And the new social features and direction that they announced will undoubtedly have an impact on the broader world of e-commerce. For example, their new "Like" button is already visible on over 50,000 websites, and they're providing an API-based way to access what they're calling a user's "Open Graph," which is a list of everything he or she has "liked" across the entire web — music, books, restaurants, food and more. 5 Ways Facebook's New Features Will Fuel Social Shopping. Christian Taylor is founder and CEO of Payvment and developer of the number-one Facebook ecommerce platform for brands, agencies and merchants, and the world's only Facebook Shopping Mall.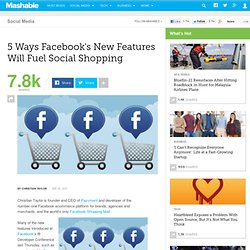 Many of the new features introduced at Facebook's f8 Developer Conference last Thursday, such as a customizable Open Graph and real-time news Ticker, will have a tremendous impact on social commerce and social shopping in the very near future. SEE ALSO: How Facebook Timeline Might Radically Change the Look of Brand Pages [PICS] It's A Facebook World … Other Social Networks Just Live In It. Twice a year (in June and in December), Vincenzo Cosenza creates a "world map of social networks", showing the dominant social networks by country, based on traffic data gathered from Alexa and Google Trends for Websites.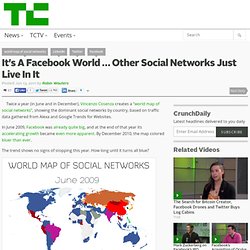 In June 2009, Facebook was already quite big, and at the end of that year its accelerating growth became even more apparent. By December 2010, the map colored bluer than ever. The trend shows no signs of stopping this year. How long until it turns all blue? Tous les chiffres sur Facebook en vidéo. F-Commerce turning "Like" into "Buy" Speed Summary | Forbes on Facebook's future as an e-commerce platform. Here'a quick six-point speed summary on what Forbes (Tomio Geron) has to say on Facebook's future as an e-commerce platform.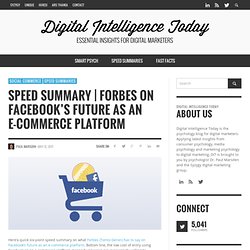 Bottom line, the low cost of entry using Facebook as an e-commerce platform means businesses are increasingly willing to experiment… Traditionally, the role of Facebook in e-commerce has been as a traffic driver. F-factor (Video + Infographic) Forget about the X-factor, does your brand have the F-FACTOR, the talent needed win the battle for profitable friends, fans and followers in Facebook (and other social media)?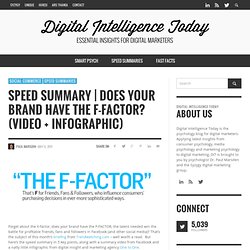 That's the subject of this month's briefing from Trendwatching.com – well worth a read. But here's the speed summary in 5 key points, along with a summary video from Facebook and a natty little infographic from digital insight and marketing agency One to One. Our key takeout for social commerce is that the f-factor is not about technology, it's about value: f-factor = talkability + utility (offering something genuinely worth talking about to in a way that's worth genuinely talking about (instant personalisation, discovery aids, decision aids).
Miss either of these – and you don't have the f-factor. What is the F-FACTOR? F-Commerce Ecosphere. Here's a useful infographic from Janice Diner, summarising the current 'ecosphere' f-commerce and the six ways in which vendors are selling with Facebook (see Janice's full presentation here).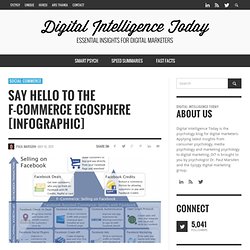 It's a useful snap-shot of the fast-evolving world of f-commerce, and similar to that outlined in our f-commerce FAQ. It differentiates two basic forms of f-commerce – f-commerce where transactions take place on Facebook itself and f-commerce where transactions take place elsewhere (in-store, on external e-commerce sites). This is a useful distinction. Defining f-commerce In the context of Facebook, the term 'f-commerce' is new, and an accepted industry-wide definition has yet to emerge. Facebook03_1280. Facebook Credit is the New Paypal. Further thoughts on the Facebook business model, and the challenge of Web analytics - Numbers Rule Your World. I have often grumbled about "story time!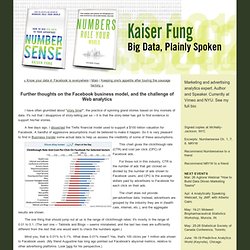 ", the practice of spinning grand stories based on tiny morsels of data. It's not that I disapprove of story-telling per se -- it is that the story-teller has got to find evidence to support his/her stories.
---