Model sites
Seamless Reality Textures - Rocks
La Maison de Verre Finally a longer post after a few half-hearted attempts. Thanks to a lucky combination of circumstances, I found myself with a bit of time in the past weeks and decided to use it for a slightly larger personal project. After considering and discarding several possible subjects, I had an email exchange with Peter Guthrie who […] Jobs! Pikcells, a well-established visualisation company responsible for some stunning interior work – among many other things – in the past years, has asked me to spread the word on two seriously exciting new management positions for senior CG artists in the US and the UK. For more details visit their website & click through to the […] Grazie Venezia! Sadly, sadly, SOA Day #4 is now over.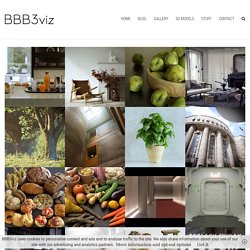 LOAD: Library of Art and Design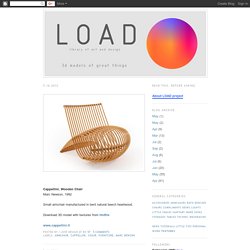 Bla Station, Occhio Fredrik Mattson, Stefan Borselius, 2006 Occhio is a three-legged coffee table with tray. The tray comes in two sizes. Legs in two heights available for both sizes of table tops. Chromed legs.
Free Artlantis Objects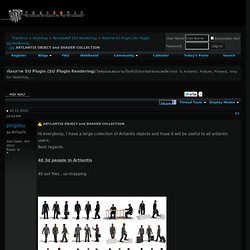 Collection of 460 models for Artlantis Collection of 460 models for Artlantis (car,furniture,trees,urban,billboards,....) LINK DOWNLOAD : part 1 : http://www.fileserve.com/file/ta4PdHr part 2 : http://www.fileserve.com/file/d4A7fZE part 3 : http://www.fileserve.com/file/dMjaWCc Animal in Artlantis
ARTLANTIS OBJECT and SHADER COLLECTION - Thai3Dviz
chairs by Montis
Divani imbottiti e complementi d'arredo di design
3d models at Designconnected
130 Free XfrogPlants Now Available!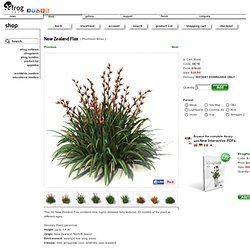 The Xfrog Store: New Zealand Flax
This 3D New Zealand Flax contains nine highly detailed, fully textured 3D models of the plant at different ages. Shrubby Plant, perennialHeight: up to 3-4 mOrigin: New Zealand, Norfolk IslandEnvironment: swamps, low lying areasClimate: mild, temperate, cool; relatively cold-resistant Notes:The New Zealand Flax produces fibrous leaves that have been important for the history and economy of New Zealand. When Maoris arrived in New Zealand, they were carrying with them the Paper Mulberry (Broussonetia papyrifera), whose bark they used for clothing. But the Paper Mulberry did not flourish, so they used the Flax instead, not just for clothing but also for baskets and fishing nets.