The Australian Gold Rush
The first major mineral discovery - gold - was a watershed (a turning point or landmark) for Australian society. The initial stages of the gold rush were responsible for tremendous changes in the community, bringing Australia's first great waves of immigration from countries other than England and Ireland. Ambitious prospectors from Asia, Europe and America made the trek to the goldfields of Ballarat and Bendigo in Victoria, and Bathurst in New South Wales, in the hope of striking it rich.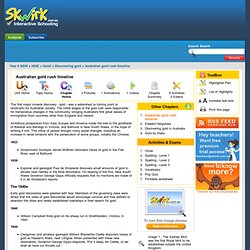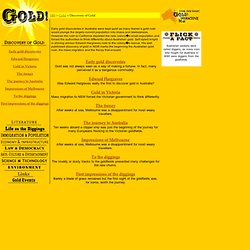 Early gold discoveries in Australia were kept quiet as many feared a gold rush would plunge the largely convict population into chaos and lawlessness.
~ GOLD ~
Discovery of Gold - A Brief History In 1837, under pressure of a bad drought, Thomas Learmonth and a group of squatters explored the area to the north of their settlement near Geelong in search of better watered regions. On this journey they reached and climbed Mt.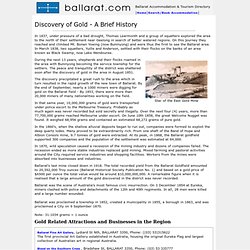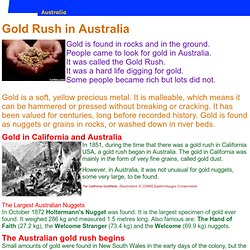 Gold!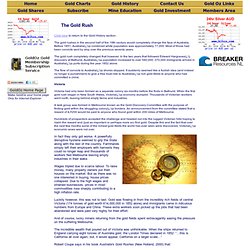 In fact they only got worse. A powerfully disruptive hysteria seemed to grip the State along with the rest of the country. Farmhands simply left their employers with harvests they could no longer reap and thousands of workers fled Melbourne leaving empty industries in their wake.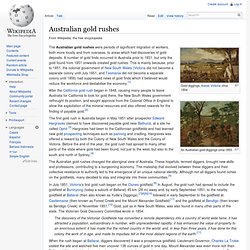 The first gold rush in Australia began in 1851 when prospector Edward Hargraves claimed the discovery of payable gold near Bathurst , New South Wales at a site he called Ophir . [ 1 ] Eight months later, gold was found in Ballarat and Bendigo in Victoria causing large influxes of prospectors . Australia's total population more than tripled from 430,000 in 1851 to 1.7 million in 1871. [ 2 ] In 1885, following a call by the Western Australian government for a reward for the first find of payable gold, a discovery was made at Halls Creek , sparking a gold rush in that state.
After a long trek on foot or horseback by coach or dray from Sydney or Melbourne, new miners were thankful and excited when they reached the goldfields.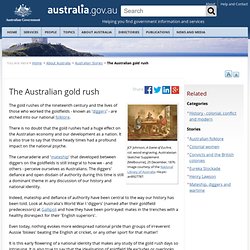 JCF Johnson, A Game of Euchre , col. wood engraving, Australasian Sketcher Supplement [Melbourne], 25 December, 1876.