Poke the Box
Big Think. Killing Creativity. What's the Big Idea?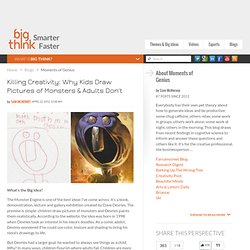 The Monster Engine is one of the best ideas I've come across. It's a book, demonstration, lecture and gallery exhibition created by Dave Devries. Brené Brown. The power of vulnerability. Listening to shame. The Browser.
The Jig Is Up. After five years pursuing the social-local-mobile dream, we need a fresh paradigm for technology startups.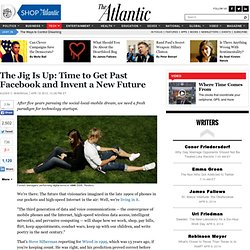 Finnish teenagers performing digital ennui in 1996 2006. Reuters. Edge. The Impending Demise Of The University. For fifteen years, I've been arguing that the digital revolution will challenge many fundamental aspects of the University.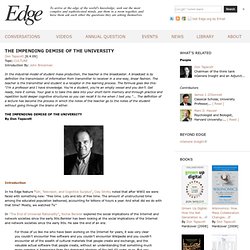 I've not been alone. In 1998, none other than, Peter Drucker predicted that big universities would be "relics" within 30 years. Edutopia. Five Future Technologies. Teleporting, flying cars and Back To The Future style hover-boards.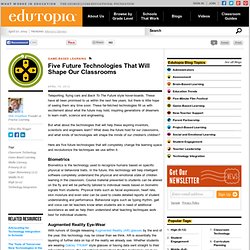 These have all been promised to us within the next few years, but there is little hope of seeing them any time soon. These far-fetched technologies fill us with excitement about what the future may hold, inspiring generations of dreamers to learn math, science and engineering. But what about the technologies that will help these aspiring inventors, scientists and engineers learn? What does the future hold for our classrooms, and what kinds of technologies will shape the minds of our children's children? Getting Smart. Smart Teachers. EdTech An EdChat Soundtrack: 60 Songs to Keep Your Class Jammin' Pretend this: every day of your teaching career there is a gigantic boombox (Yes, I was raised in the '80s) hovering just above your head.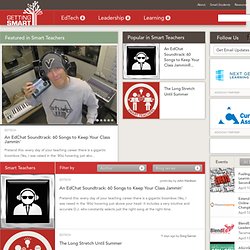 Khan Academy. Salman Khan. The Flipped Classroom Infographic. 5 Best Practices for the Flipped Classroom. Ok, I'll be honest.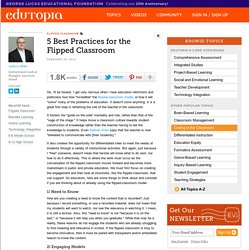 I get very nervous when I hear education reformists and politicians tout how "incredible" the flipped classroom model, or how it will "solve" many of the problems of education. It doesn't solve anything. MIT+K12. Mashable. How Higher Education Is Going Digital. People are talking about digital tech's opportunity to improve the classroom.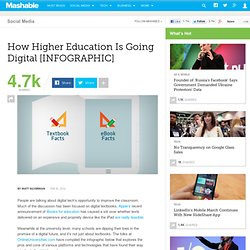 Much of the discussion has been focused on digital textbooks. Apple's recent announcement of iBooks for education has caused a stir over whether texts delivered on an expensive and propriety device like the iPad are really feasible. Seth Godin. All artists are self-taught. Organized bravery. The purpose of the modern organization is to make it easy and natural and expected for people to take risks.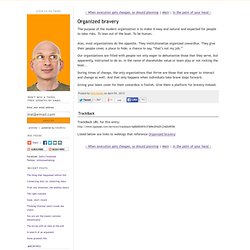 To lean out of the boat. To be human. Alas, most organizations do the opposite. Technology Review. People Power 2.0. The force of laughter: Graffiti on a wall in Tripoli represents the Libyan leader, Colonel Qaddafi, as a fleeing rat.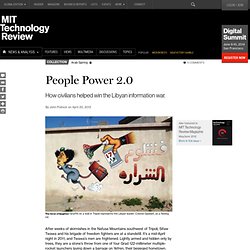 After weeks of skirmishes in the Nafusa Mountains southwest of Tripoli, Sifaw Twawa and his brigade of freedom fighters are at a standstill. It's a mid-April night in 2011, and Twawa's men are frightened. Lightly armed and hidden only by trees, they are a stone's throw from one of four Grad 122-millimeter multiple-rocket launchers laying down a barrage on Yefren, their besieged hometown.
These weapons can fire up to 40 unguided rockets in 20 seconds. Each round carries a high-­explosive fragmentation warhead weighing 40 pounds. TED. Schools kill creativity. Bring on the learning revolution!
Wired. The Stanford Education Experiment. Sebastian Thrun and Peter Norvig in the basement of Thrun's guesthouse, where they record class videos.Photo: Sam Comen Stanford doesn't want me.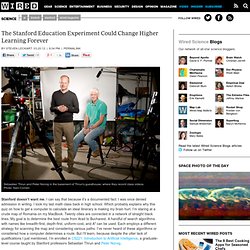 I can say that because it's a documented fact: I was once denied admission in writing. I took my last math class back in high school. Which probably explains why this quiz on how to get a computer to calculate an ideal itinerary is making my brain hurt. I'm staring at a crude map of Romania on my MacBook.
---